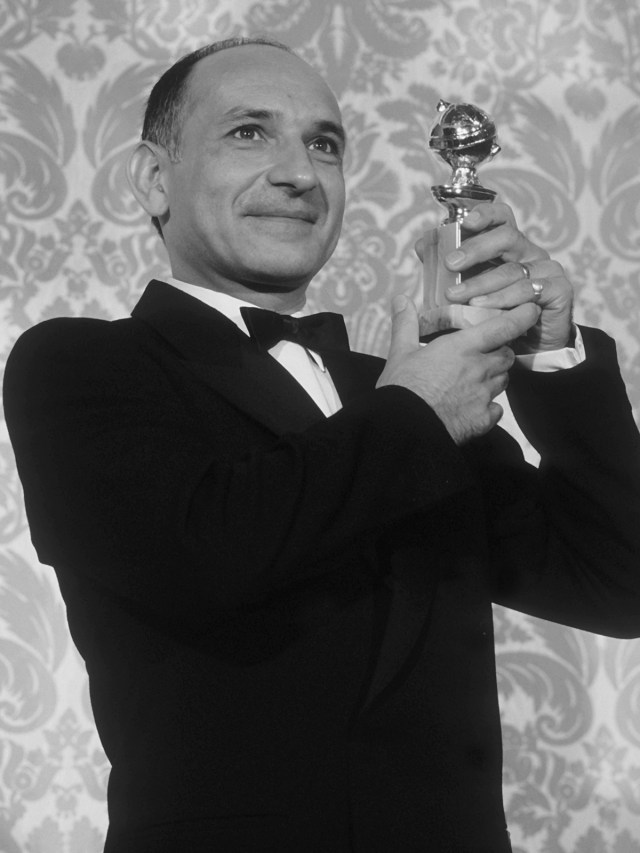 Tomorrow's Stars Yesterday: Ben Kingsley, 1983
April 20, 2021
—
Philip Berk
Between 1948 and 1983 Golden Globes were awarded in a special category of "New Star of the Year" conceived to recognize young actors making a mark in their early roles. In this series, the HFPA's Phil Berk highlights those that would follow their auspicious starts with distinguished careers.
Ben Kingsley was the oldest and final recipient of the New Star of the Year Golden Globe. It was his career-making role in Richard Attenborough's GandhiAs You Like It (his West End debut at the Aldwych Theatre in 1967), Much Ado About Nothing, Richard III, The Tempest, A Midsummer Night's Dream and impressively in Peter Brook's 1970 RSC productions of Hamlet and The Merry Wives of Windsor.
He was born Krishna Pandit Bhanji. As he recalled, after he changed his name doors opened to him in the theater, but it was only after winning both the Golden Globe and Academy Award as Best Actor in 1983 that Hollywood beckoned and from then on he concentrated on acting in film. Before Gandhi he found occasional work in British TV movies and miniseries, but rarely the lead; after Gandhi, he was off and running.
He played in the adaptation of Harold Pinter's Betrayal, which won him excellent reviews, as did his role opposite Glenda Jackson in another Pinter screenplay Turtle Diary. He chose poorly in agreeing to costar opposite Nastassja Kinski in the best forgotten Harem but did better playing the title role of George Elliot's Silas Marner, a TV movie. He accepted a small role in James Ivory's acclaimed Maurice and played Shostakovich in Testimony, but then it was Pascali's Island with Helen Mirren that got him back on track.
After that he was given his first opportunity to play a Jewish character in Murderers Among Us: The Simon Wiesenthal Story, which earned him his first Golden Globe nomination as Best Actor in a Miniseries.
He played another Jew in BugsyHollywood now beckoned and he did most of his later work in the States, starting with Ivan Reitman's Dave, Steve Zaillian's Searching for Bobby Fisher, and most memorably in Steven Spielberg's masterwork Schindler's ListSchindler's, he stated, "I'm not Jewish, and though there might be some Russian-Jewish heritage way back on my mother's side, the thread is so fine there's no real evidence."
After Schindler's, he did Polanski's Death and the Maiden, a couple of miniseries, a number of forgettable movies, and then had a sudden rebirth when Jonathan Glazer gave him a role he could sink his teeth into, Sexy Beast, which earned him Golden Globe and Oscar nominations, as well as numerous Best Sporting Actor, wins. He played Otto Frank in Anne Frank: The Whole Story, for which again was nominated for both the Golden Globe and an Emmy as Best Actor in a Miniseries, one of the five nominations he received after winning his first of two Globes.
He had a strong role in Vadim Perelman's House of Sand and Fog, played Fagin in Polanski's Oliver Twist, played a rabbi in Lucky Number Seven, and won the London Critics Award as Best Actor for Isabel Coixet's Elegy. He acted in Martin Scorsese's Hugo, which was nominated for six Golden Globe awards including one for Best Motion Picture. Scorsese used him again in Leonardo DiCaprio's Shutter Island for which he was nominated for numerous awards. The film itself was a surprise box office hit. Since then, he's been underused in supporting roles including providing numerous voiceovers.
In 2002 he was knighted by the Queen, an honor he cherished, although he admitted then that his late mother wasn't impressed with that honor.
Now in his 77th year, he is still working with five projects awaiting release.