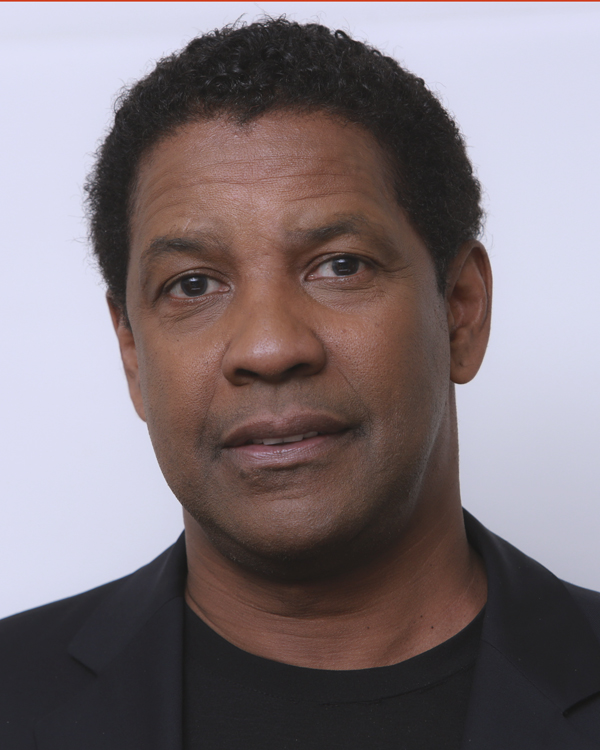 Denzel Washington
Denzel Washington (born December 28, 1954 in Mount Vernon, New York) starred in Cry Freedom (1987) by Richard Attenborough, Glory (1989) by Edward Zwick, Mo' Better Blues (1990) and Malcolm X (1992) both directed by Spike Lee, Mississippi Masala (1991) by Mira Nair, Philadelphia (1993) by Jonathan Demme with Tom Hanks, The Pelican Brief (1993) by Alan Pakula with Julia Roberts, Crimson Tide (1995) by Tony Scott with Gene Hackman, The Preacher's Wife (1996) by Penny Marshall with Whitney Houston, The Hurricane (1999) by Norman Jewison, The Manchurian Candidate (2004) by Jonathan Demme, American Gangster (2007) by Ridley Scott, Flight (2012) by Robert Zemeckis. He was directed by Antoine Fuqua in Training Day (2001), The Equalizer (2014), The Magnificent Seven (2016). He directed and starred in Antwone Fischer (2002), The Great Debaters (2007), Fences (2016) from the 1983 play by August Wilson co-starring Viola Davis, directed A Journal for Jordan (2021) with Michael B. Jordan. Washington played an idealistic lawyer in Roman J. Israel, Esq. (2017) written and directed by Dan Gilroy, a deputy sheriff in The Little Things (2021) by John Lee Hancock, he acted with Frances McDormand in The Tragedy of Macbeth (2021), written and directed by Joel Coen from the play by William Shakespeare.
Read Denzel Washington's nominee profile by Silvia Bizio.
Read Denzel Washington, Fences – Nominee, Best Performance By An Actor In A Motion Picture, Drama by Ana Maria Bahiana.
Read Denzel Washington by Sam Asi.
Lee el perfil de Denzel en español por Paz Mata.
Read Ready for My deMille: Profiles in Excellence – Denzel Washington, 2016 by Philip Berk.
Golden Globe Awards
1988 Nominee

Best Performance by an Actor in a Motion Picture - Drama

1990 Winner

Best Performance by an Actor in a Supporting Role in any Motion Picture

1993 Nominee

Best Performance by an Actor in a Motion Picture - Drama

2000 Winner

Best Performance by an Actor in a Motion Picture - Drama

2002 Nominee

Best Performance by an Actor in a Motion Picture - Drama

2008 Nominee

Best Performance by an Actor in a Motion Picture - Drama

2013 Nominee

Best Performance by an Actor in a Motion Picture - Drama

2016 Winner

Cecil B. deMille Award

2017 Nominee

Best Performance by an Actor in a Motion Picture - Drama

2018 Nominee

Best Performance by an Actor in a Motion Picture - Drama

2022 Nominee

Best Performance by an Actor in a Motion Picture - Drama