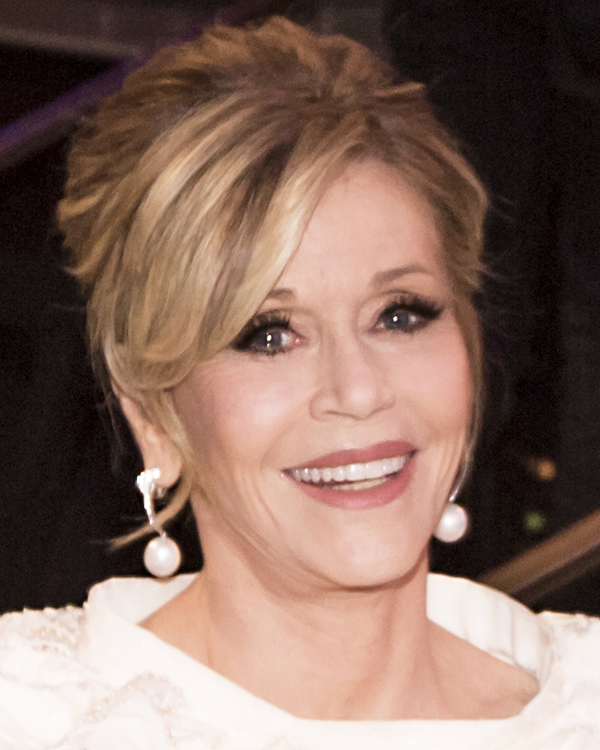 Jane Fonda
Jayne "Jane" Fonda (born December 21, 1937), daughter of Henry Fonda, sister of Peter Fonda, acted with Anthony Perkins in Tall Story (1962) by Joshua Logan, with Laurence Harvey in Walk on the Wild Side (1962), with Anthony Franciosa in Period of Adjustment (1962), with Lee Marvin in Cat Ballou (1965), with Jason Robards in Any Wednesday (1966), with Robert Redford in Barefoot in the Park (1967). She starred in Barbarella (1968) by Roger Vadim, They Shoot Horses, Don't They? (1969) by Sidney Pollack, Klute (1971) by Alan Pakula with Donald Sutherland, Julia (1977) by Fred Zinnemann with Vanessa Redgrave, Coming Home (1978) by Hal Ashby with Jon Voight, Comes a Horseman (1979 by Alan Pakula, The China Syndrome (1979) with Michael Douglas, The Electric Horseman (1979) by Sydney Pollack with Robert Redford, Nine to Five (1980) with Lily Tomlin, On Golden Pond (1981) by Mark Rydell with Henry Fonda and Katherine Hepburn, Agnes of God (1985) by Norman Jewison, The Morning After (1986) by Sidney Lumet with Jeff Bridges, Old Gringo (1989) with Gregory Peck, Stanley & Iris (1990) by Martin Ritt with Robert DeNiro. Fonda acted with Jennifer Lopez in Monster-in-Law (2005), with Lindsay Lohan in Georgia Rule (2007), with Katherine Keener in Peace, Love, and Misunderstanding (2012) by Bruce Beresford, with Harvey Keitel in Youth (2015) by Paolo Sorrentino. On television, she acted in The Dollmaker (1984), The Newsroom (2012-2014) by Aaron Sorkin, Grace and Frankie (2015-2021) with Lily Tomlin.
Read Jane Fonda by Elisa Leonelli.
Read the classic profile Jane Fonda by Elisa Leonelli.
Golden Globe Awards
1962 Winner

New Star Of The Year - Actress

1963 Nominee

Actress In A Leading Role - Musical Or Comedy

1966 Nominee

Actress In A Leading Role - Musical Or Comedy

1967 Nominee

Actress In A Leading Role - Musical Or Comedy

1970 Nominee

Best Performance by an Actress in a Motion Picture - Drama

1972 Winner

Best Performance by an Actress in a Motion Picture - Drama

1973 Winner

World Film Favorites

1978 Winner

Best Performance by an Actress in a Motion Picture - Drama

1979 Winner

Best Performance by an Actress in a Motion Picture - Drama

1979 Winner

World Film Favorites

1980 Nominee

Best Performance by an Actress in a Motion Picture - Drama

1980 Winner

World Film Favorites

1982 Nominee

Best Performance by an Actress in a Supporting Role in any Motion Picture

1985 Nominee

Best Performance by an Actress in a Limited Series, Anthology Series, or a Motion Picture Made for Television

2016 Nominee

Best Performance by an Actress in a Supporting Role in any Motion Picture

2021 Winner

Cecil B. deMille Award