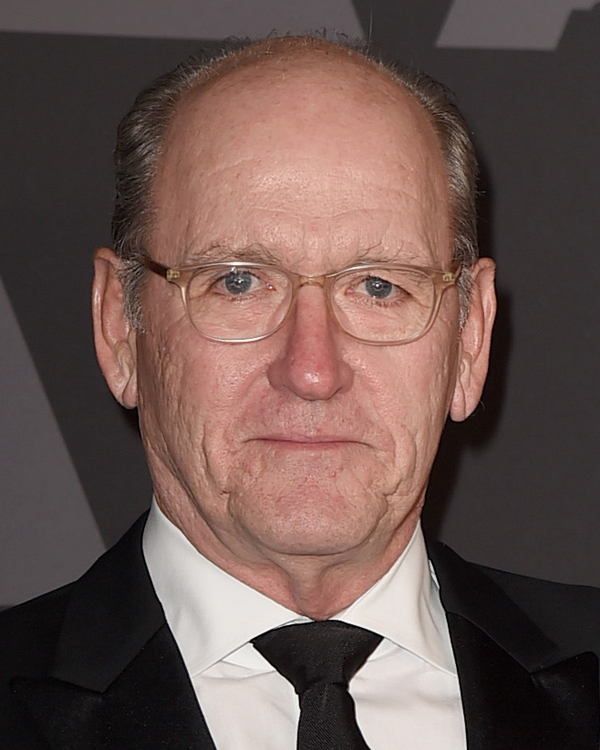 Richard Jenkins
Richard Dale Jenkins (born May 4, 1947, in DeKalb, Illinois) acted on television in the drama series Six Feet Under (2001-2005), the miniseries Olive Kitteridge (2014) with Frances McDormand, the Limited Series Dahmer – Monster: The Jeffrey Dahmer Story (2022).
He played supporting roles in movies like Hannah and Her Sisters (1986) by Woody Allen, Sea of Love (1989), Flirting with Disaster (1996), There's Something About Mary (1998), The Man Who Wasn't There (2001), Intolerable Cruelty (2003) and Burn After Reading (2008) by the Coen Bros. He had a starring role in The Visitor (2008), acted in Dear John (2010) directed by Lasse Hallstrom from the novel by Nicholas Sparks, in Eat, Pray, Love (2010) directed by Ryan Murphy from the 2006 memoir by Elizabeth Gilbert. Jenkins acted in Kong: Skull Island (2017), LBJ (2017) by Rob Reiner, The Shape of Water (2017) by Guillermo del Toro with Sally Hawkins and Octavia Spencer, Kajillionaire (2020) written and directed by Miranda July, The Humans (2021), Nightmare Alley (2021) by Guillermo del Toro.
Lea el perfil de Jenkins en español por Gabriel Lerman.
Read Richard Jenkins – 75th Golden Globes Nominee by Lena Basse.
Golden Globe Awards
2018 Nominee

Best Performance by an Actor in a Supporting Role in any Motion Picture

2023 Nominee

Best Performance by an Actor in a Supporting Role in a Limited Series, Anthology Series or Motion Picture Made for Television