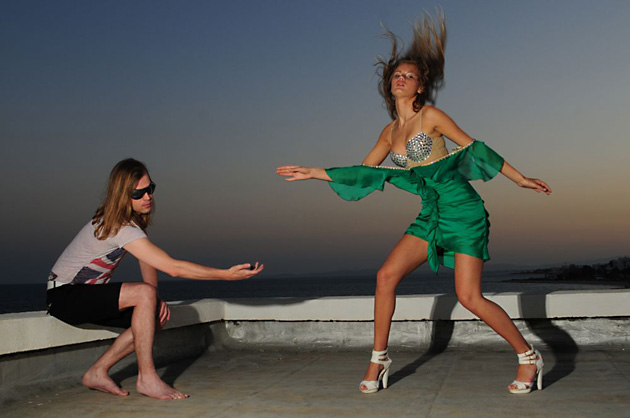 French Fashion Designer Christophe Guillarme Avoids Disasters on the Red Carpet
June 9, 2022
—
Margaret Gardiner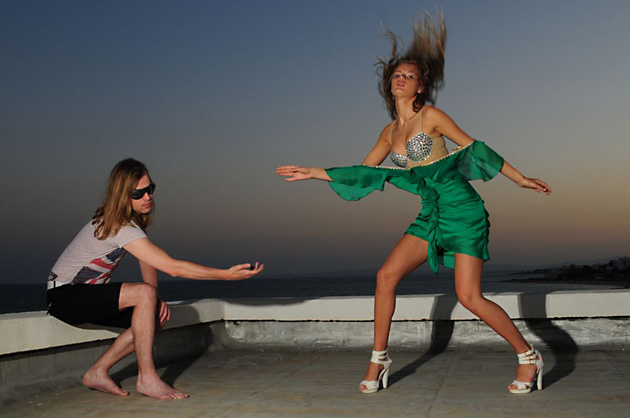 Designer Christophe Guillarme (l) with model.
Anyone who has been to Cannes knows the name of designer Christophe Guillarme.
For more than a decade his clothes have been featured on the red carpet. From his atelier off the Croisette, M. Guillarme described how a boy from Antibes got to clothe the glitterati. Here is his story …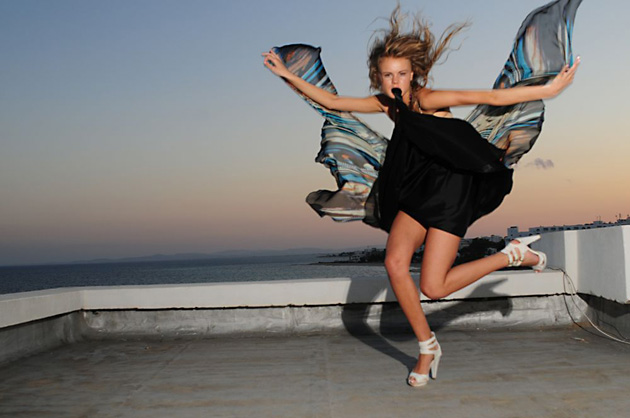 Christophe Guillarme was inspired by the actresses running down the Croisette the dresses floating like angel wings.
I'm originally from the South of France, Antibes, which is really close to Cannes. My parents used to bring me to the Cannes Film Festival to see the red carpet. I was so young I didn't really understand what was happening, but what had an impact on me was the sight of the women emerging after the films, coming down the red carpet with their shoes in their hand, and their dresses bouncing and flowing behind them. They were running in bare feet down the Croisette back to their hotels and that image stuck in my mind, like an obsession, and made me want to be part of it: it started the impetus to create red carpet gowns and dresses because I wanted to be part of the magic. It was such a moment, so impactful on my mind, like angels disappearing down the Croisette with the wings of the dresses flowing in slow motion like the wings of angels.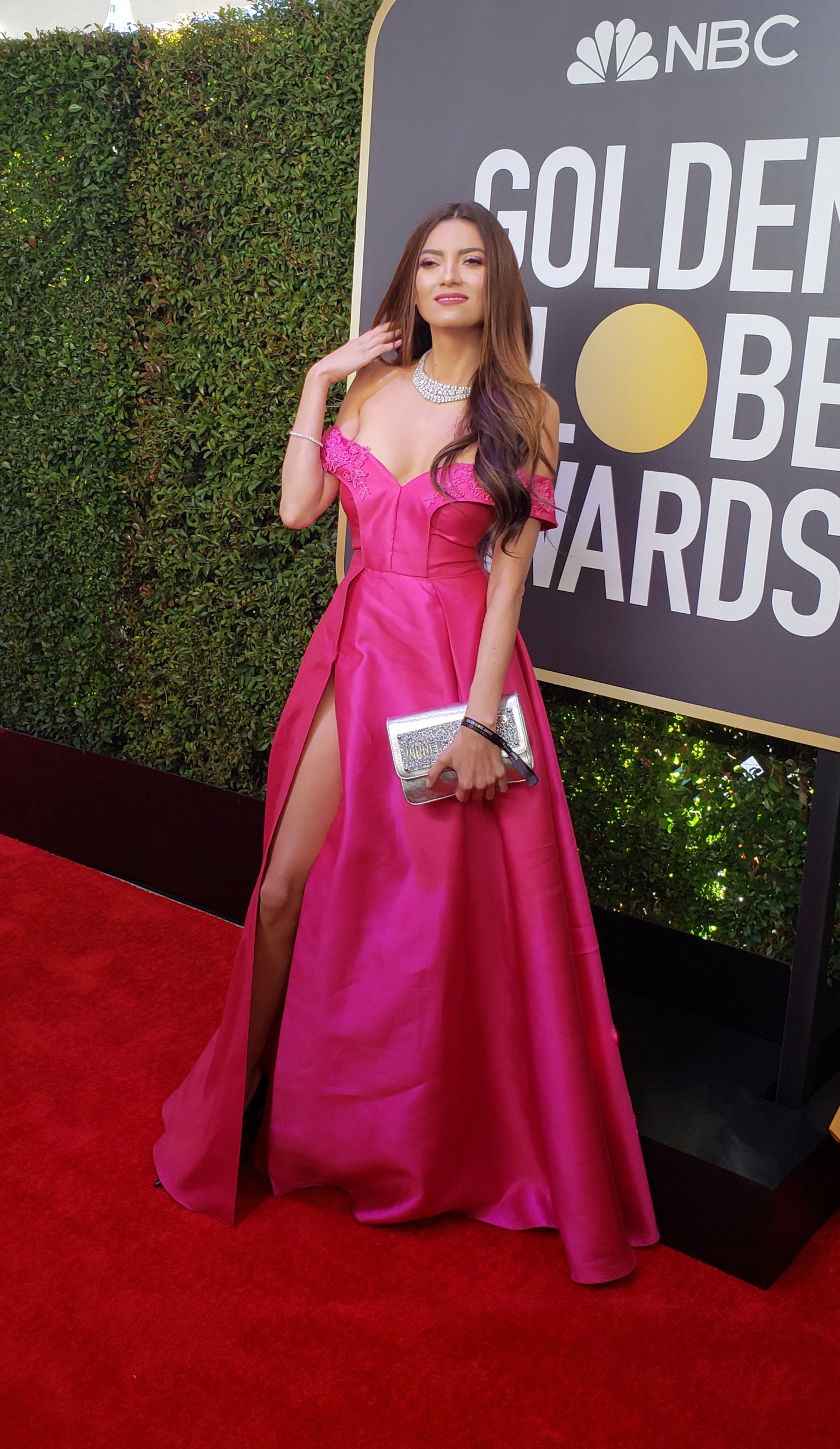 Blanca Blanco at the Golden Globes.
Even though I was young, it made me think that I wanted to do something with fashion.
As a young child, I was already doing sketches. I always wanted to be in the creative world, not only in fashion. It's all interesting to me: embroidery, printing, sketches. I think it's part of the process, as well as NFTs (non fungible token) or one-of-a kind digitally recorded assets on a blockchain.
I learned how to be creative through watercolors and oil paintings. Then I decided it was time to meld these two creative processes. Because I knew this was what I had always wanted to do.
I studied further at the biggest school in Paris, which is known for being very creative. I would dye fabric in my bathroom, very indie-craft, which allowed me to learn everything from the very basic beginning.
Now I am obsessed with the quality of my craft.
Because we are very close to Italy, I'm inspired by the Dolce Vita feeling, mixing color, beading, painting. It's very glamorous, all these mixtures, with some tailoring, but also edgy. The influence of Paris, which is more about finishing, all of this with cut and tailoring which is more couture. I like to mix the two together. In the beginning I was into more, more, more. As I get older, I'm getting into less, less, less. I try to remove stuff, because you don't need as much to make an impact. I take things off, make things simple.
When I started, in 2004, I had just graduated from school and started my brand. I analyzed how you do PR when you are not well-known and don't have a big budget to spend on advertising. At that time there were almost no up and coming designers who dressed celebrities. Amongst the emerging designers there was a feeling that if you did, it was a little tacky; you don't do this. Me? I thought it was super cool. It's massive publicity. In 2004, nobody was doing it.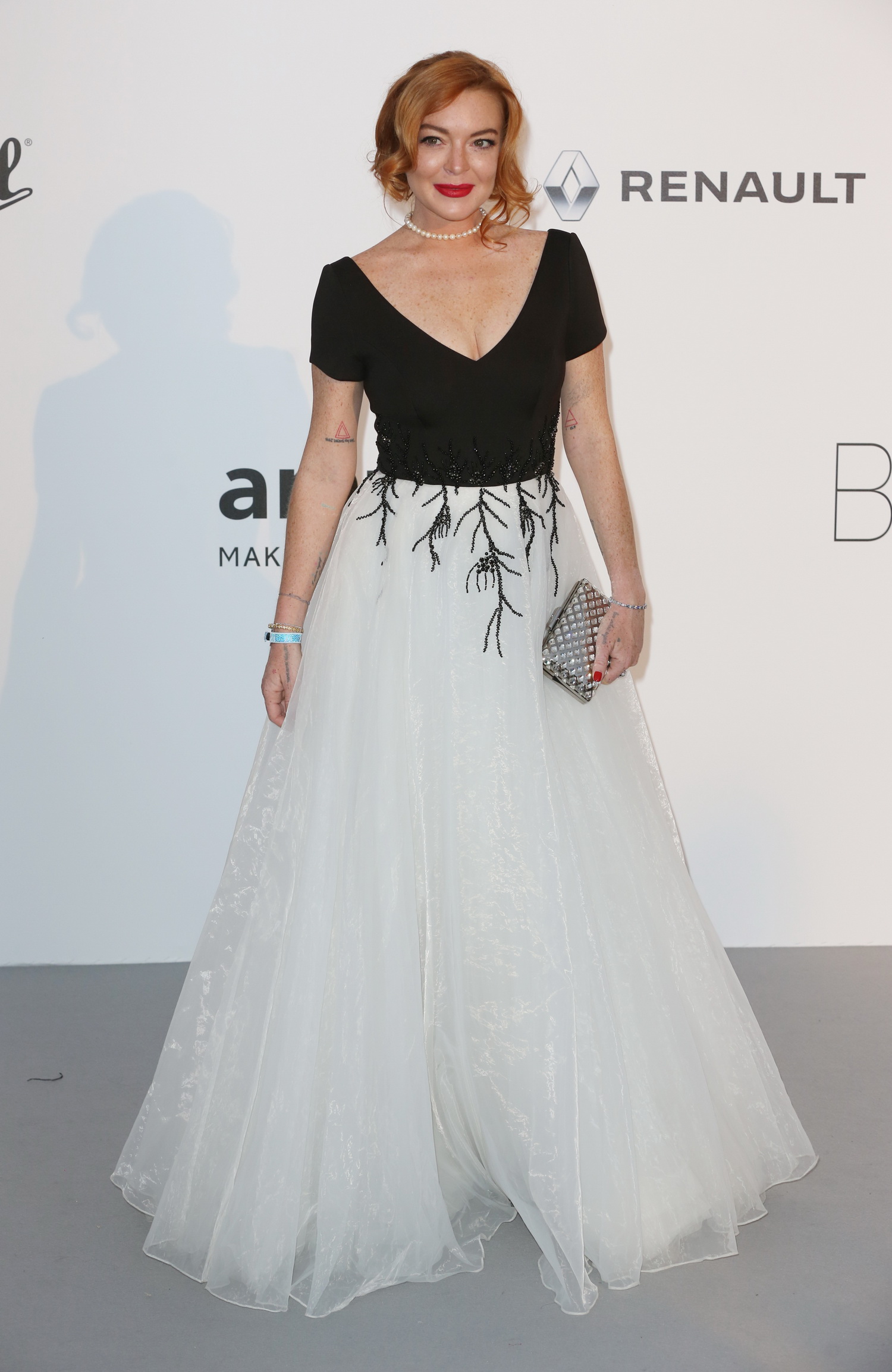 Lindsey Lohan – AmfAR – Cannes
I noticed that in Cannes you're interacting with people on every level and the connection is very genuine. I started to build a very strong base of connections and realized the potential. The longevity of this place! People come back year after year, it feels like they will be here forever.
Paris, where I also have an atelier, is important for fashion. Paris fashion week is the dream of every designer in the world. It's so cool to be part of that world.
People I work with get it. Paris Hilton visited often, and then in 2018 she finally said yes. I didn't count on it until she was in the car. She wore my special golden design to attend the Naomi Campbell Fashion For Relief event.
For Lindsay Lohan at the AmfAR event, I created a contemporary version of the black and white Grace Kelly dress in Rear Window. At the time Lindsay was going through a lot in her personal life so it was like a redemption look. With the same hair.
Paris Hilton
I'm really picky about the total look. I bring people in to do hair and make-up. I'm very specific about the accessories. I work with a shoe house from Paris, not exclusively, but I choose heels with excellent support that are very easy to walk in.
When I dress someone I will consult with her for everything, then I say, "Enjoy your time." I reach out to the sponsors and I fix everything. I don't want them to be stressed. I take all the stress because I want their moment to be perfect.
In the red carpet madness you need to be prepared. I have done this for so many years I always like to leave at least two hours to get ready because you never know what is going to happen. That way you have a buffer. You have enough time to spare if something goes wrong. Three days ago I was with a star. We had to go from Cannes to Martinez by car. It used to take 20 minutes maximum. This time it took 55 minutes. When we got really close the traffic was still backed up. I knew we would miss the red carpet. I said, "Okay, now we walk!" Because I've done this so often I knew how close we were and also that there were no other options. The backup of traffic would take too long. Everybody was sitting in their cars, but I know this because I have done it so long. I know every bad thing that can happen and have a solution in place.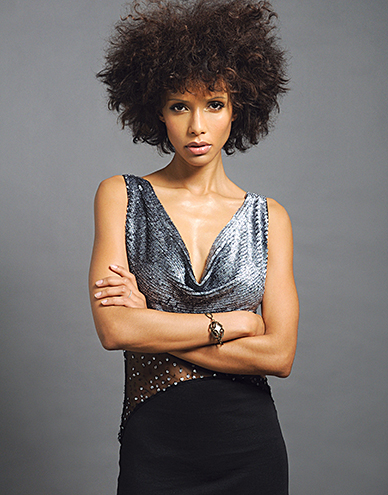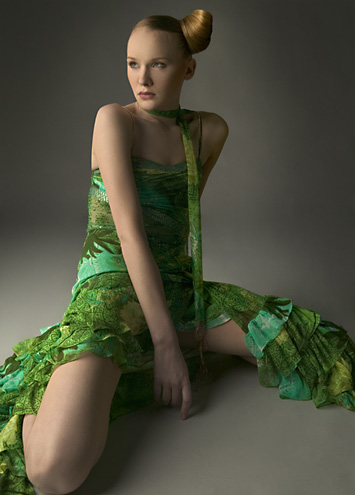 Sonia Rolland (l) Model (r) Mikhail Pasquier
The organizers also understand the relationship between fashion and designers and the glamour of the red carpet.
The trend right now? There is a very big trend at the moment that can be summed up with the words "go big or go home." Even if you're not well known, the bigger the dress, the greater the attention.