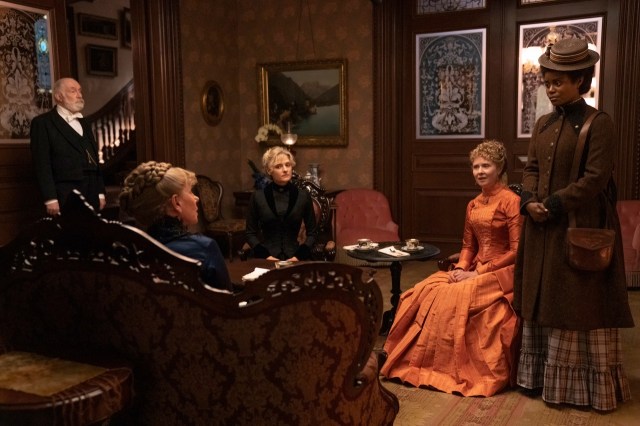 The Gilded Age: Dress to Impress
January 30, 2022
—
Yulia Lolo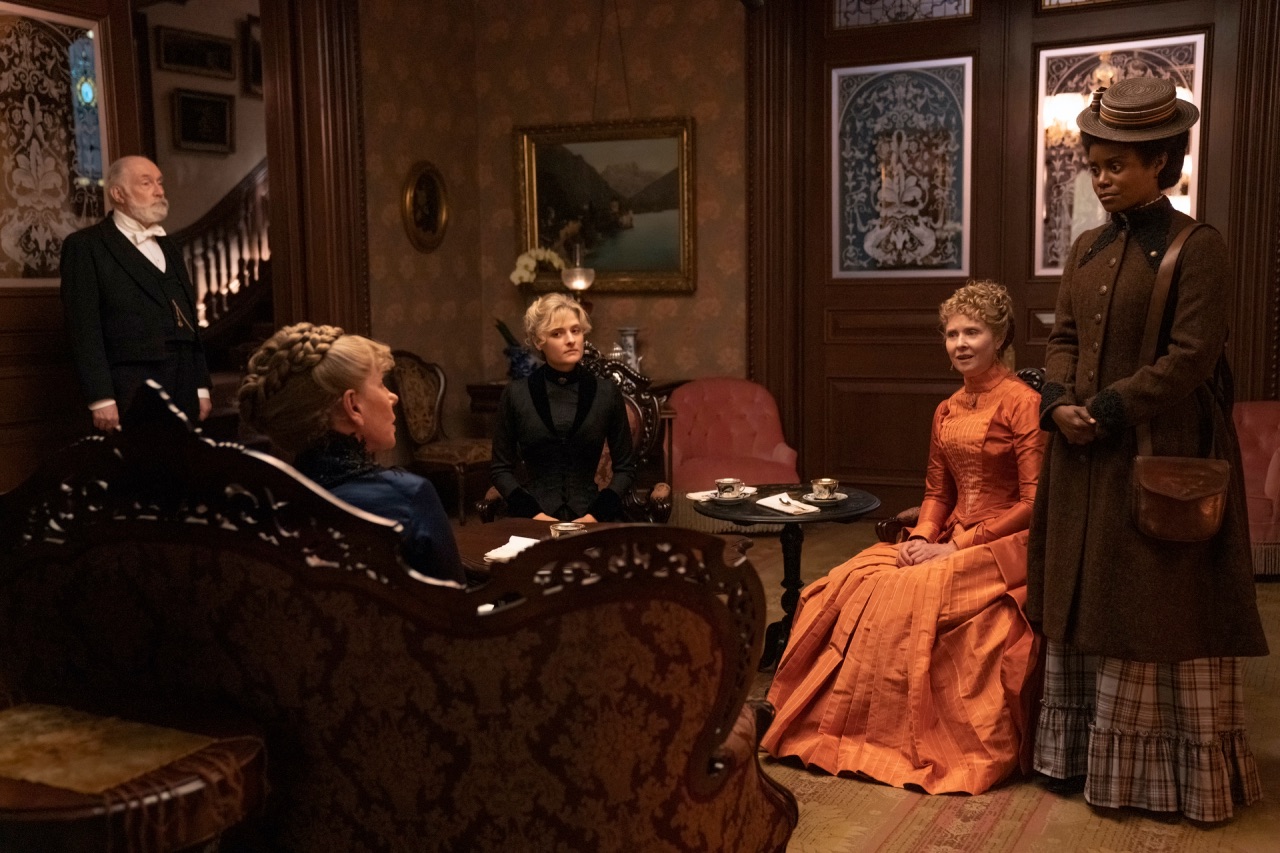 The new HBO show The Gilded Age comes from Julian Fellowes, the mastermind behind the beautiful curtain of the cinematic universe of Golden Globe Winning Drama Downtown Abbey. Needless to remind, Downtown Abbey won too numerous accolades to count. It's now the most successful British costume drama series and one of the most widely watched television shows in the world. A separate set should be built in true detail just to accommodate all the awards received by the artistic team for outstanding costumes. The utmost profoundness of each detail in Downtown Abbey deserves, if not a book, at least a thesis written in refined calligraphy about this splendid panorama of the British aristocracy in the early 20th century. It captured the attention of worldwide TV audiences from 2010 to 2015. He went on to write and produce two Downtown Abbey films and a new televised series, Belgravia. Now, if we may: let's get back to 2022.
This year, writer-creator Julian Fellowes moves literally and creatively across the pond with The Gilded Age. The 1882 period drama, streaming on HBO, is set in New York City.
The name comes from the 1873 novel "The Gilded Age: A Tale of Today", written by Mark Twain in collaboration with Charles Dudley Warner. A vivid and accurate description of the American society of those days, the novel satirizes an era of drastic social disturbances masked by a thin veil of gold gilding.
The storyline dives deep into the city's social landscape at a time of immense economic change and industrial activity. This huge corporate growth was led by a group of entrepreneurs known alternatively as "captains of industry" or "robber barons." They grew enormously rich through the monopolies they created in the steel, petroleum, and transportation industries – among them were John D. Rockefeller, Andrew Carnegie, Cornelius Vanderbilt, Leland Stanford, and J.P. Morgan. This wealth-power provoked an internal clash amid society. New money rose in the ranks amongst old money and formed a brand-new species of aristocracy that threatened to supersede those whose fortunes had merely been acquired by familial inheritance.
The Gilded Age tells the story of Marian Brook, played by TV debutante and theater actress Louisa Jacobson, daughter of the nine Golden Globes winner Meryl Streep. She is the young and penniless girl who, after her father's death, moves to New York from rural Pennsylvania to live with her aunts Agnes (Golden Globe nominee Christine Baranski) and Ada (Golden Globe nominee Cynthia Nixon). They reside in the Upper East Side, of course. Traditionally, old money would.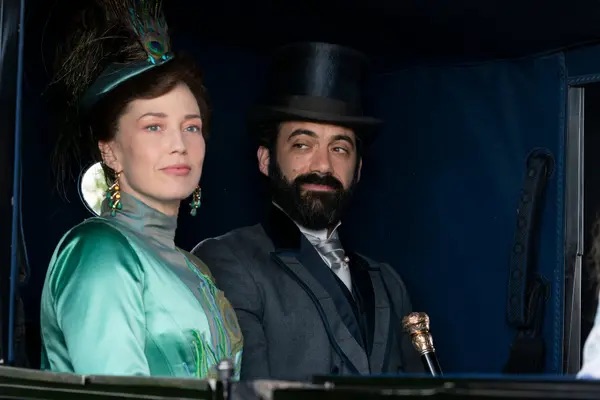 But, soon enough, Marian meets her aunts' new neighbors, Bertha and George Russell, played by Carrie Coon and Morgan Spector. This wealthy couple moves across the street from the home of Marian's aunts into a sumptuous mansion that is awed and discussed in every salon of the city. This new acquaintance presents Marian with a challenge: to fit between the highbrow old money and the new riches of New York, whom she seems to appreciate a lot.
Moreover, on her way to New York she meets Peggy Scott (played by Denée Benton). Peggy is a young Black woman returning home after finishing her education. She comes to the aid of Marian who is robbed a few minutes before their train departs Pennsylvania. An aspiring writer looking to have articles published in the city's magazines, Peggy is invited to be a professional assistant and secretary to Aunt Agnes.
In keeping with his own best traditions, Julian Fellowes tells this tale of collision between the old and new-world mentalities employing his favorite tool to spotlight his character's societal status: bespoke costume design. For The Gilded Age, pieces designed by Kasia Walicka-Maimone perfectly highlight the gaps between legacy families and wealthy arrivistes using a variety of exquisite drapery, vintage laces, and period jewelry.
Let's have a look at a few costumes that are pure eye-candy.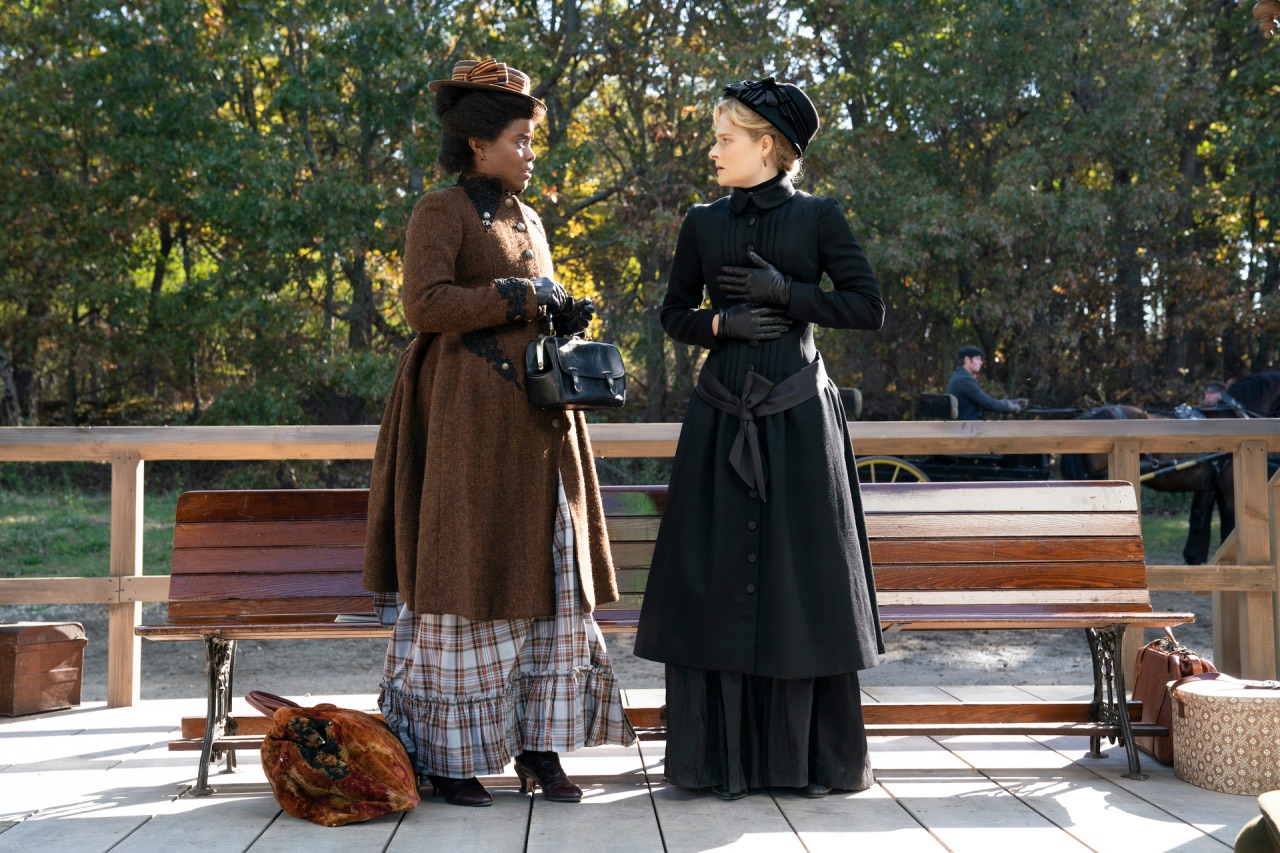 Marian arrives in New York wearing black because she's mourning her late father. Her plain black round-collar coat and laconic hat contrast with Peggy's levity comprised of a brown coat with a trendy angular collar, lace ornament, fancy buttons, plaid print dress, boater hat decorated with a trichromatic bow, and a leather bag. Immediately, these small details alert us that this young lady belongs in the vibrant city but maybe not as a meek secretary catering to Upper East Side traditions.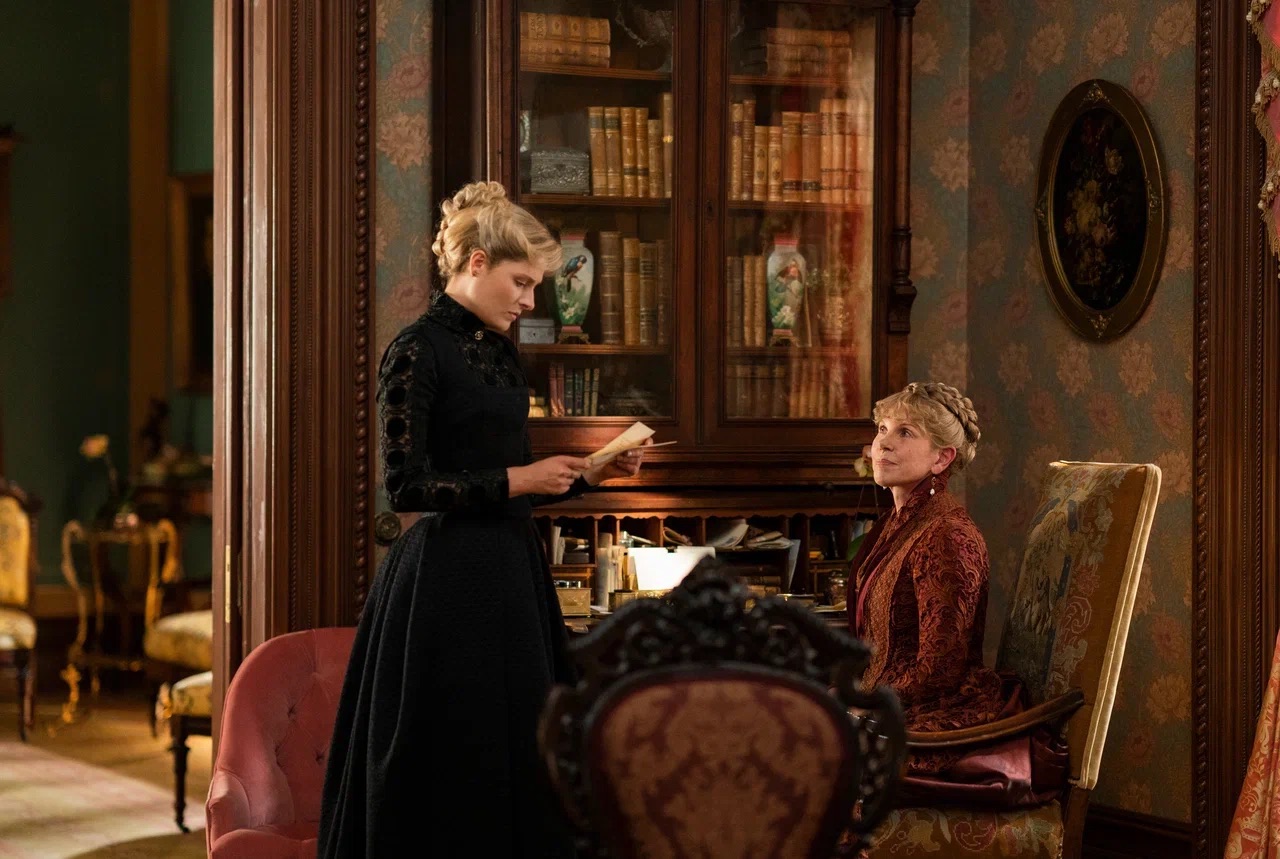 Upon seeing Marian in her black dress with a slightly outdated silhouette and sleeves decorated with circle-shaped lace, Aunt Agnes recommends an upgrade. The latest fashion trends of New York are calling. We then see a strong influence of European haute couture. Sometimes the screen shines with Maison Worth, by the British designer Charles Frederick Worth. Maison Pingat, by the French designer Emile Pingat, makes an appearance too. Marian's apparel soon changes. It's radical.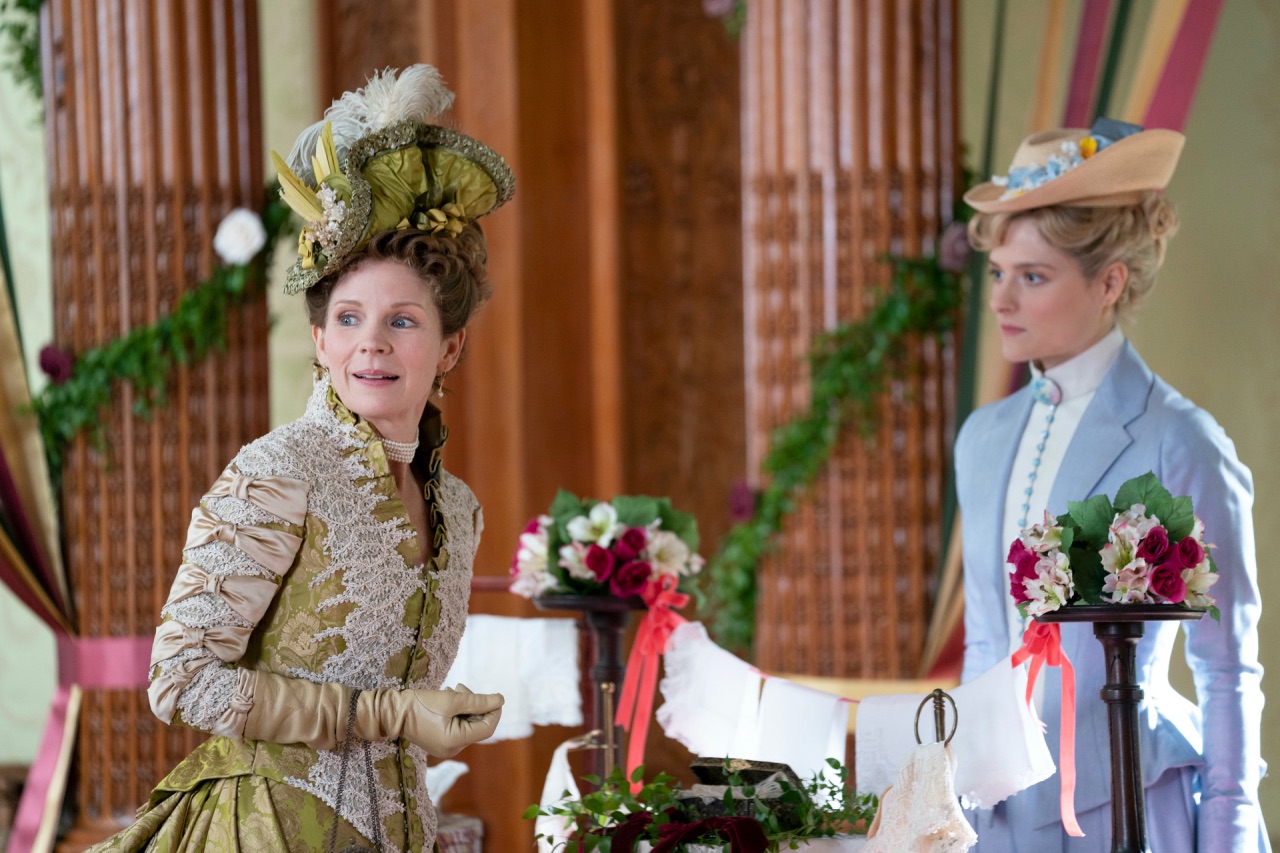 As we can see, fashion in the 1880s was quite slender and angular featured by flamboyant embellishment. Dresses had high and narrow shoulders descending into tight sleeves, while collars were tall and fitted. Marian's pastel blue bodice features a long basque designed with central panels imitating a jacket. Aurora Fane (Kelli O'Hara), one of the most copied Manhattan socialites, is dressed up to the latest 1880s trend of extensive decoration. Womenswear in those days featured immense use of various trims, including ruffles, ribbons, bows, flounces, and laces. These ladies' outfits emphasize the difference in age and marital status between Aurora and Marian. Especially their hats. They are both wearing them directly on top of their heads as fashion demands, though Marian's hat is much less decorated. Aurora's is taller, narrower, gladly trimmed with flowers and feathers.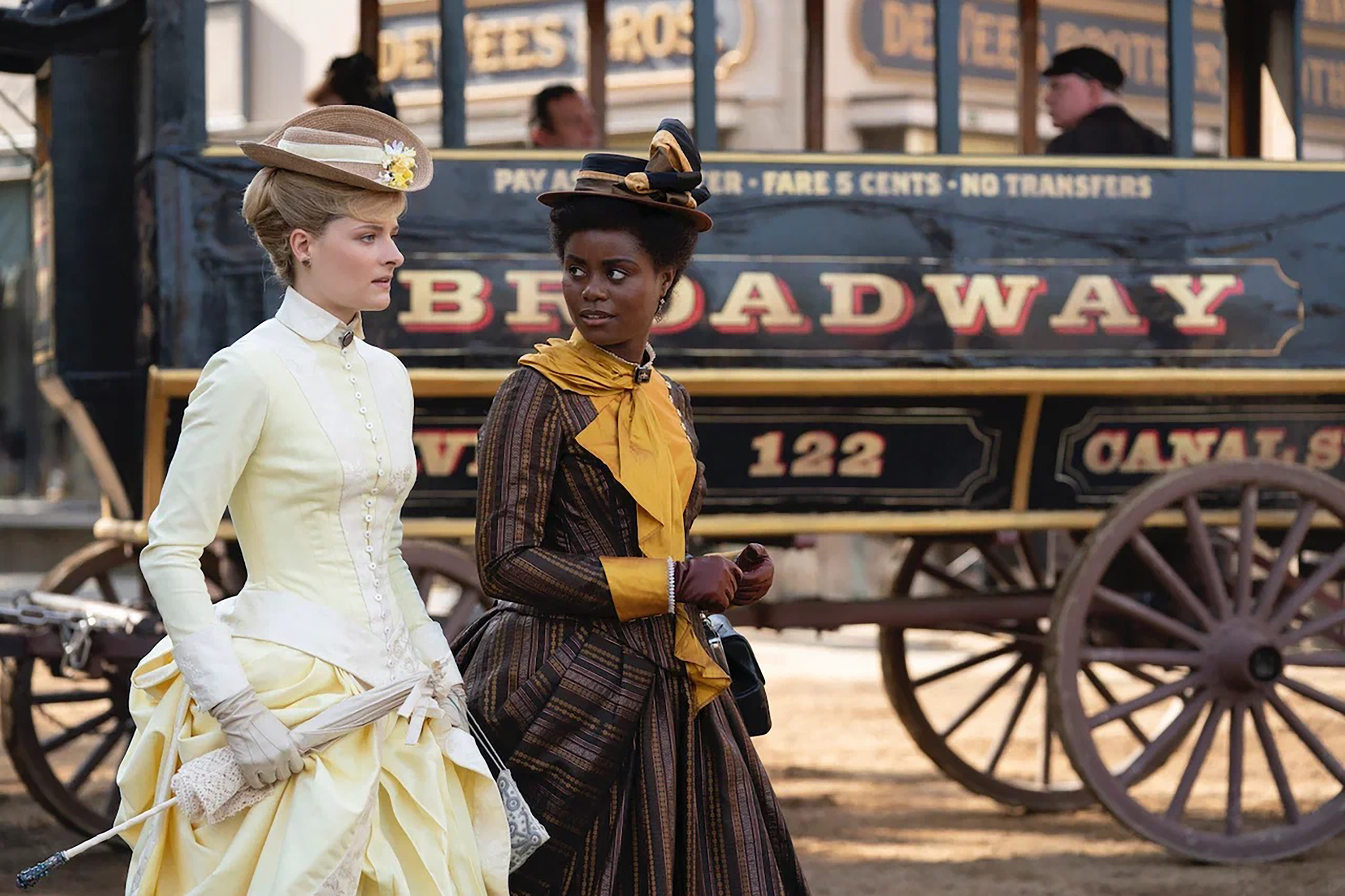 Another trend of 1880s women's fashion is the recognizable body-hugging silhouette. The maker even offered a "princess line." In other words, a dress had no horizontal waist seam. On the contrary, it was comfortably molded to the body by vertical seams and tucks. Alternatively, this slimline could be created with a cuirass bodice extending over the hips. Marian's pastel yellow walking gown is an example. She is wearing this garment with a straw hat delicately decorated with a ribbon and matching flowers, beige gloves. Always protecting any alabaster skin, the parasol was a must-have accessory of that era. Peggy's apparel is made of a brown striped dress decorated with a contrasting saffron-yellow scarf and upturns made of silk chiffon. A dark brown boater hat, decorated with a matching trichromatic ribbon, serves as an exclamation point.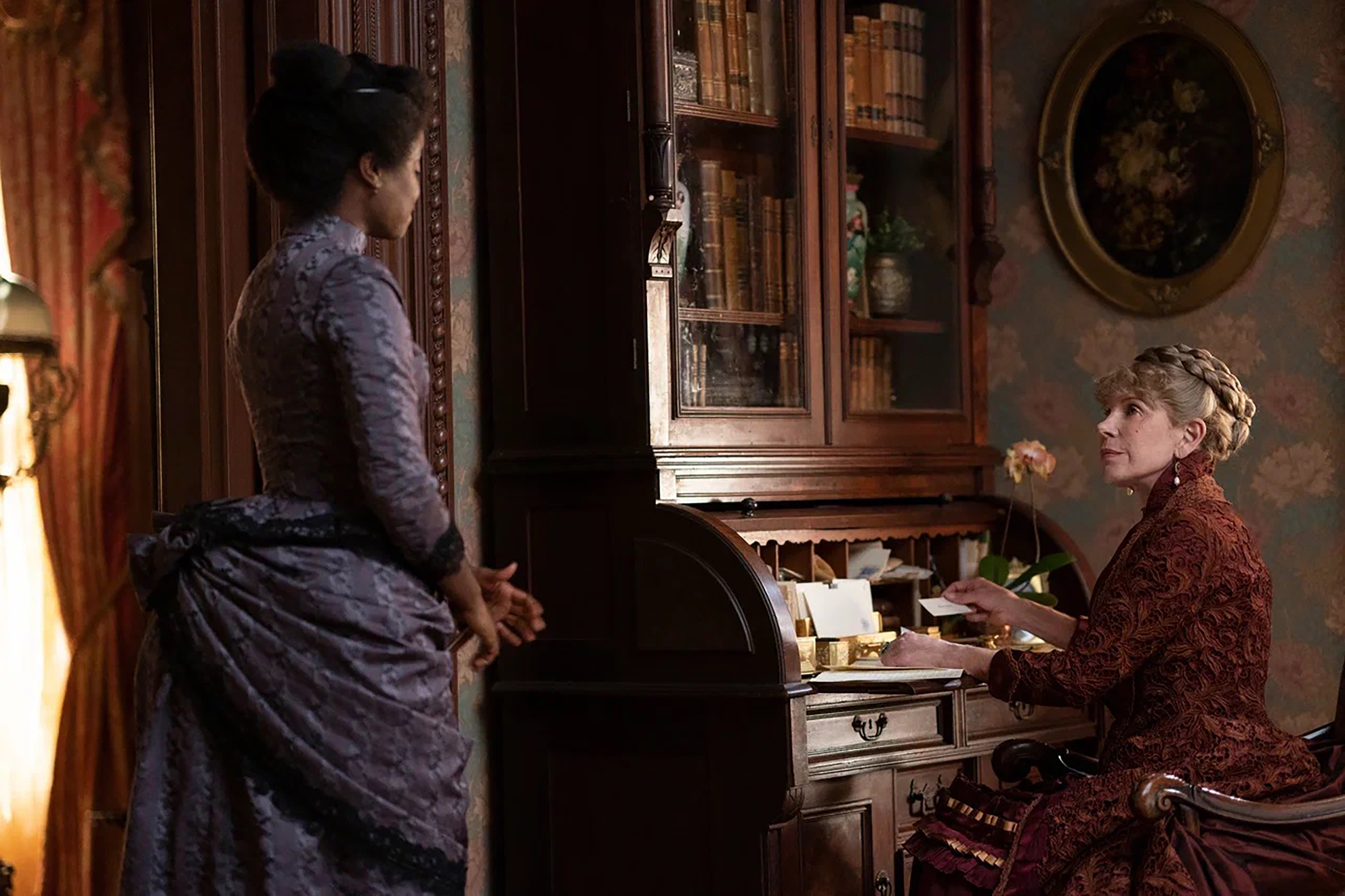 Another fashion trend of the Gilded Age was to focus apparel design at the back and employ princess-line corsetry to create large bustles. Dresses with pleated skirts usually had flounces around the hem while overskirt was draped behind to form a bustle. Tight-fitting bodices were decorated with ribbons in the front. According to Jayne Shrimpton, one of the most prominent dress historians, this period is remembered as favoring rich and dark colors as well as sumptuous three-dimensional effects using velvet, plush, and satin brocade. Total must-have at the time: embossed fabrics, as we can see both in Peggy's and Agnes' garments. Interestingly, Peggy's outfit doesn't look dramatically simpler though she is employed as a secretary to Agnes.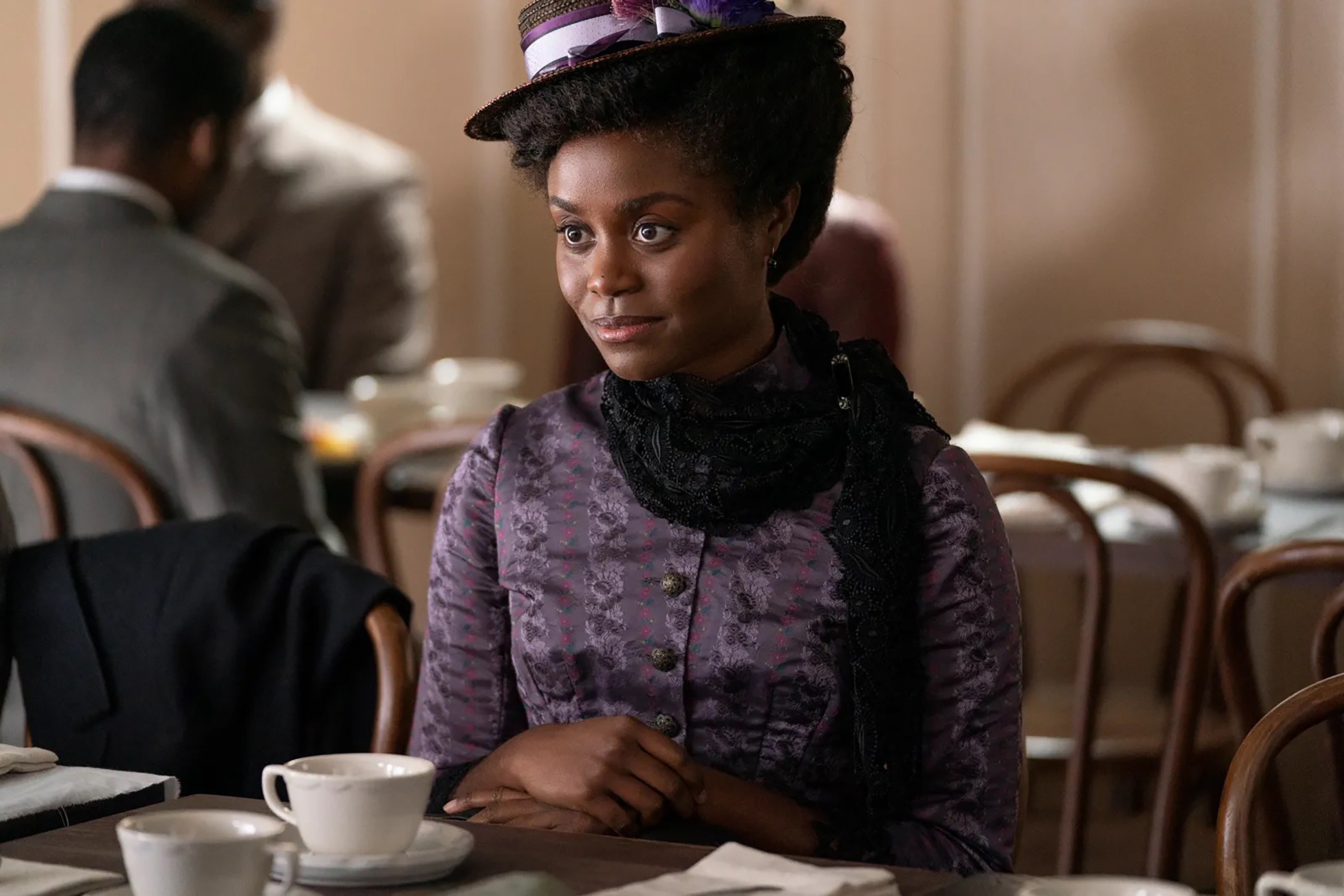 The dark lavender dress that Peggy wears, with a hat trimmed with ribbon and flowers and a black beaded scarf, will later match with her mother's garment. At this point, we finally realize that Peggy's family belongs to an affluent family in Brooklyn. Her father owns a pharmacy, which he wishes to leave to his daughter.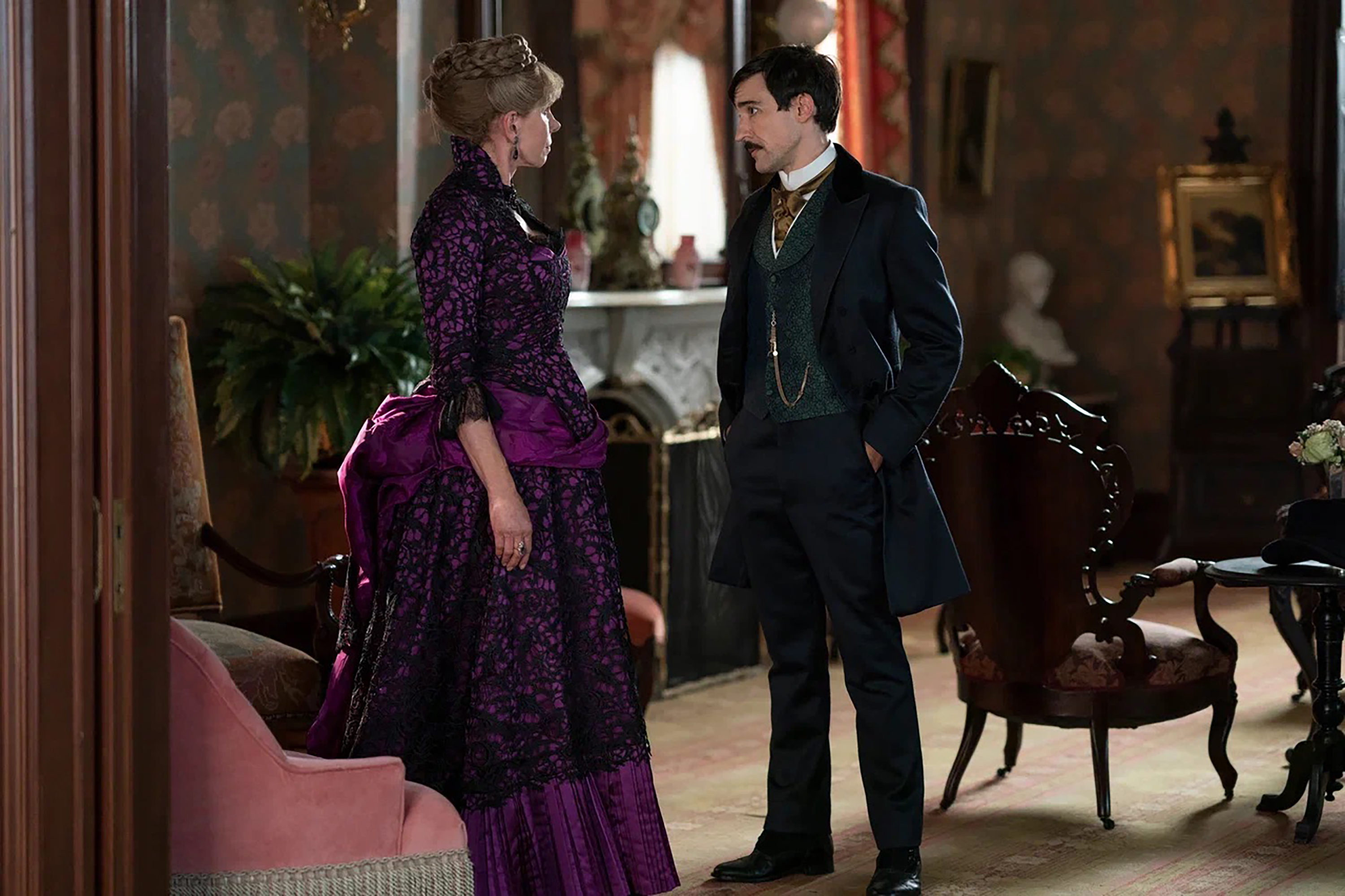 Speaking of Aunt Agnes, a proud socialite of the moneyed Upper East Side, she tends to stick to rich and dark colors regardless of daytime or her activities. She mainly wears jewel tones with black lace detailing. A rush of flamboyant embellishment can be admired when it comes to soirees, though she is very consistent when it comes to the shine of jewelry. Very moderate, in her case.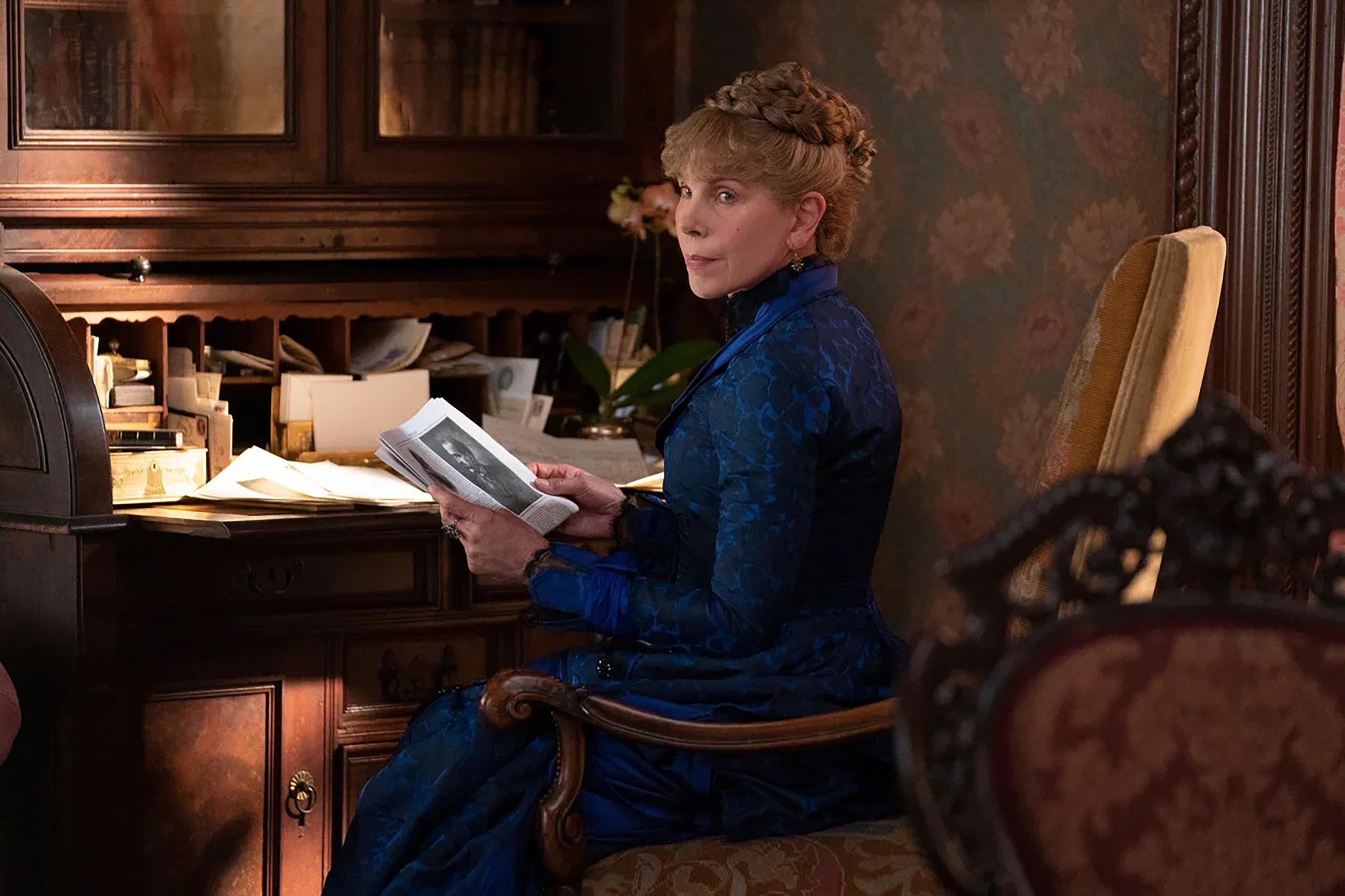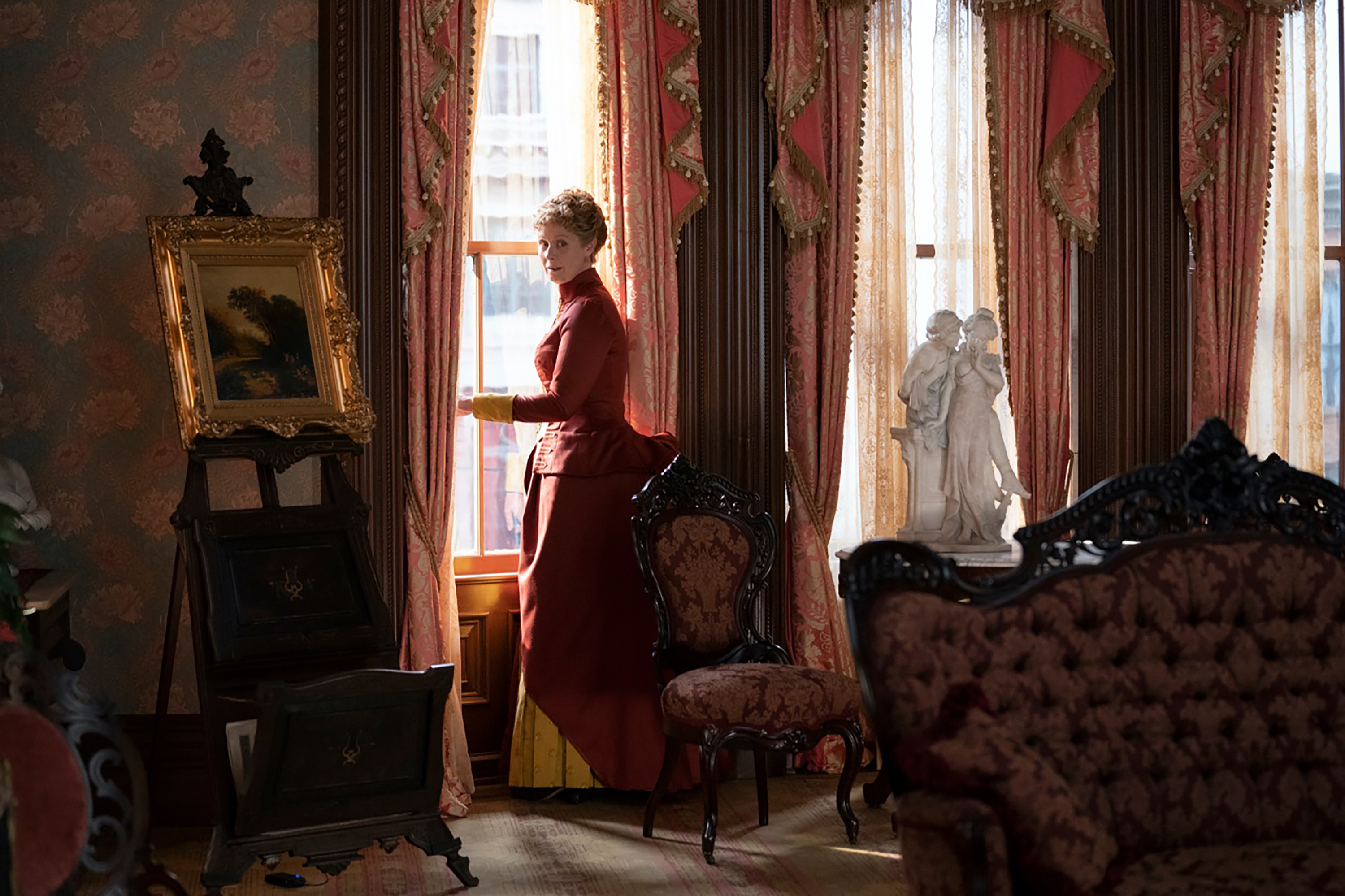 Her sister Ada, for contrast, prefers warm colors. She might wear pumpkin-orange or marsala tones though the silhouette remains reserved as if spotlighting her spinster status.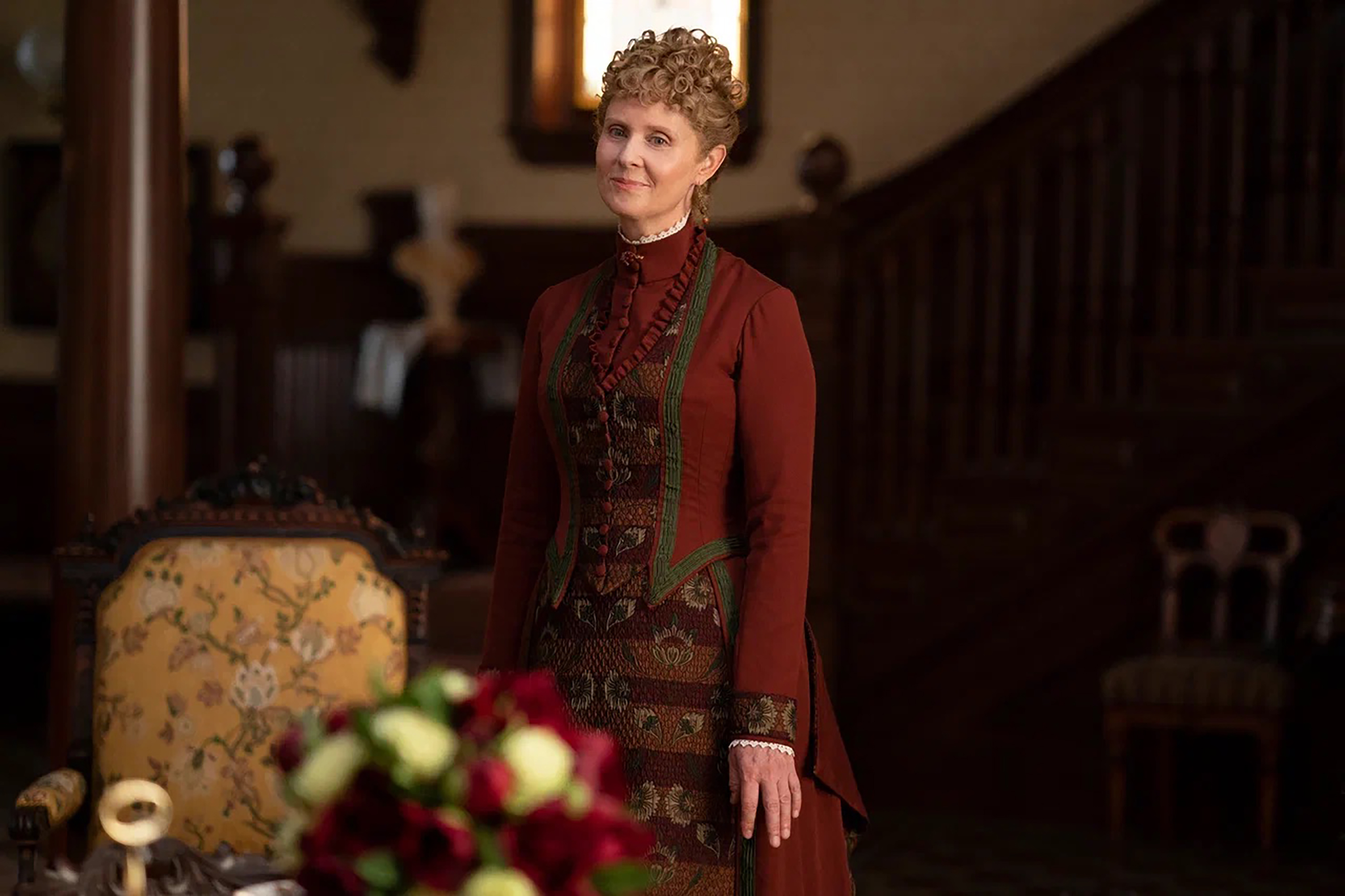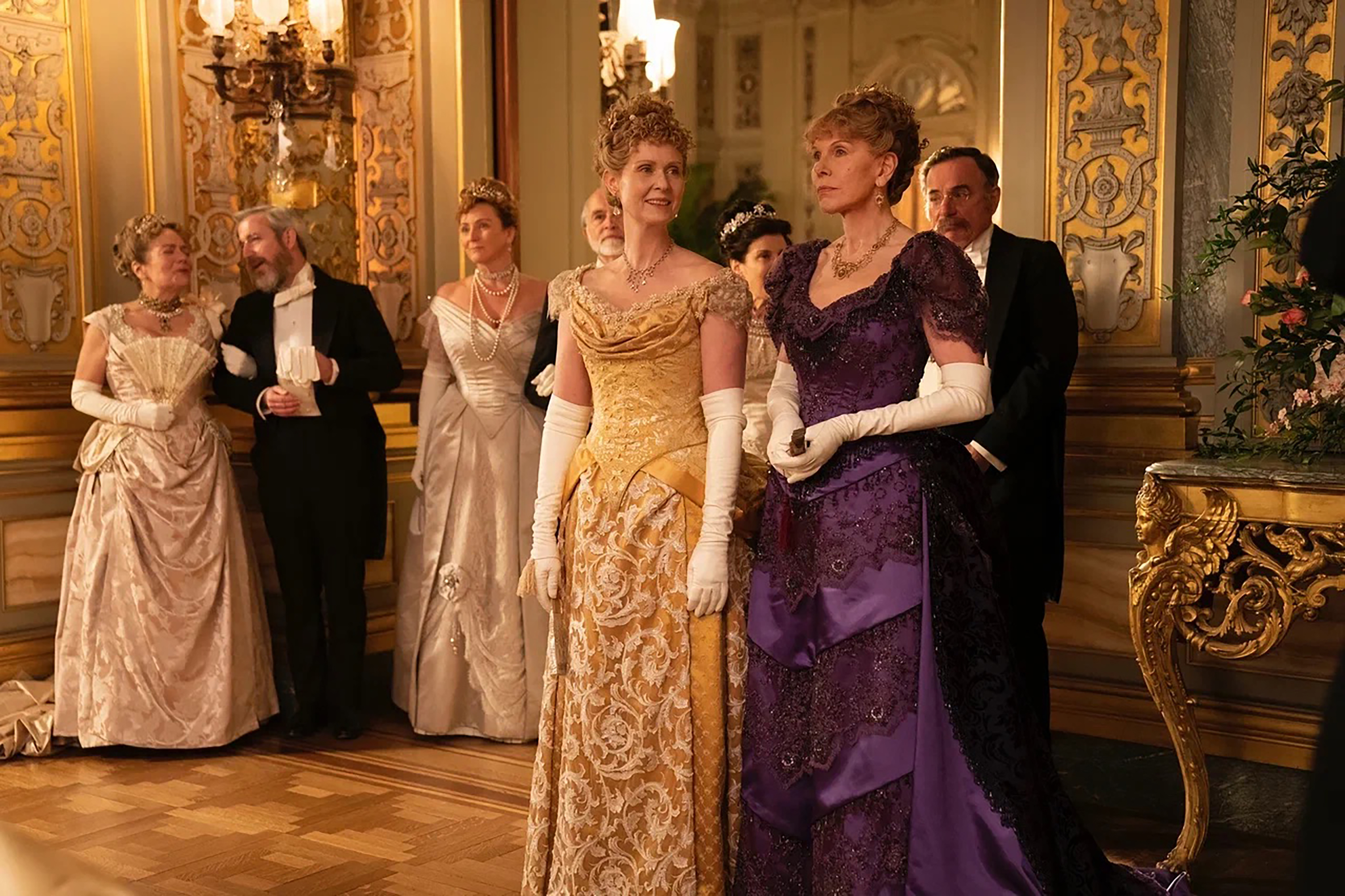 A rare exception is made when it comes to evening gowns. On very special occasions aunt Ada's dress looks as embellished as anybody else's. In the 1880s they featured shorter sleeves ranging from elbow length to mere shoulder straps, lower necklines that plunge onto long and sumptuous trains. Both sisters stick to their favorite color palette, and they are wearing marvelous necklaces. The Gilded Age fashion proves that extensive use of jewelry was the major factor separating old money from new money socialites.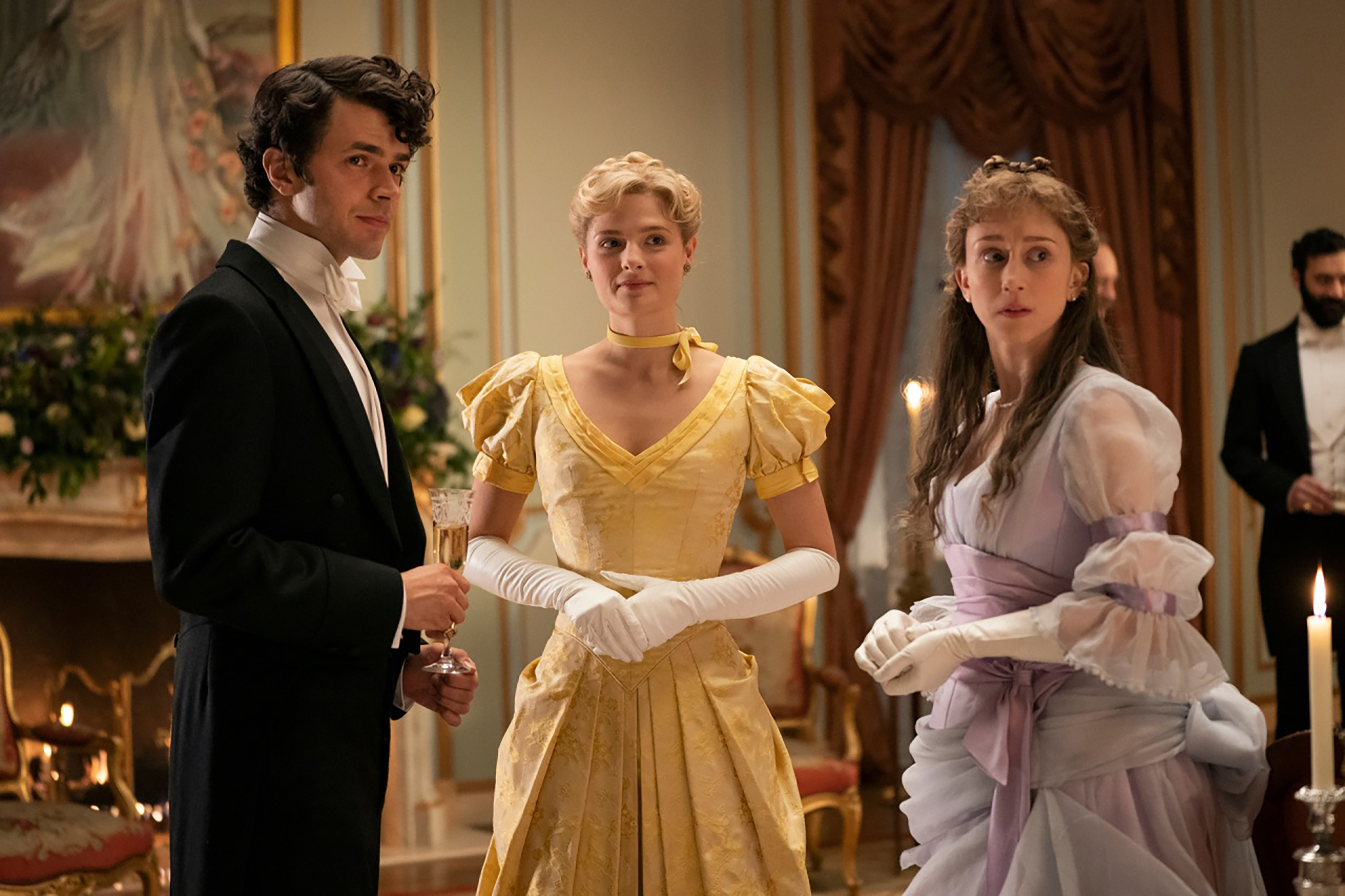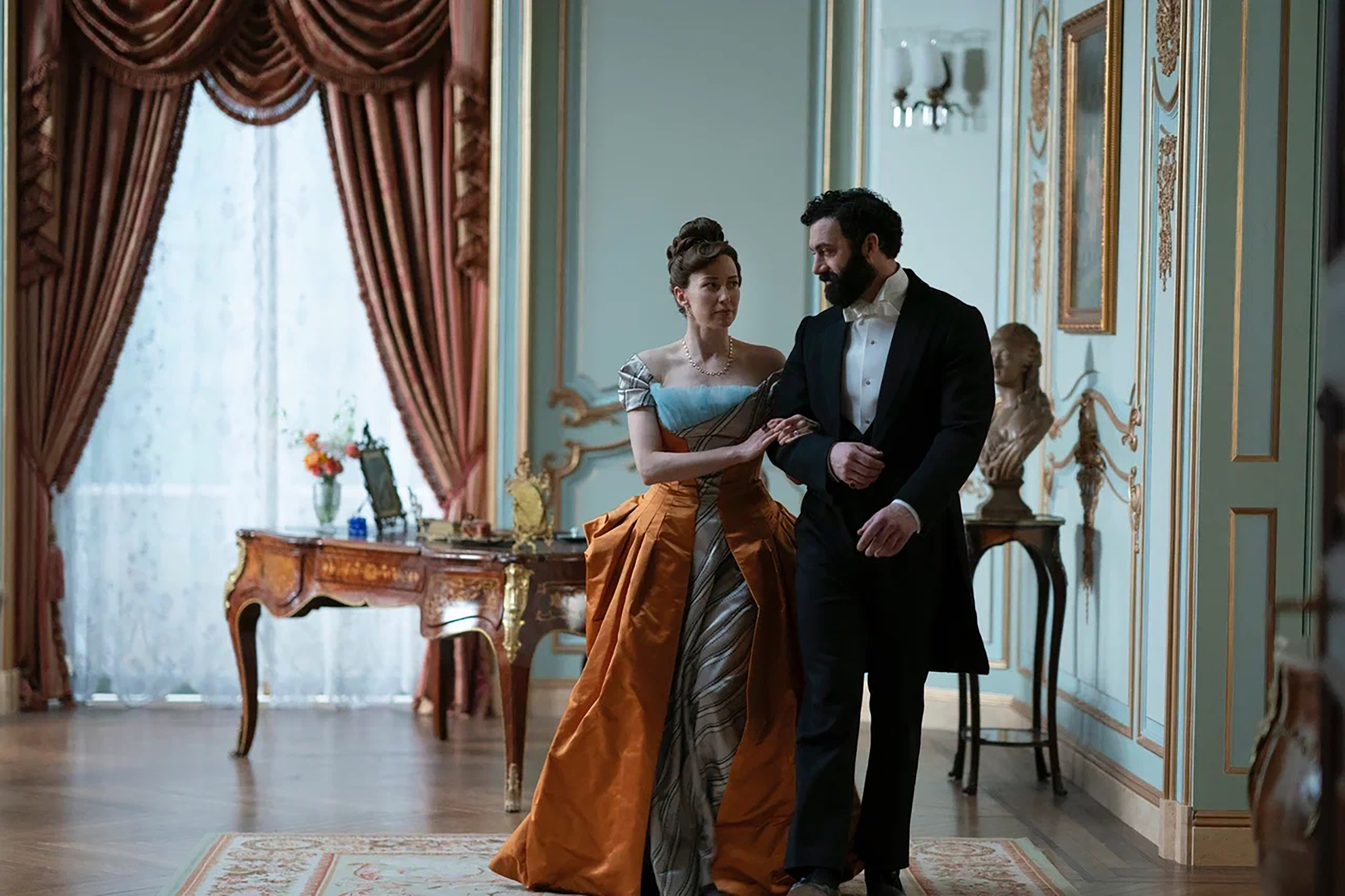 Bertha Russell is the only female character in this story representing the new elite made of fresh fortunes. George Russell, an extravagantly rich railroad tycoon, spares no expense to gratify his beloved wife's fancies, especially when it comes to her ambitious plan to join the crème de la crème on the social arena. Bertha's wardrobe is a vivid illustration of her strategy.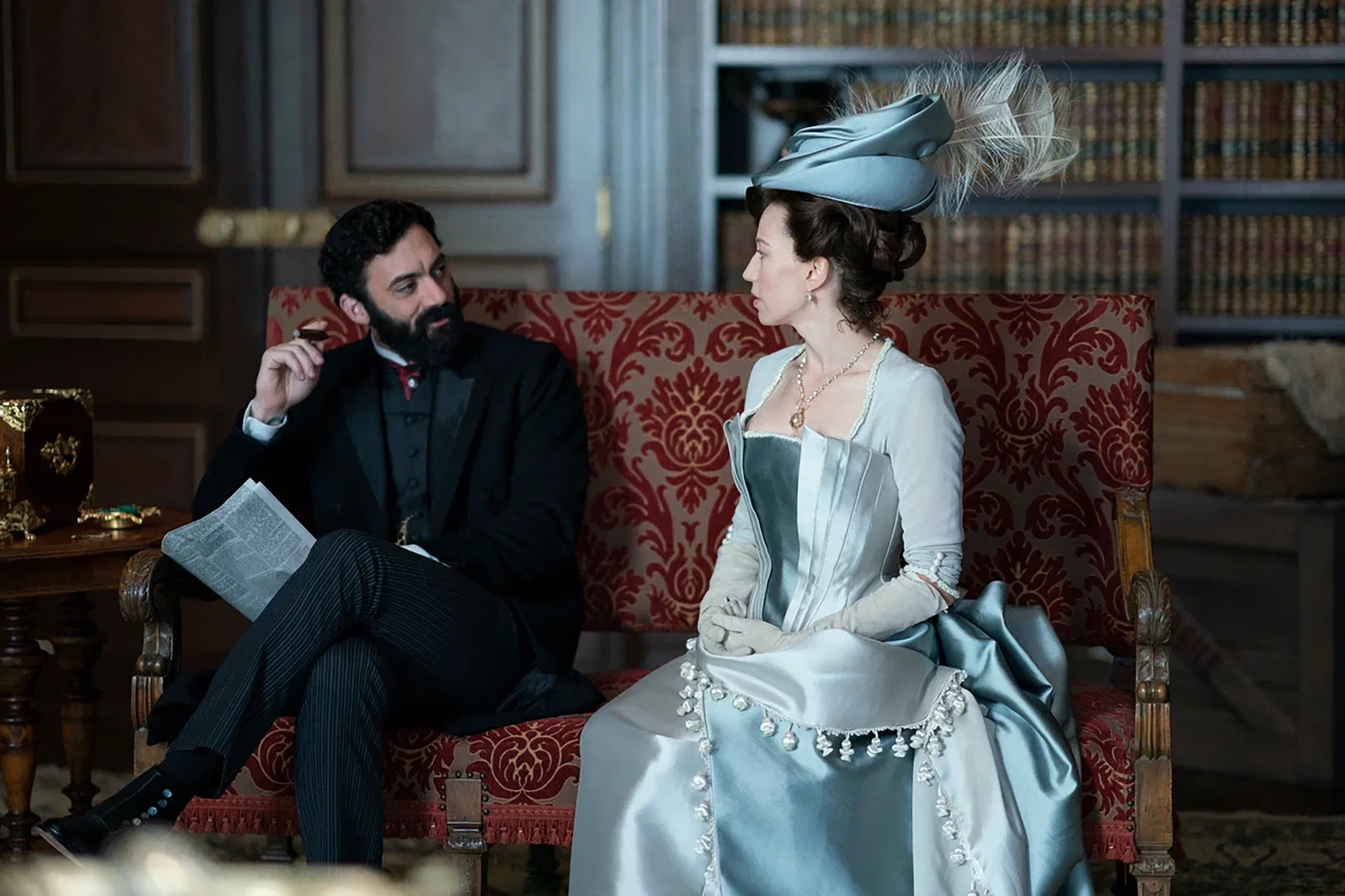 The major difference from the "old money" ladies is that she is wearing lighter colors. Those include a delicate teal, which she may combine with pistachio and warm orange. Exquisite fabrics embellished by a surprising combination of textures are also de rigueur. Again, the hats: much taller than usual and more sophisticated in their embellishments.
Even when Bertha tries to blend in while attending the charity event, she might choose the yellowish palette so popular amidst the social wives of Manhattan. Note carefully that her choice falls onto the peridot-chartreuse gown trimmed with moonshine grey silk paired with a matching feathered hat and fancy bag.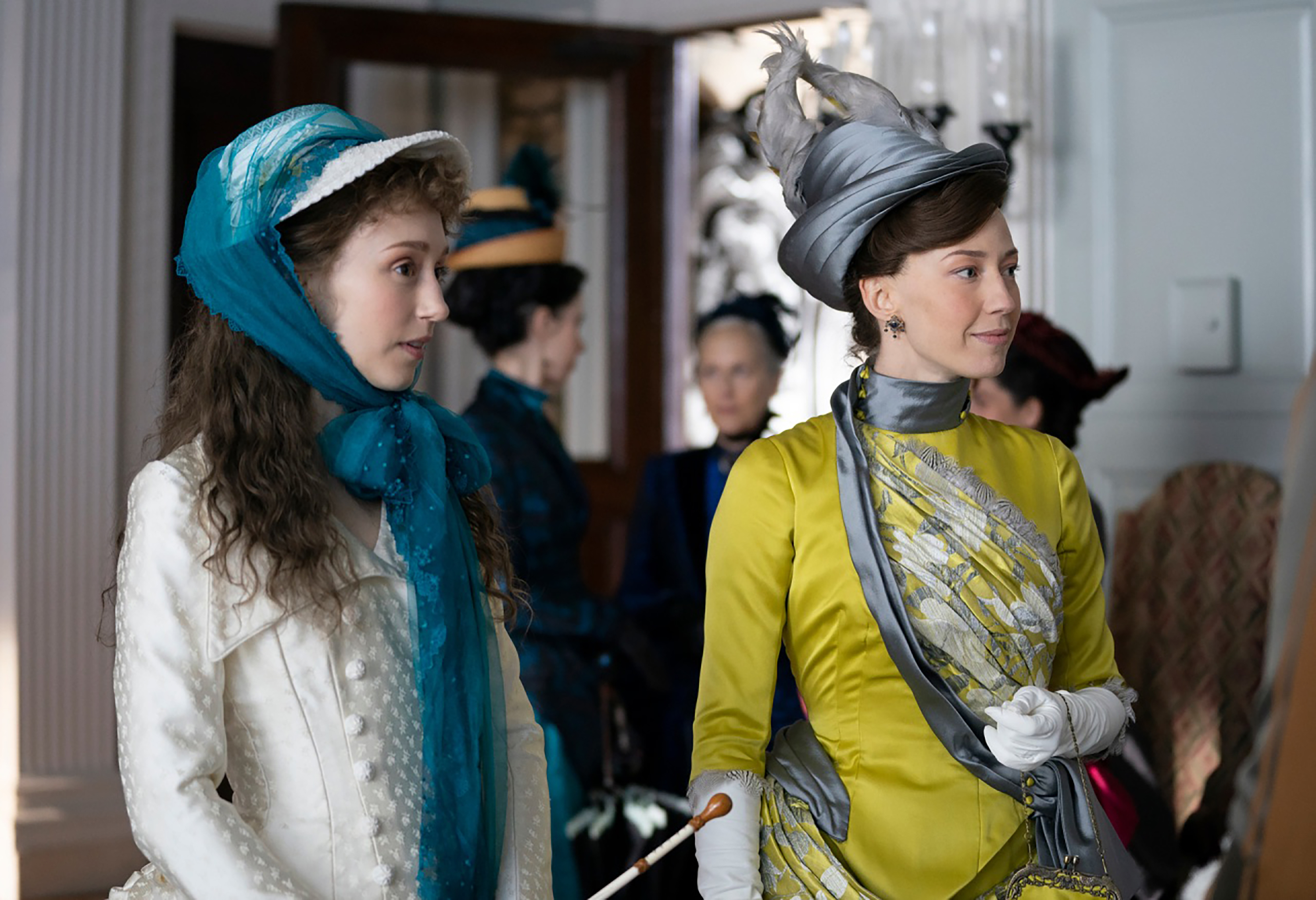 In the beginning, no money in the world can buy Bertha the coveted status she seeks. Inevitably, her spouse's resources may allow her to win the city. The very first social event she attends on her own is the reception at the prestigious Academy of Music, known for the limited number of private boxes occupied by the highest stratum in New York society. Surely Bertha Russell has been forced to join the long waitlist. Not to worry: the new business elite, frustrated by constant exclusion at the most anticipated events, decides to build a new opera venue capable of outshining the old Academy in every possible way – and so it happened in real life with the Metropolitan Opera. In her early wannabe days, Bertha would have taken off a luxurious brooch before attending a charity event. During those days she never wanted to come across as exorbitant. These days, for her visit to the Academy of Music, she exhibits a sumptuous scarlet evening dress and fabulous jewelry. This is a nice metaphor that Julian Fellowes uses to tell us where the story might head in terms of "new money" vs. "old money" collision.