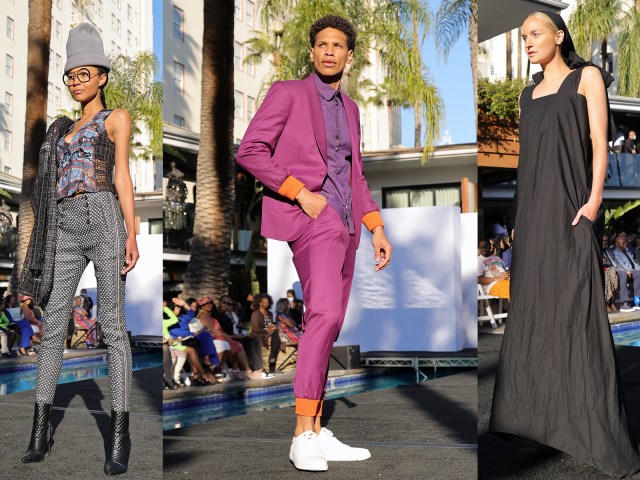 NAACP's Image Awards: A Celebration of Fashion, Costume Design and Glam
February 26, 2022
—
Margaret Gardiner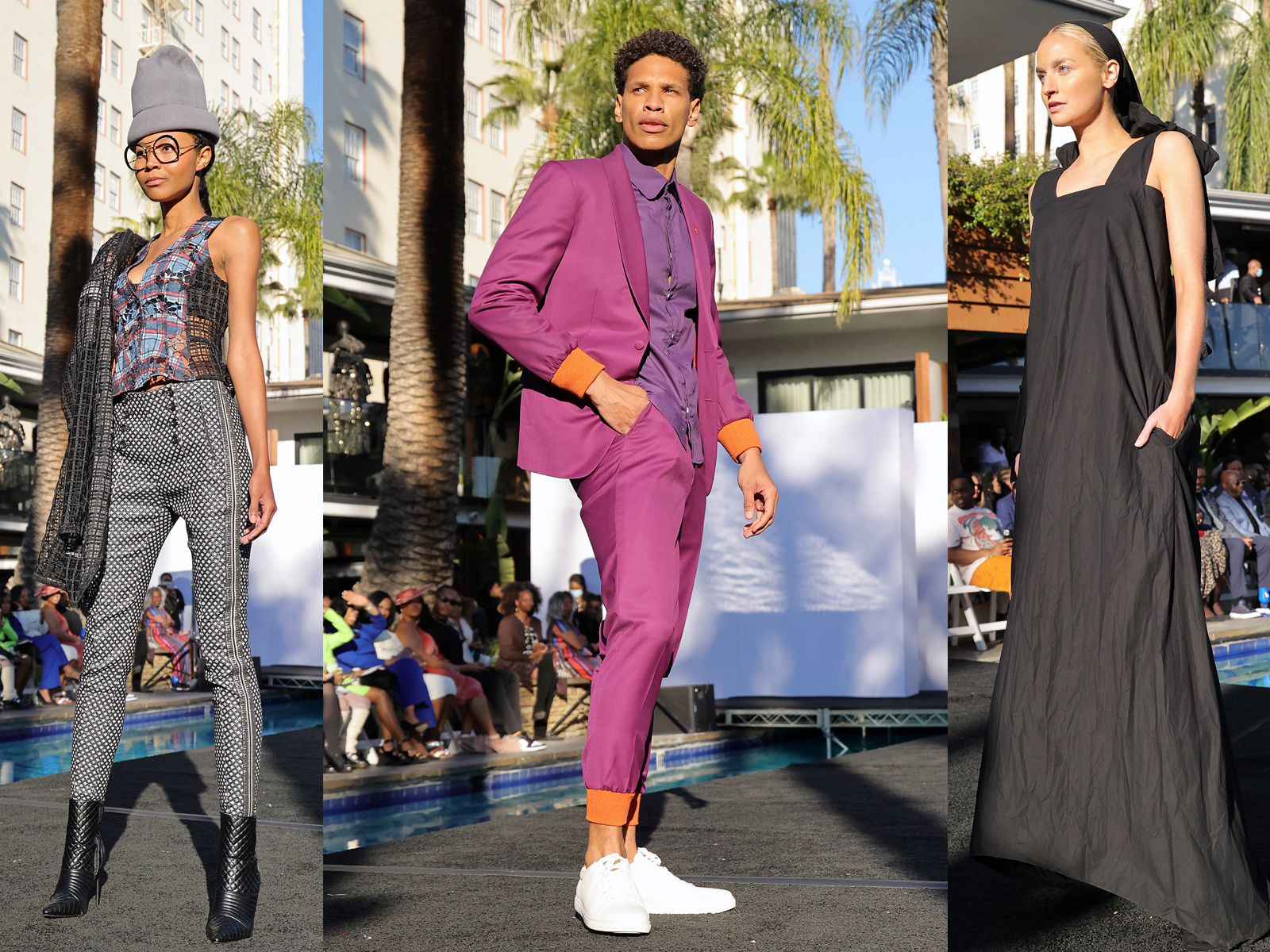 Ruth E. Carter and Karen Boykin-Towns are seen onstage during the 53rd NAACP Image Awards Colors Behind the Look: A Celebration of Fashion, Costume Design and Glam Event at The Hollywood Roosevelt on February 25, 2022 in Los Angeles, California.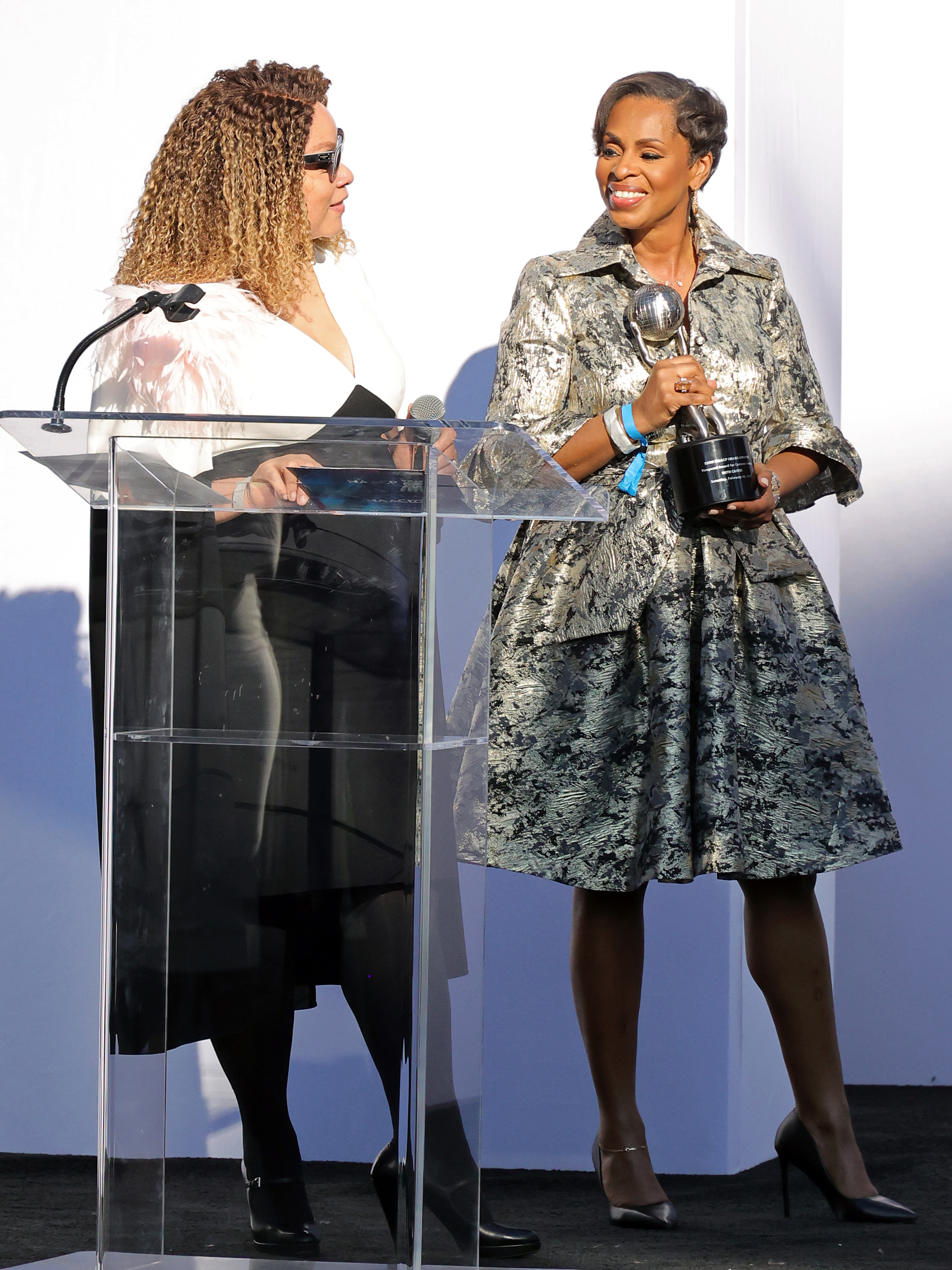 If you are in possession of a fashion gene, then the Roosevelt Hotel was the place to be as the 53rd NAACP Image awards celebrated Ruth E. Carter with a Vanguard Award for her work in Costume Design on February 25, 2022. With a career that spans movies like Malcolm X and Black Panther for which she won an Oscar, the legend expressed her surprise to discover that those behind the camera had not been honored before. "For we are the image makers," she stated to rousing applause. She noted with delight that the Costume Design and Hair and Makeup categories will also have their place of honor in the NAACP's Image awards going forward from 2023.
After a sumptuous luncheon of organic field greens followed by pan-seared king salmon and completed with vanilla creme brulee, the NAACP Vice Chair Karen Boykin-Towns introduced Carter and showed a video of some of the highlights of her career. An exhibit of costumes from Carter's varied career, including those from Dolemite is my Name and the suit of Dr. Martin Luther King (played by David Oyelowo) from the film Selma, was on display after the luncheon and fashion show, by invitation only.
Fashion designer to the stars, Kevan Hall, was honored for his work with the Black Design Collective which raised almost $2 million during the pandemic to keep fashion designers from having to close shop as Covid restricted activities and the need to purchase designer clothes disappeared overnight.
Rather than hog the spotlight, Hall chose this moment to focus on four rising Black designers. In line with the NAACP Image Awards showcasing Black excellence, Hall used this moment to introduce Hollywood to new voices in design – although upon viewing their collections and hearing some of the names they already have in their portfolio, discovery might not be the correct word.
First up was Cross Colors designer Carl Jones who has created Tee's for Guess and calls Billie Eilish and Tupuk his clients. His clothes included oversized hoodies as dresses; bright, ethnic patterned shorts and shirts; and sassy combos that fit right in with the star power of California 'casual.' The designs look like you could pull them from your closet but with a specific standout style that never looks calculated.
The big find was Epperson whose style is achingly simple and beautiful. The flowing garments are sensual and have the feel of 'otherworldliness.' Asymmetrical fabric drapes and reveals. Headsocks hold back and show. Fabric billows. Surprising pockets adorn and backless numbers intrigue and delight. It makes sense to discover that Epperson was commissioned to design costumes for the Alvin Ailey American Dance Theatre and the Julliard Dance Ensemble.
Angela Bassett, Natalie Portman and Taylor Swift are all in for In Earnest's Byron Large whose style can best be described as slinky and sophisticated. You can see the beautiful people flocking to his sensational and simple garments with an edge. The body is shown to its best advantage. Ankle boots and intriguing hats like a confectioner's swirl on top of art. This collection is particularly perfect for the Hollywood star. Confidence worn with a side of seduction.
Isaiah Hemmingway has invented a word to describe his collection: Bleisure – a combo of business wear and leisure. The bright suits are the kind that are needed to shake up a man's wardrobe. The pairing of contrasting cuffs on men's trousers is so fresh. This is what the man looking for new should embrace. Standout style.
Finally, the honoree himself showed his collection: Trading Post. The fabric glides and swings with the master designer's expert cutting, so movement is magnified in a shimmer of seduction and strength. The crowd rose to a much-deserved standing ovation for the former Halston creative director.
As guests danced to music around the pool, the NAACP Image awards wrapped its fifth night of celebration. Supporting Actress went to Regina Hall for her part in the Limited Series Nine Perfect Strangers, while Regina King took the honor for the film The Harder They Fall. For making us laugh, Black-ish actors Deon Cold and Miles Brown got attention, while Insecure's Natasha Rothwell had nothing to feel insecure about, nabbing a supporting nod.
Encanto continued its streak with a win in the Animated section and CODA got Outstanding Independent Motion Picture kudos.
The "53rd NAACP Image Awards," hosted by seven-time NAACP Image Awards winner Anthony Anderson, will air Saturday, February 26 at 8:00 PM on BET, featuring a performance by nine-time Grammy Award-winning singer and two-time Academy Award-nominated actress and producer Mary J. Blige.