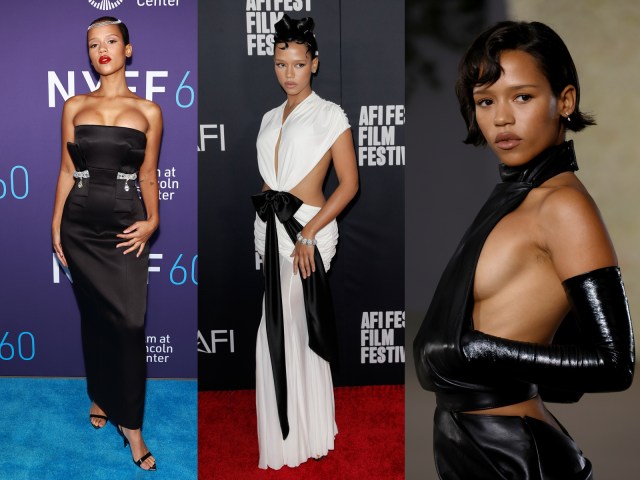 Taylor Russell's Provocative Style: A Fashion Icon in a Rising Star
February 1, 2023
—
Margaret Gardiner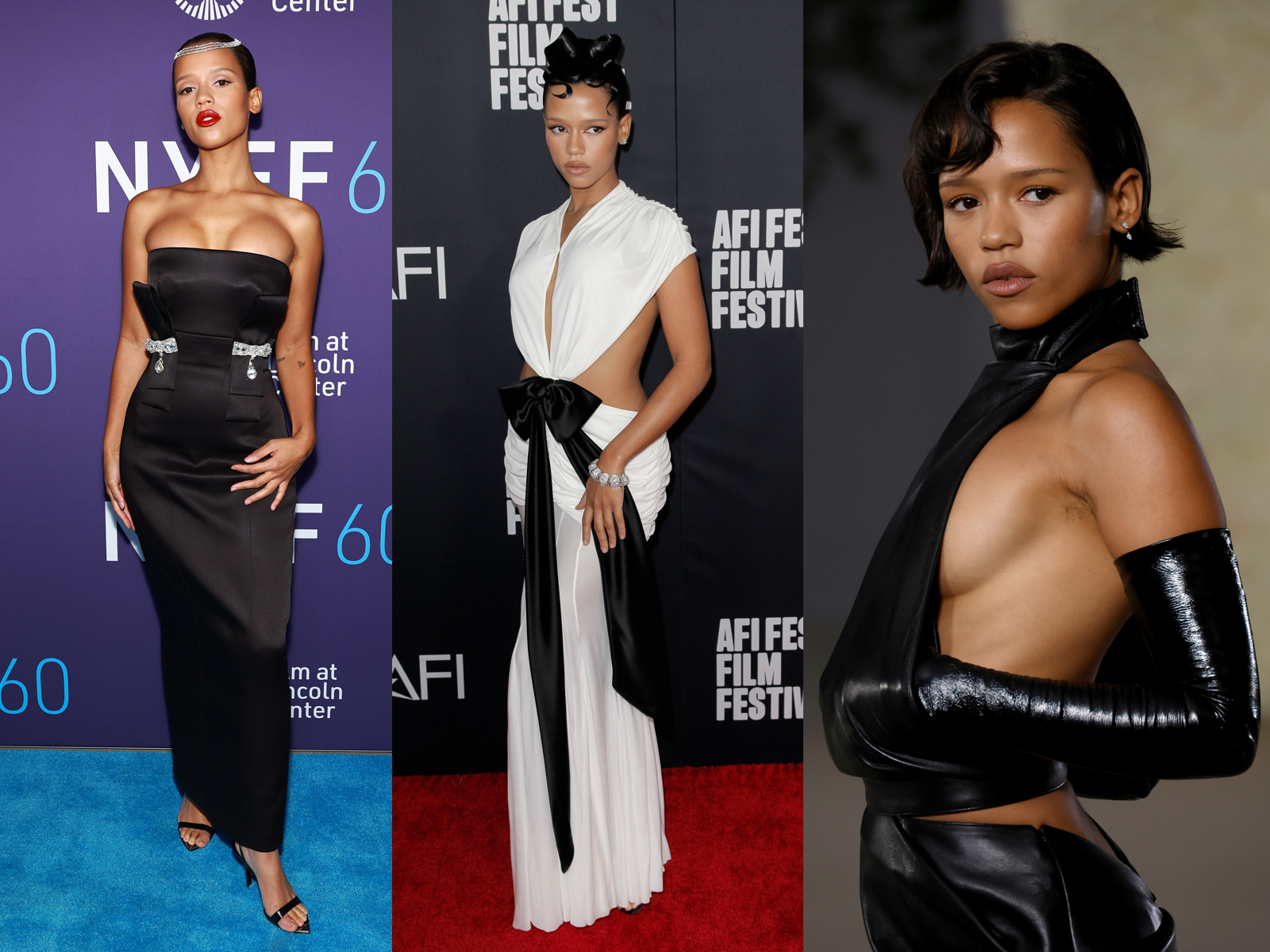 Taylor Russell, sucked the attention away from one of the hottest names in Hollywood, Timothée Chalamet, while promoting Bones and All at the Venice Film Festival, where she won the emerging star award following in the footsteps of another mega talent, Jennifer Lawrence, who took the Marcello Mastroianni Award in 2001.
The Dune star is known for his fashion sense, and in his red halter, the entire world looked, but off to the side was his co-star, dragging the eye to her impeccable panache.
It's rare for a young star to arrive so completely groomed and to top herself, carpet after carpet. Taylor Russell is no doubt a formidable force on the screen, but she is equally formidable with her complete understanding of owning the spotlight.
It's not just in the way she owns her power. It's her choices, and daring. This woman is a rising star, but dresses like the A-lister she is about to become.
Let's break down some of her iconic looks of the past six months.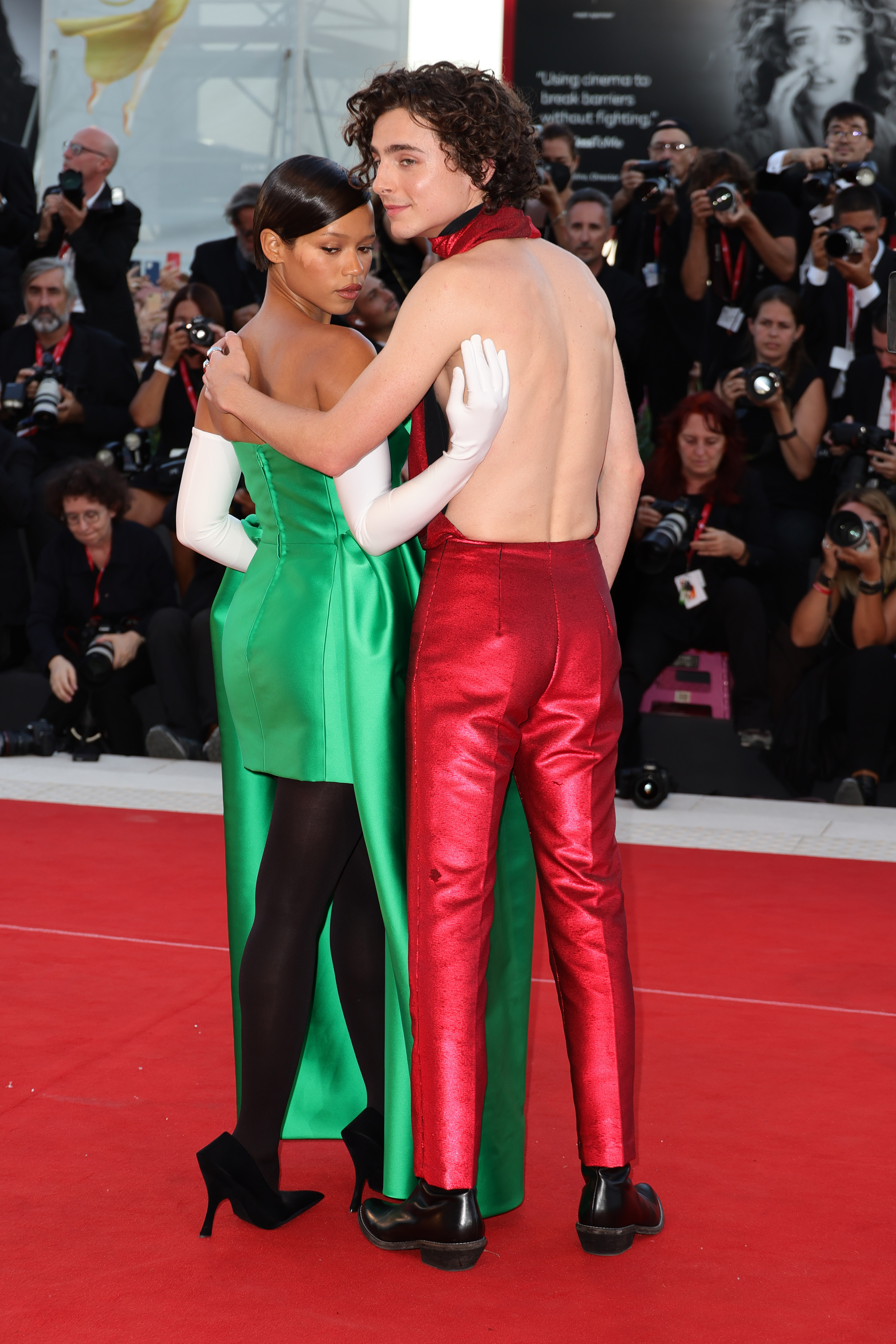 When Timothée Chalamet wears a backless halter, Taylor Russell wears a bold Balenciaga in bright green, the color that is about to burst at Paris Fashion week – in October!
The gown appears long from the front but is indeed a mini from the back. Paired with a cropped side part, helmet hair, black heels with matching tights, and extended long, white gloves, she was everything modern, while also embodying the classic style of Jackie O and Grace Kelly.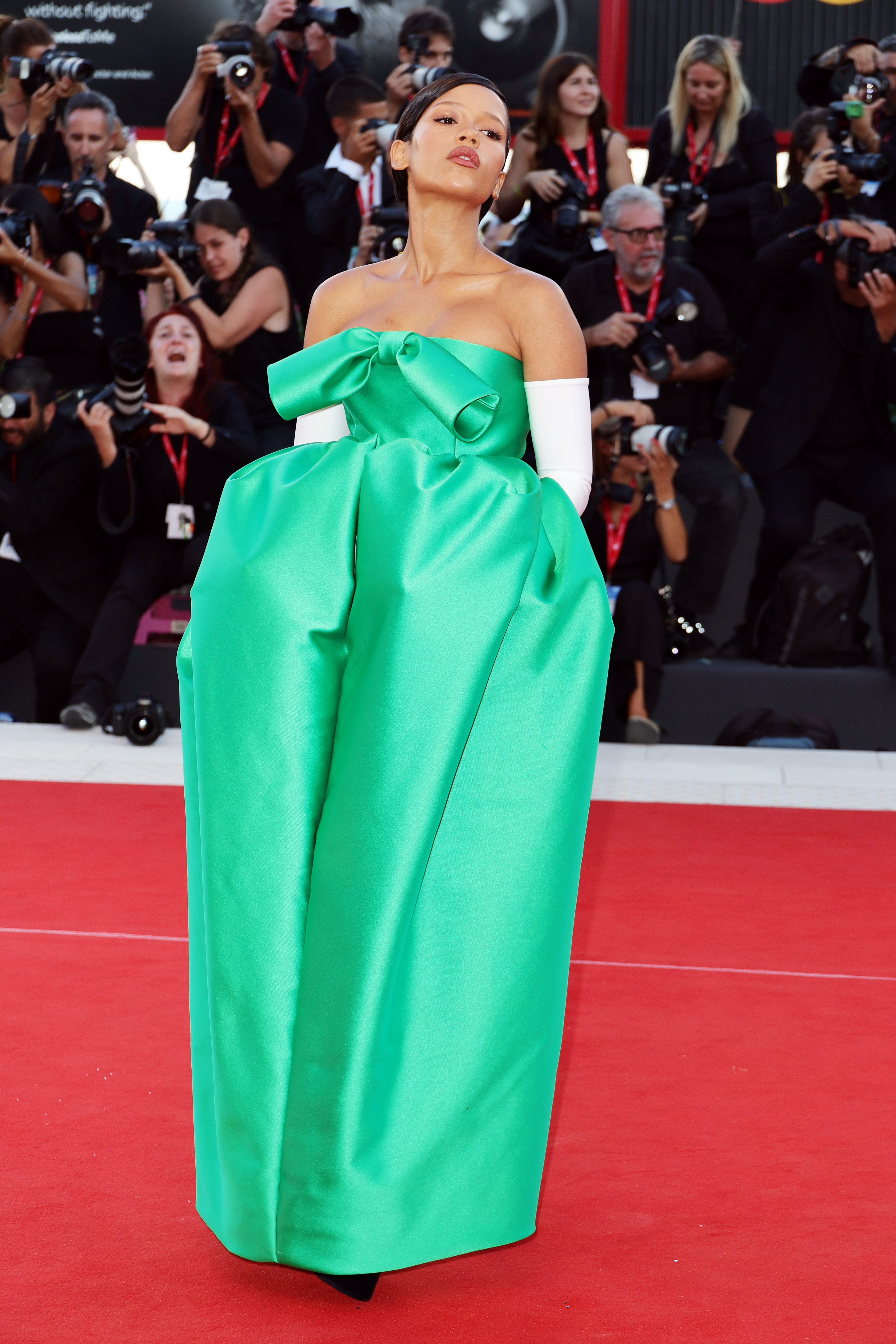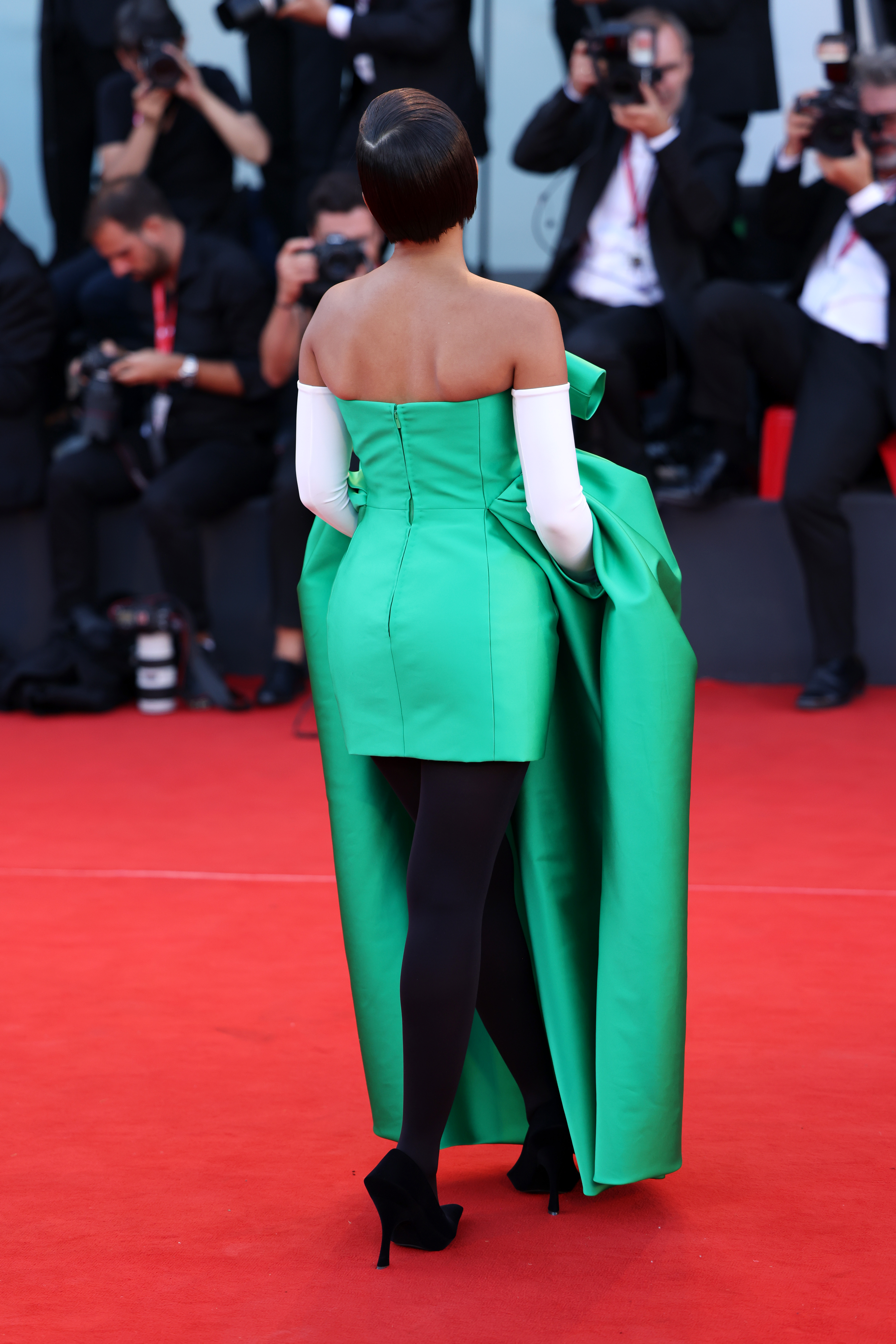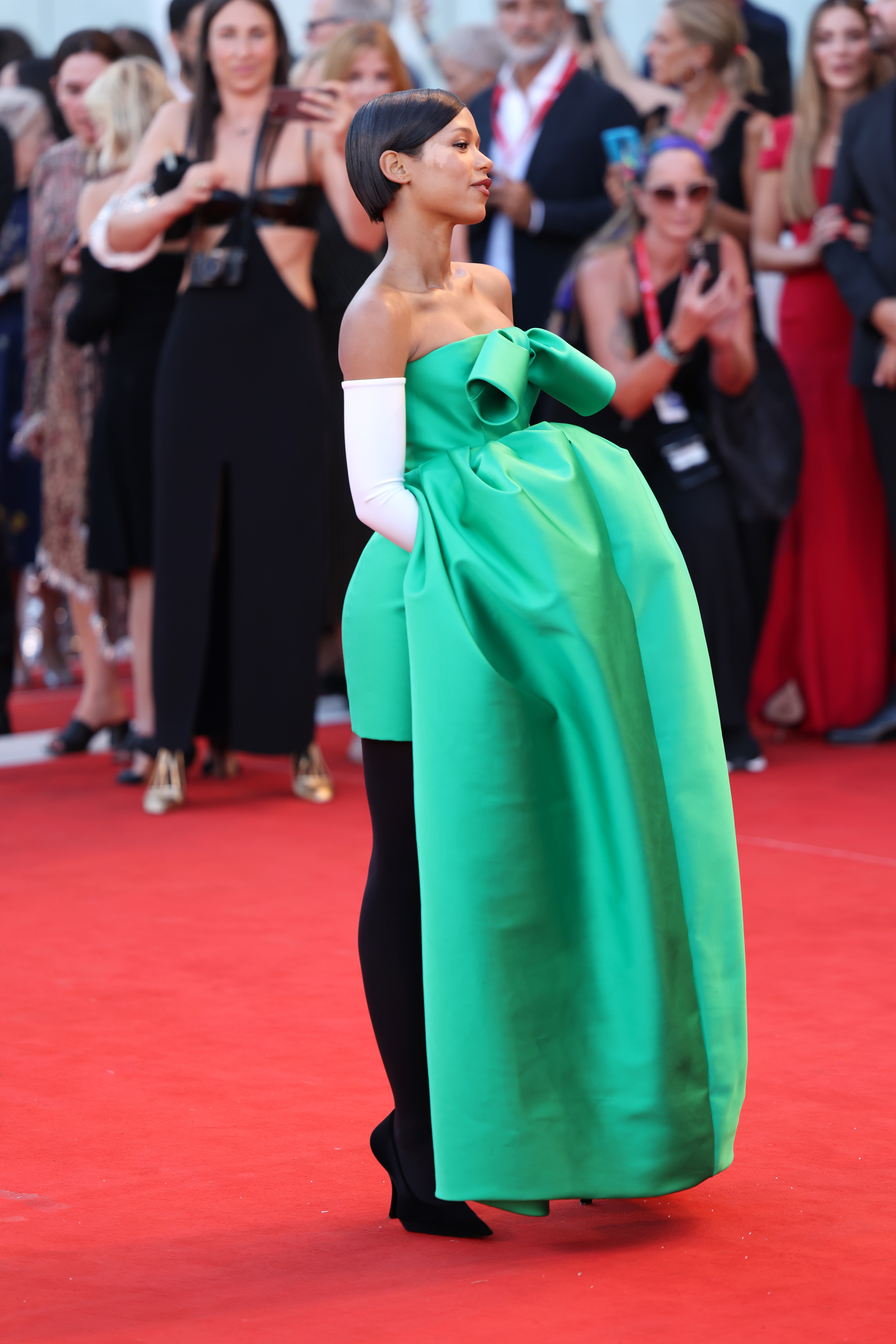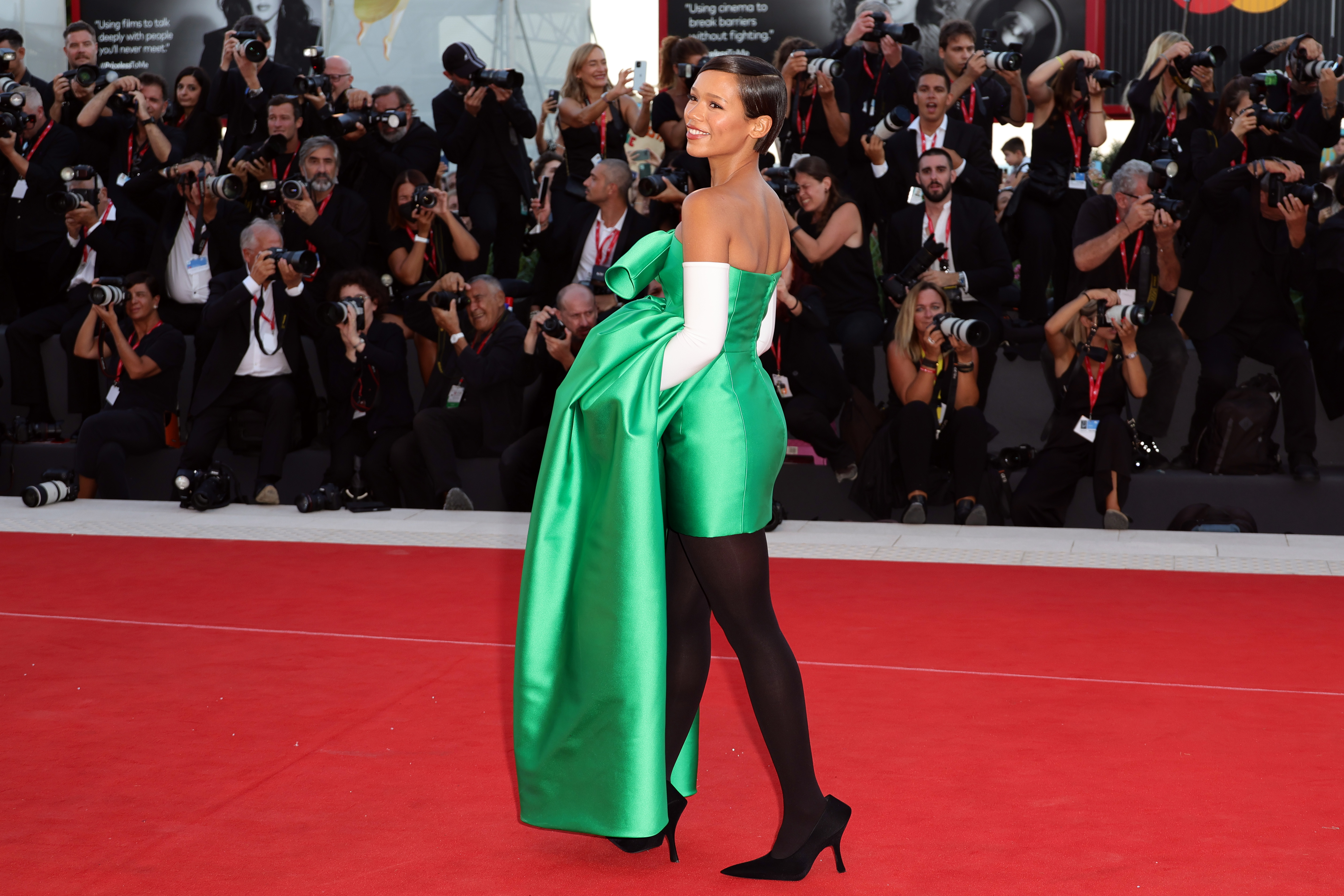 The gown is one thing from the front and something entirely different from behind. The front flap – for what else do you call it, other than a forward-cape or train – but the forward skirt, has pockets which allows the star to slip her hands inside and create the silhouette she desires.
Now let's take a closer look at her understanding of line…. Scroll down.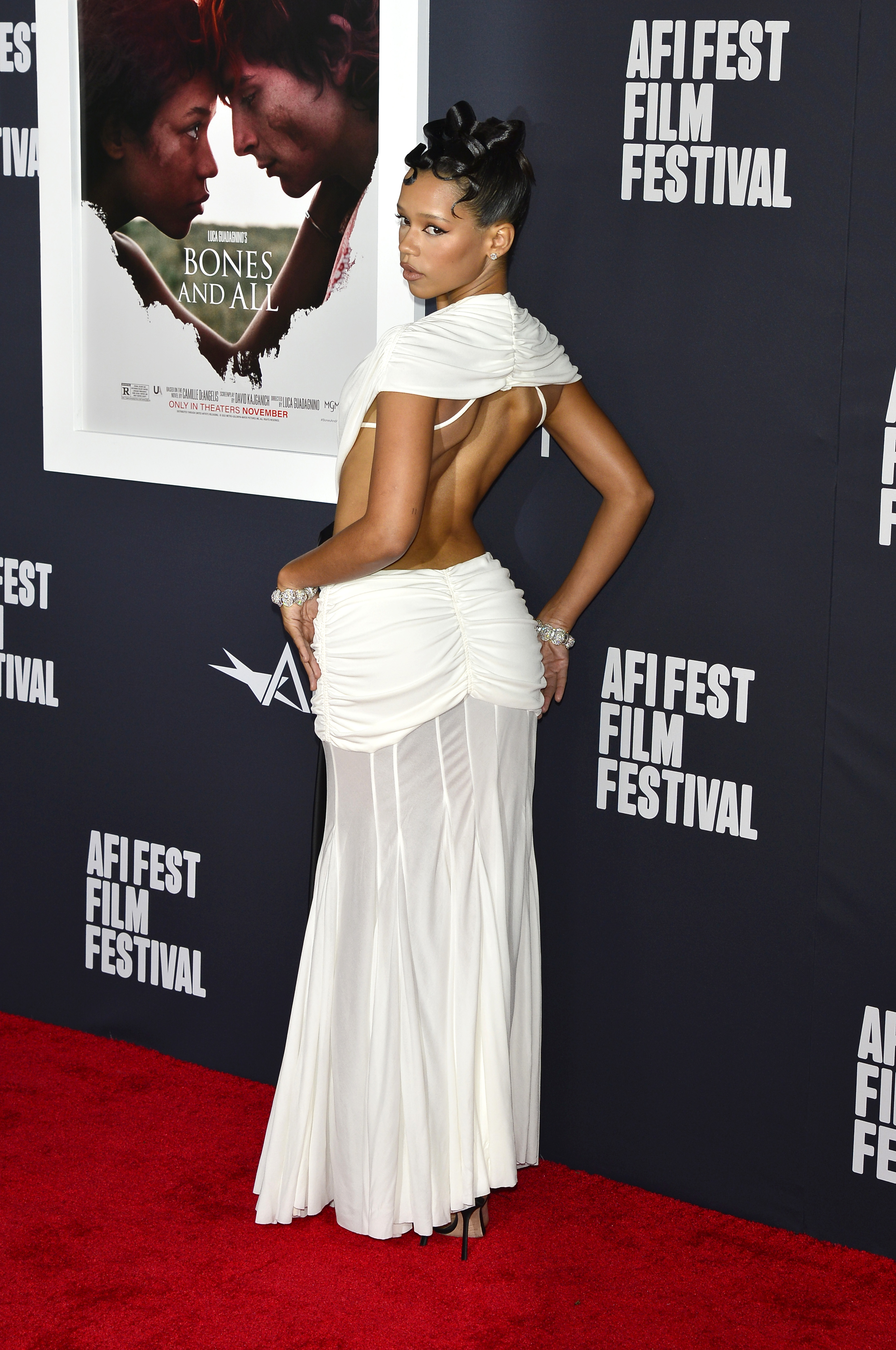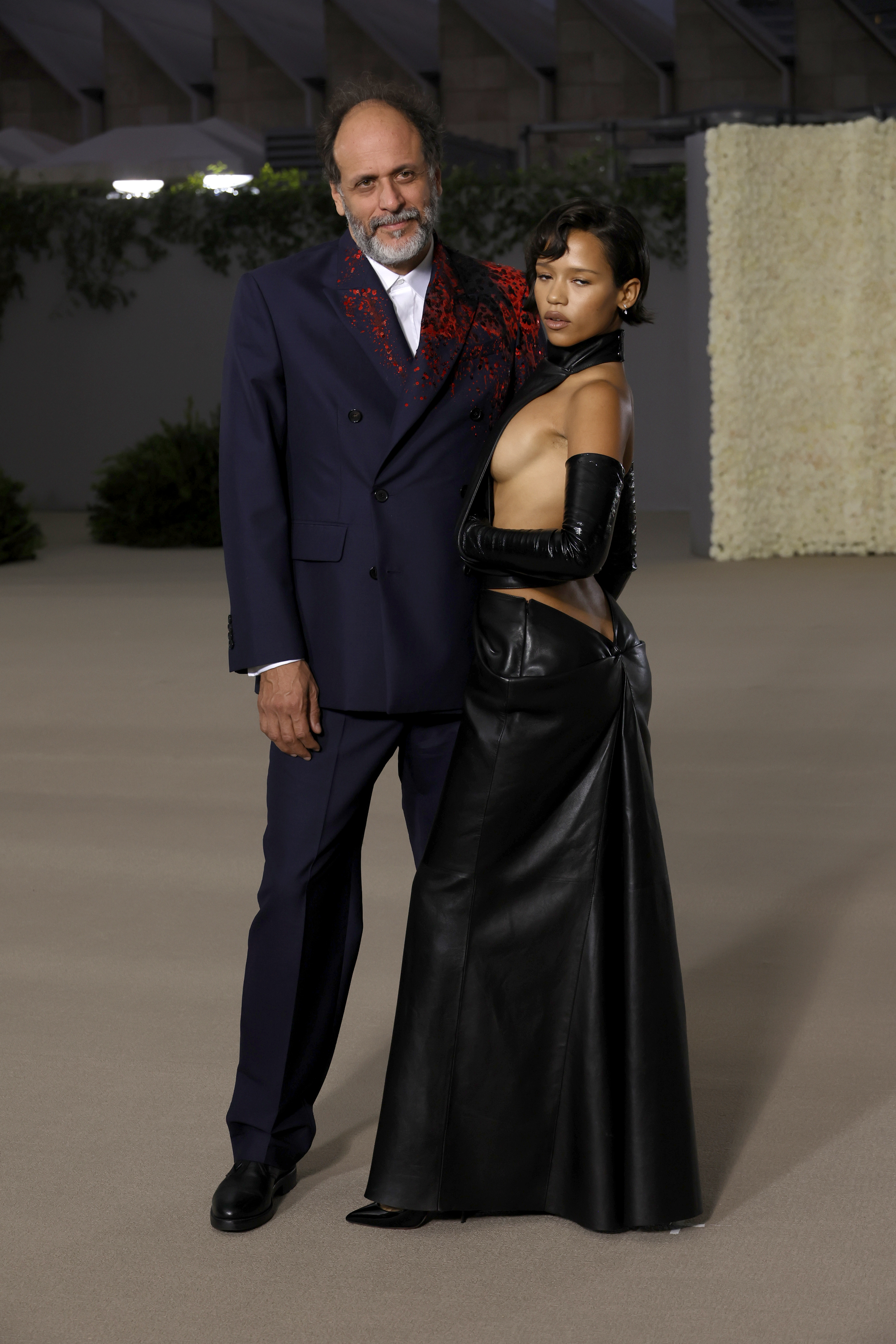 Taylor Russell was born to strut her stuff at premieres. With utter confidence and embodying the exact attitude of uber ownership, she arches and poses to show off her assets and make the most of her couture gowns.
Left and below: Loewe
Above right: Alexander McQueen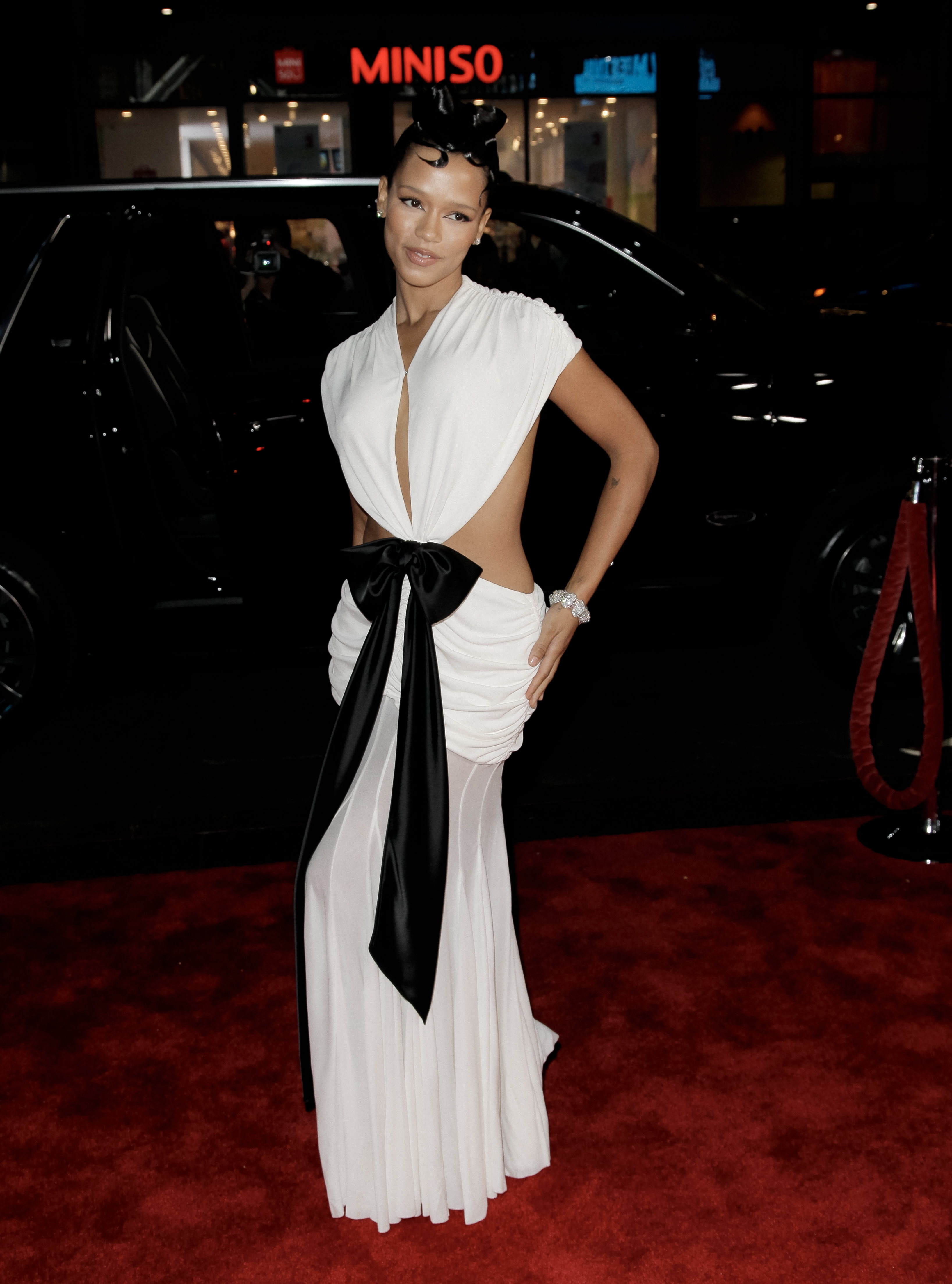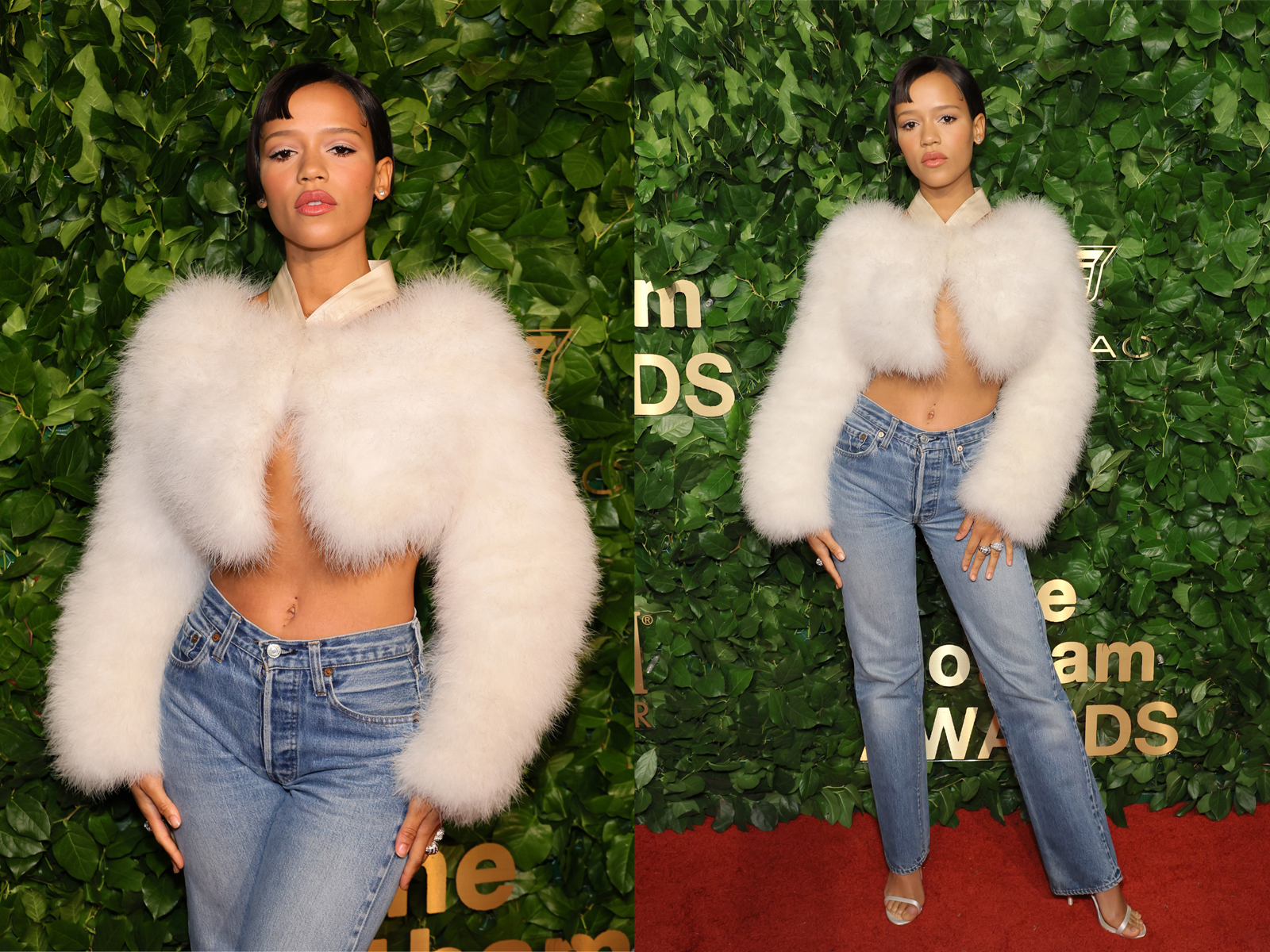 Her choices are not predictable ones, but are instantly memorable. You simply HAVE. TO. STOP. AND. STARE.
The soft cropped jacket teamed with faded jeans and heels are an instant classic that will be emulated forever.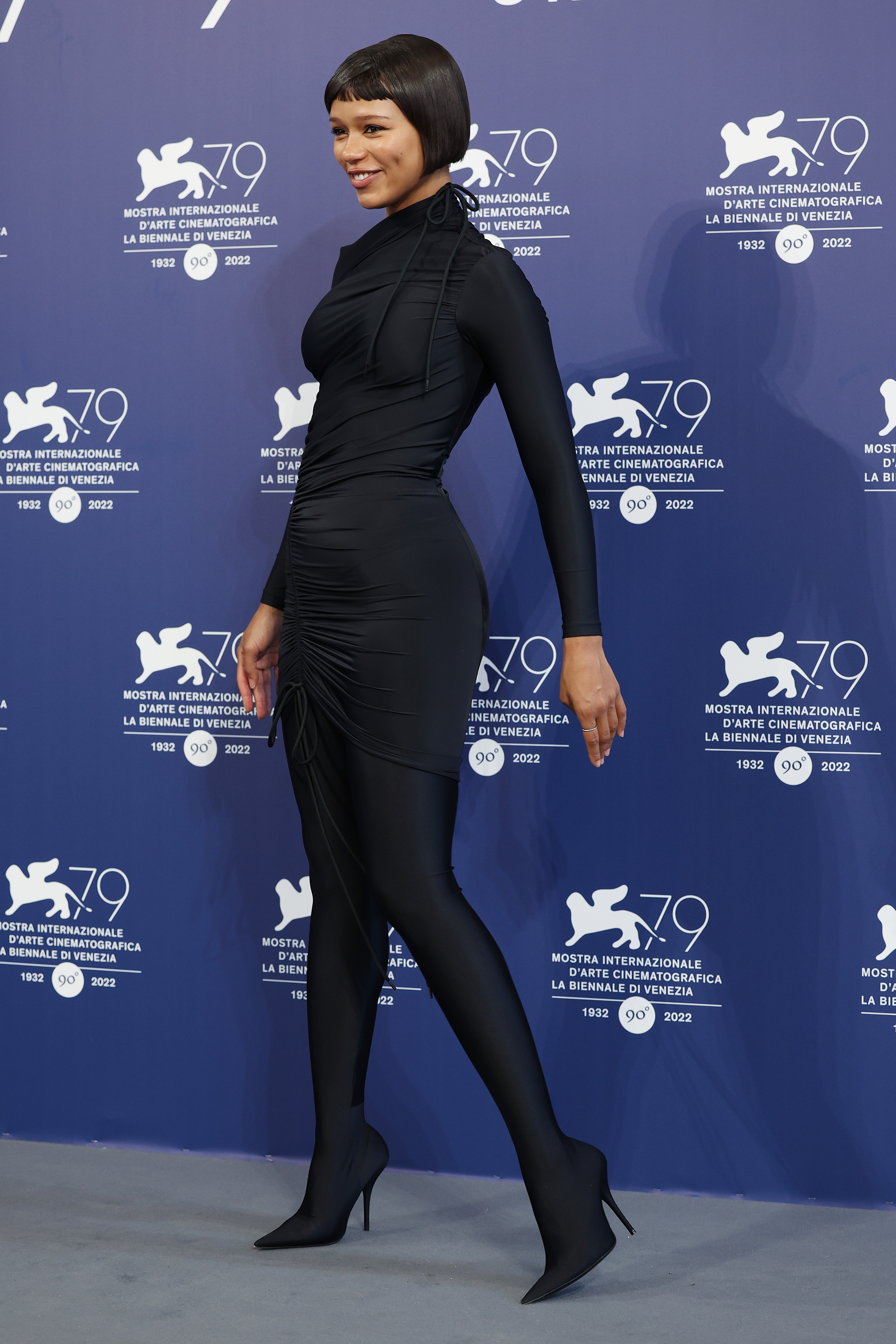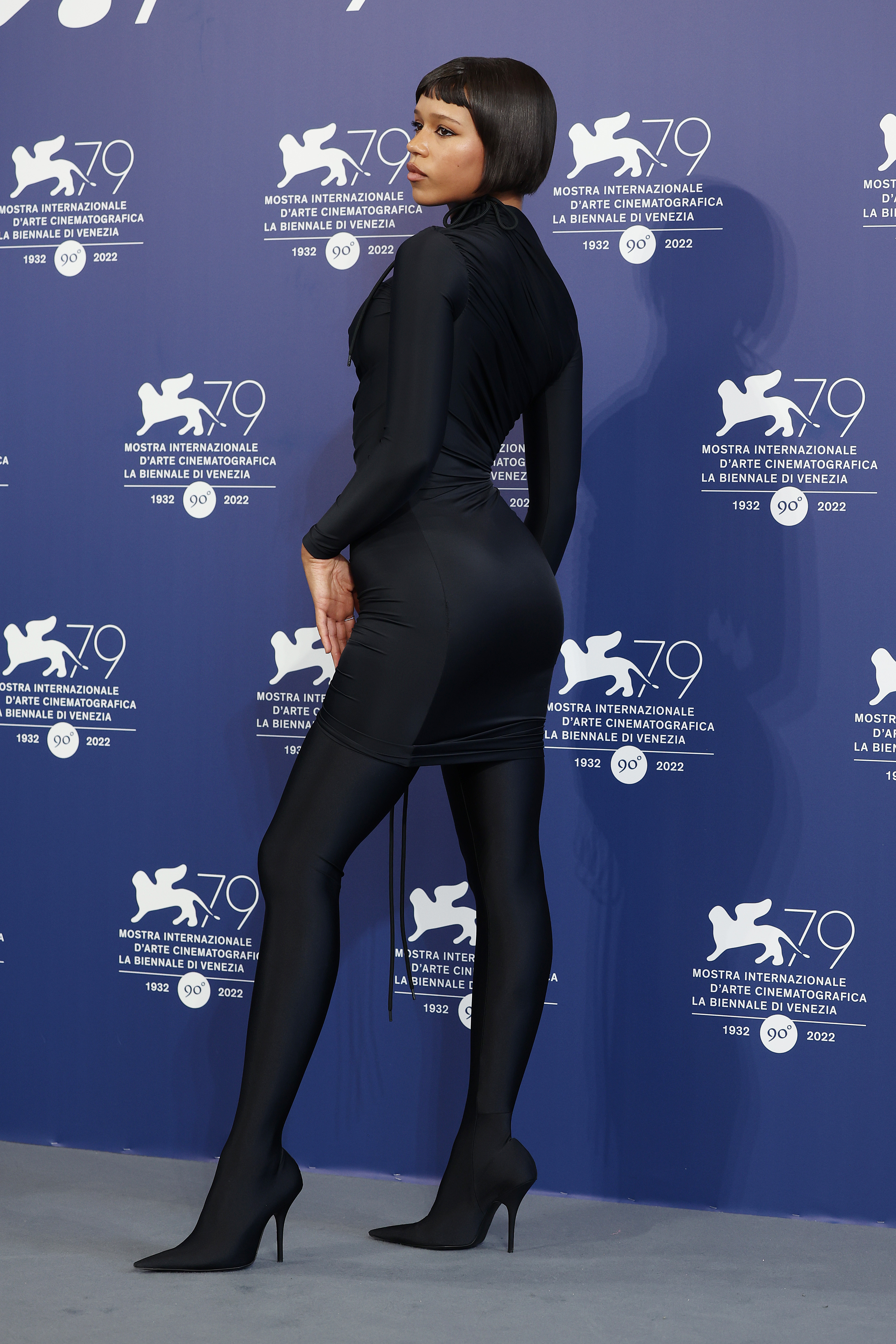 Balenciaga
The hair is a cap of control with short bangs and an asymmetrical finish. The fabric clings, sheered to catch the curves.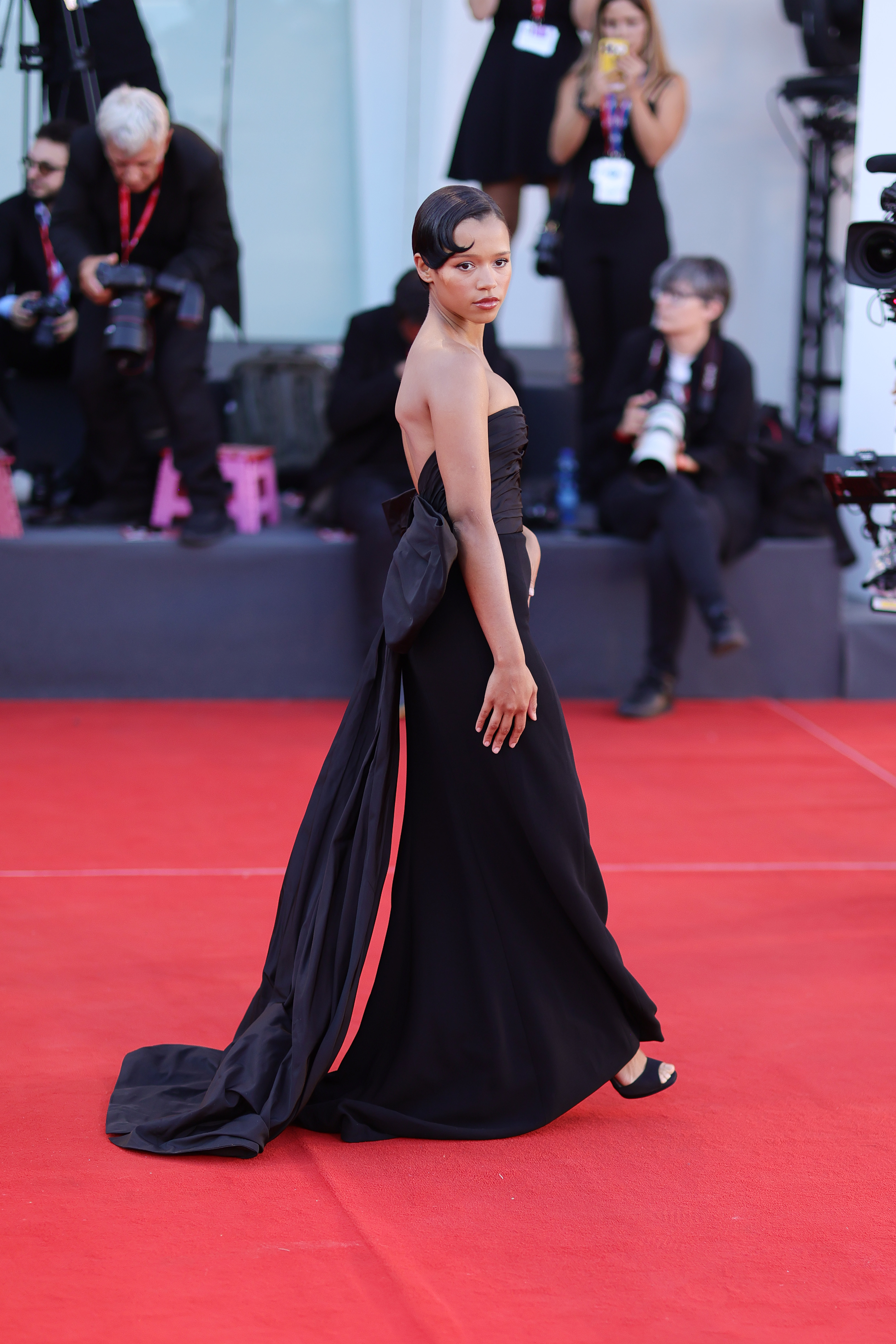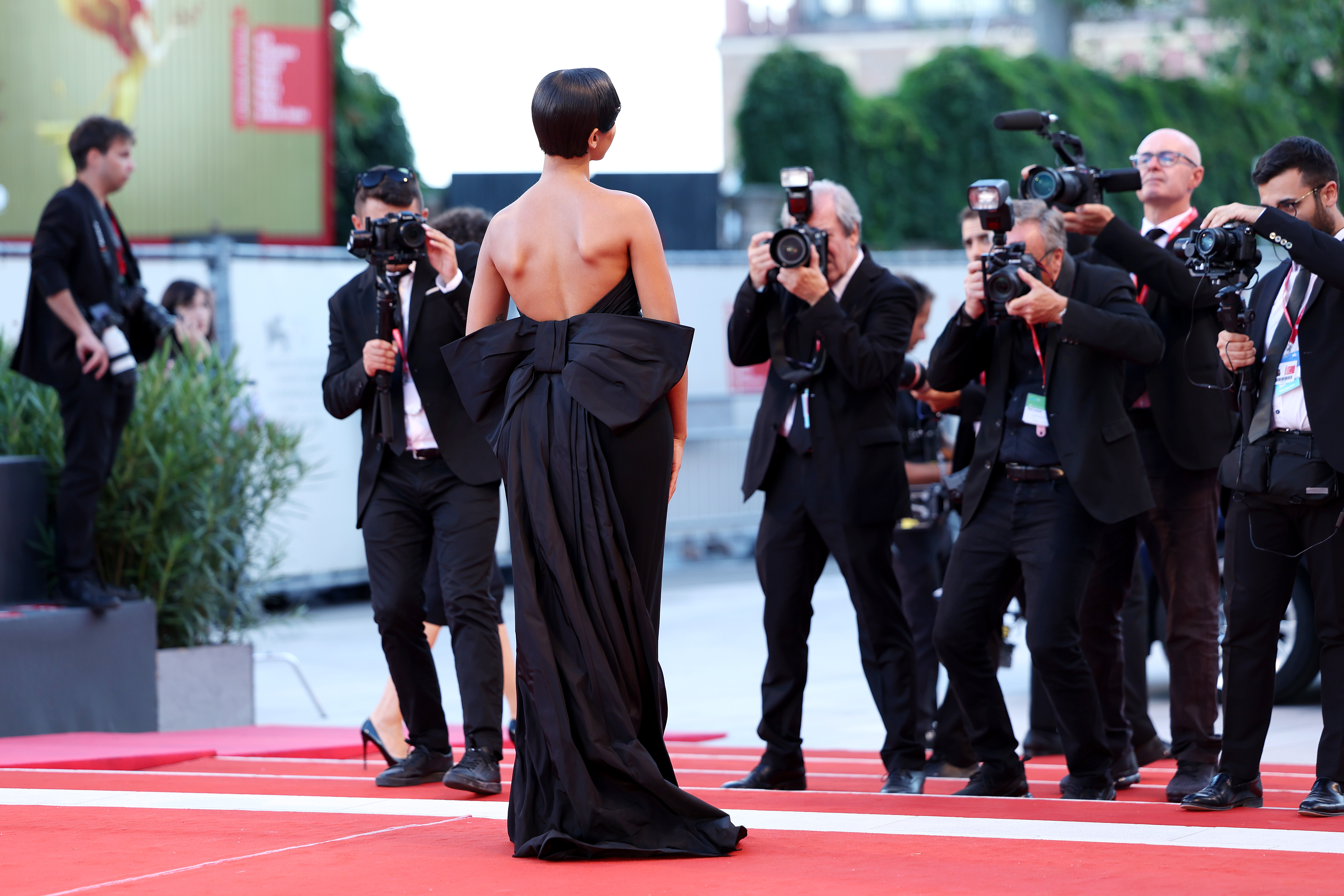 Vintage Ralph Lauren
When she goes simple, she does it with understated elegance. The bow below the bare back is beautiful.
Left: We love this look in 2019 at the Gucci Cruise 2020 Arrivals. It's a totally different Taylor Russell, but still distinctive. The hair, is perfect for the soft, flowing lines of the ensemble. The pairing of patterned white tights with those stacked shoes, hint at the wonders of the creations on the carpet in the last six months.
Right: At the 2020 Vanity Fair Oscar party, her style was still emerging, but we love the hair. This is a perfect example of learning what works for your body. Why minimize your curves? Flaunt them, baby.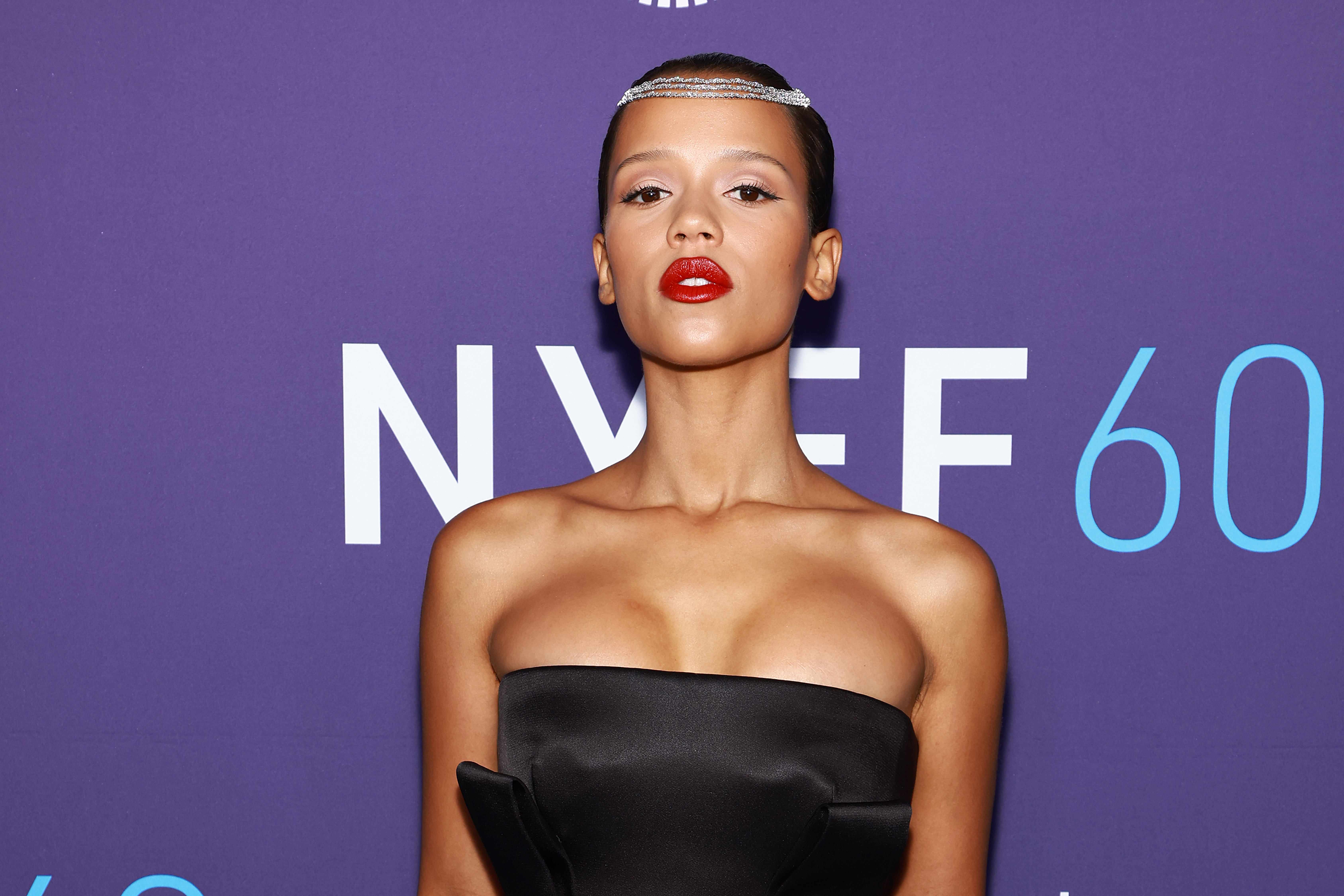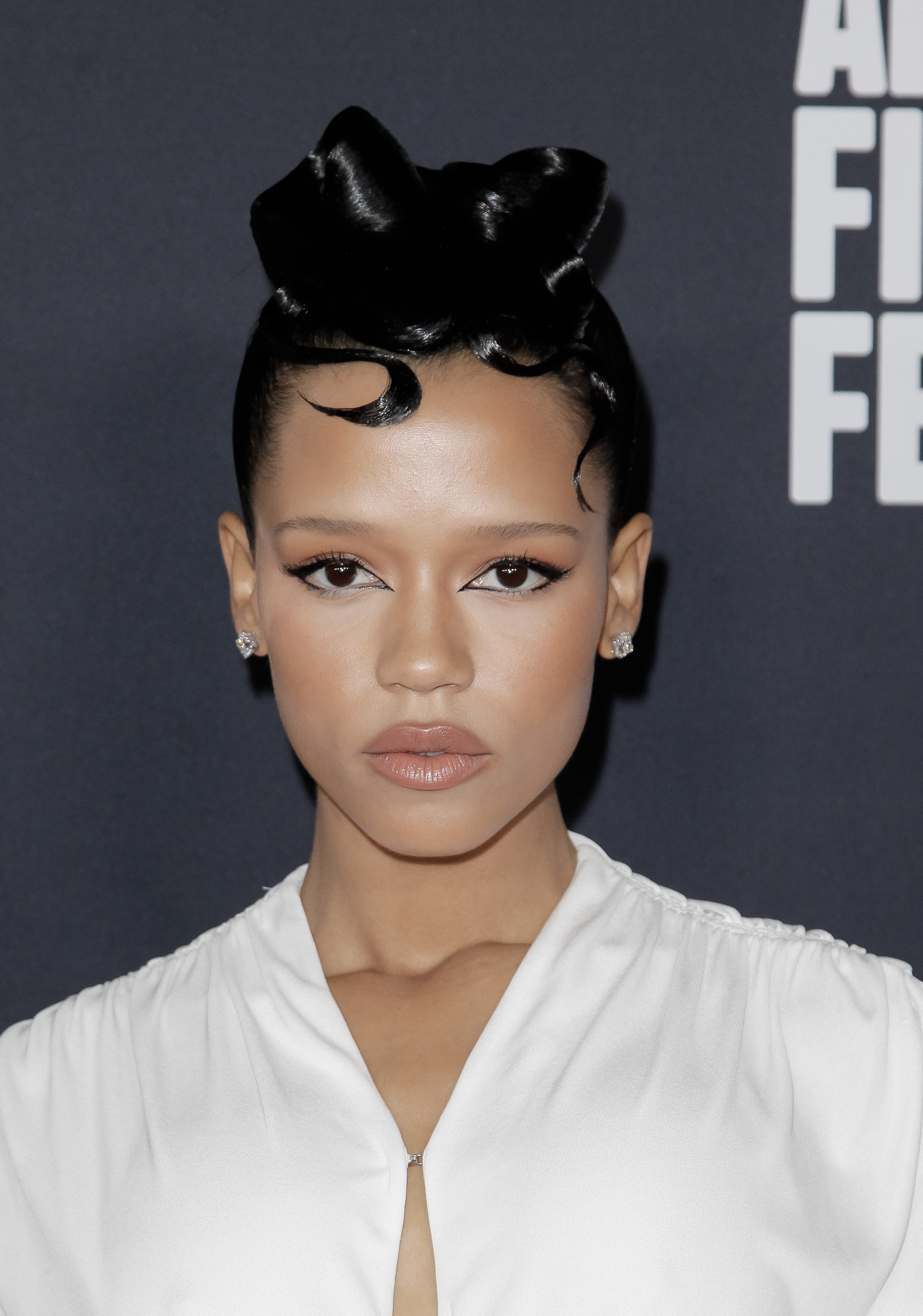 Beauty: She understands that if you go strong on the lips, you go light on the eyes, and visa versa. But please, can we just herald her hair stylist?
Her hair is art. (l) In the Prada, she wears a head adornment, like a crown.
(r) Have you ever seen anything like it? It's a sculpture with a Johnny Depp curl. Mic drop!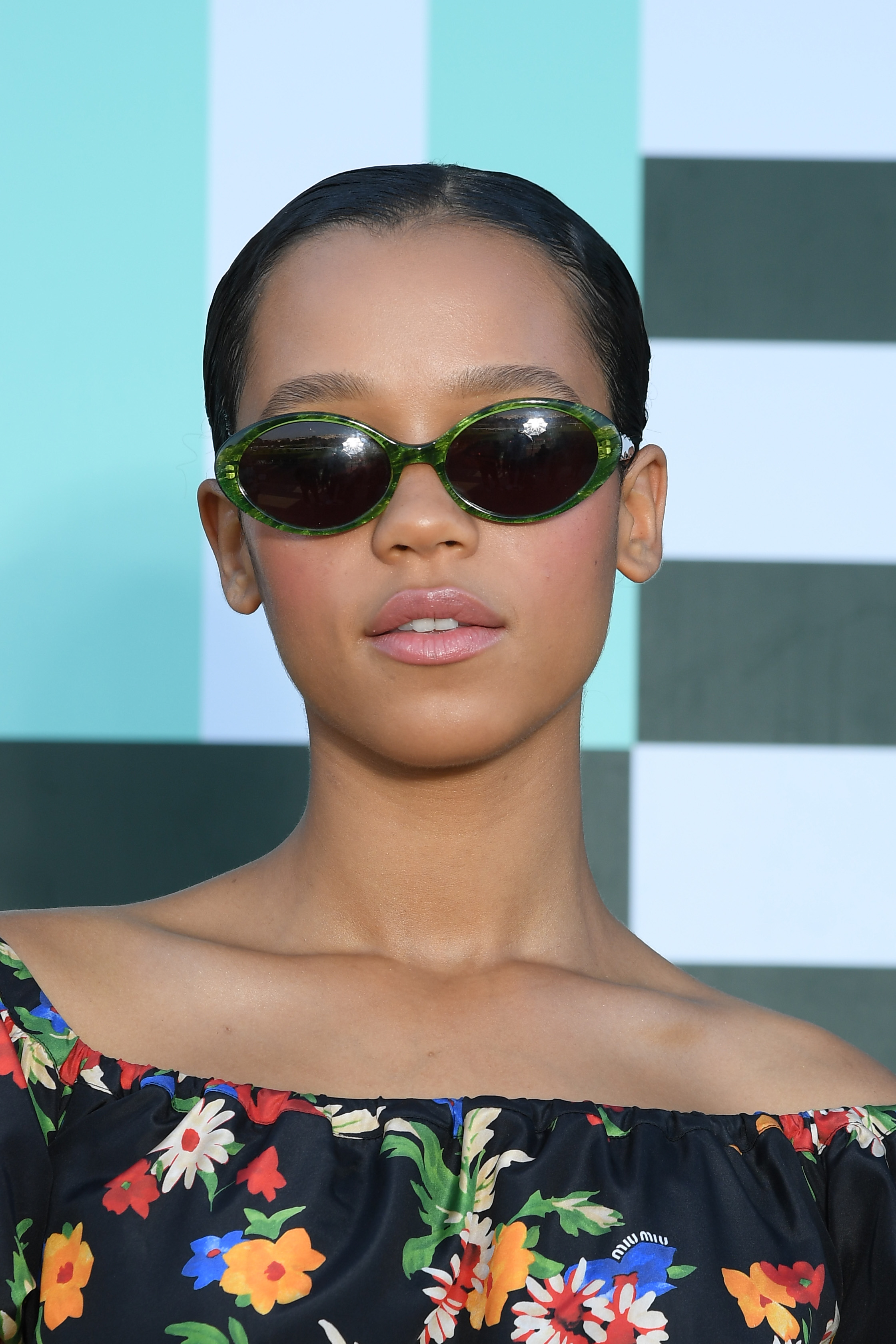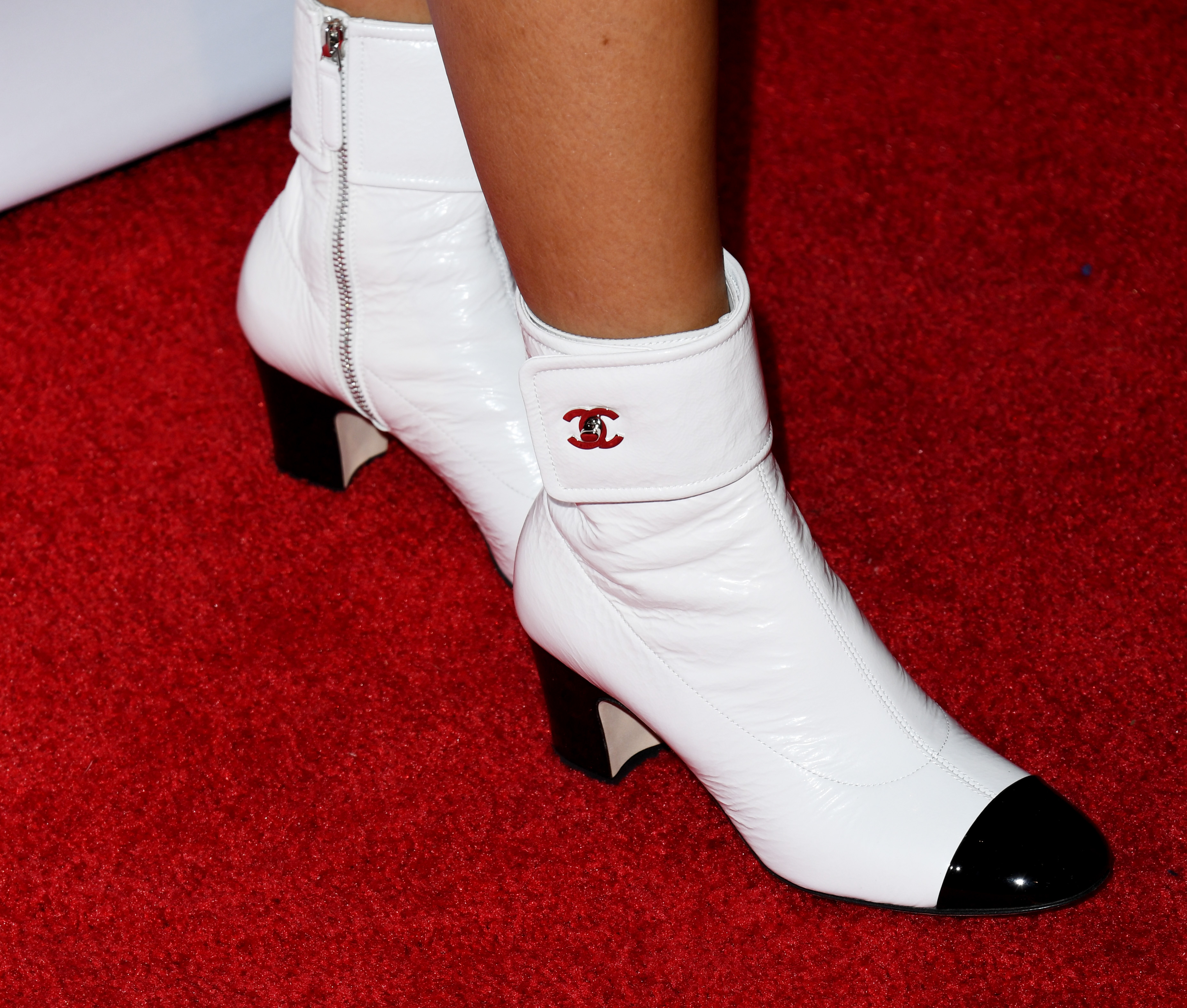 Style is in the details. Its making the bold choice and being totally comfortable with everyone documenting the choice surreptitiously, so they can go and try the look at home.
(l) The hair, the glasses, the attitude.
(r) Homage to the 60s go-go boot. Chanel's black and white ankle boot with the embellished cuff is beyond perfection.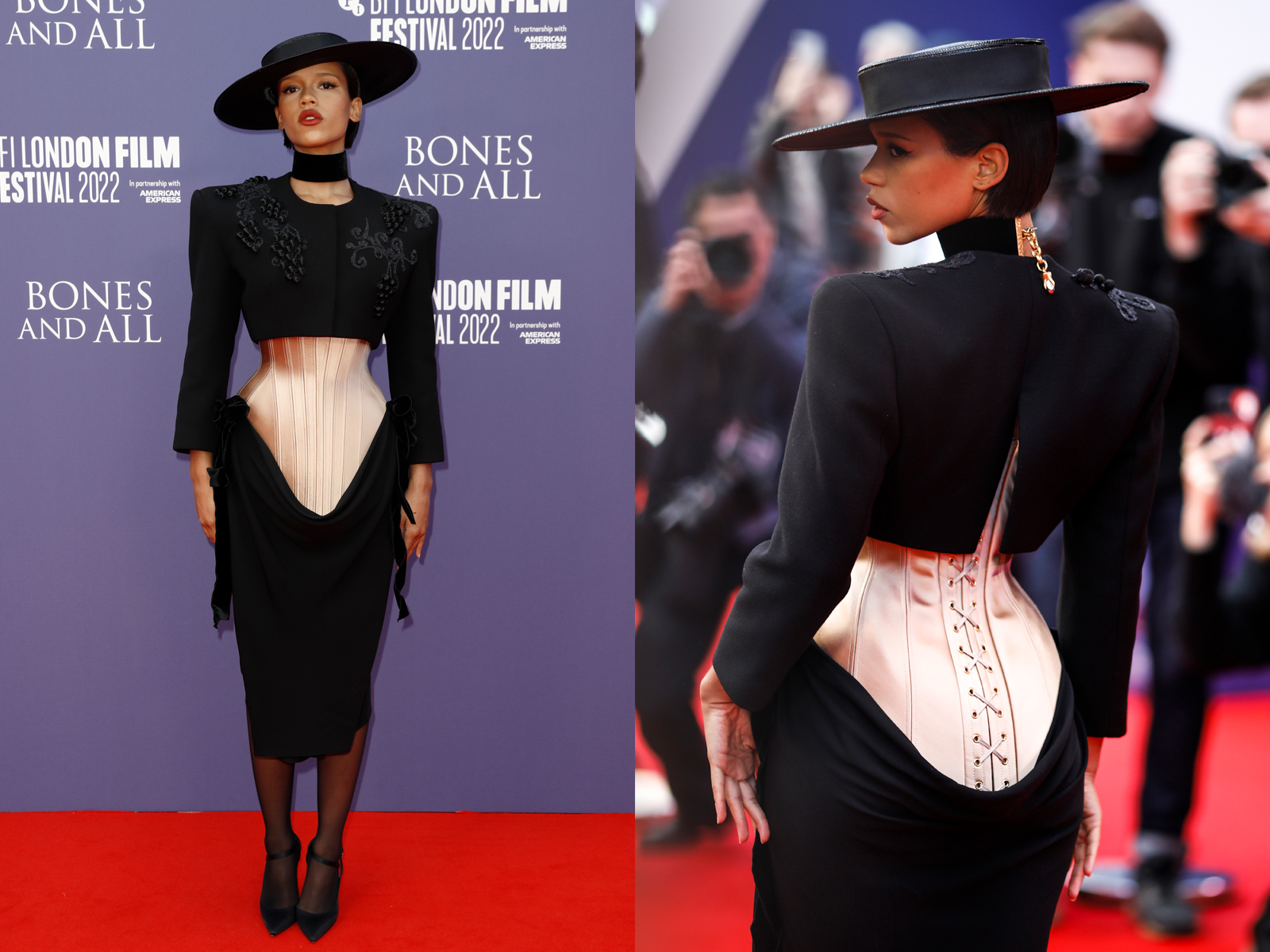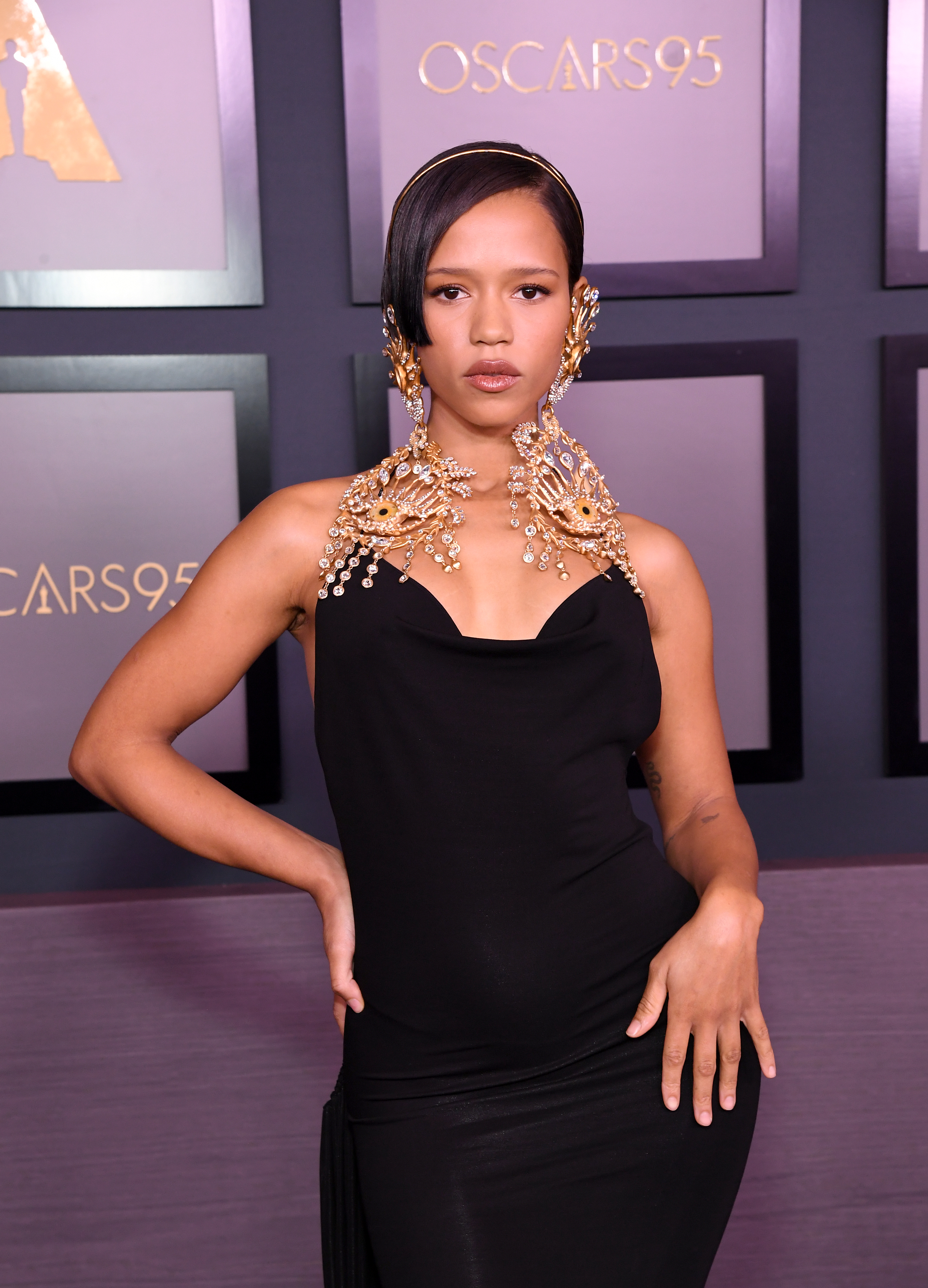 This image was so impactful that everyone even vaguely interested in fashion has it seared into their brain.
It's the silhouette!
Which came first? The black dress, layered with the gold corset, topped with the split, cropped jacket? Does it matter?
To understand what makes style and then to have the courage to choose it, and wear it with attitude, is the magic of this rising star.
But let's look further. The wide chocker was trending at festivals and the hat, on the carpet, is so different and distinctive that you have to ask, why don't more stars do it?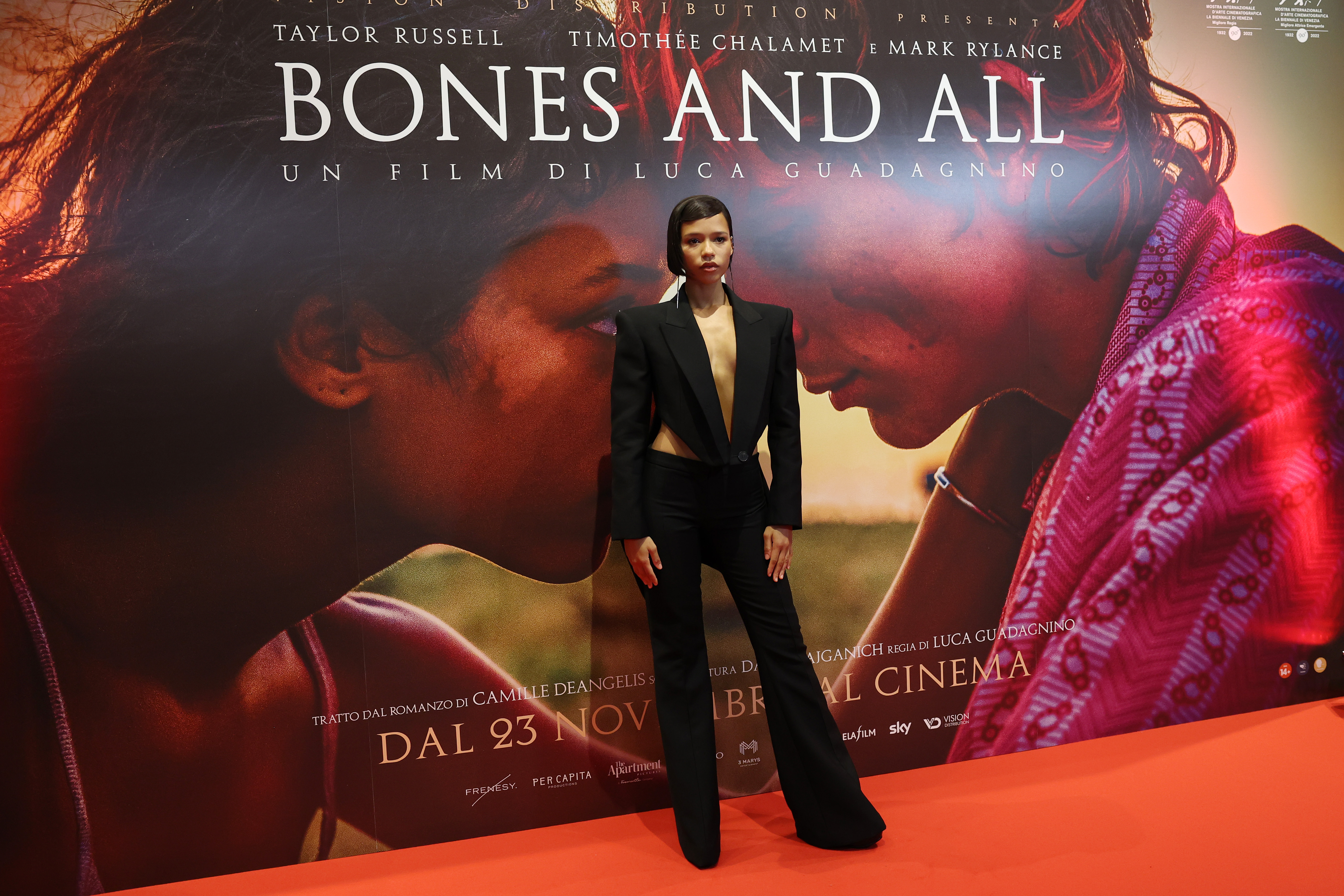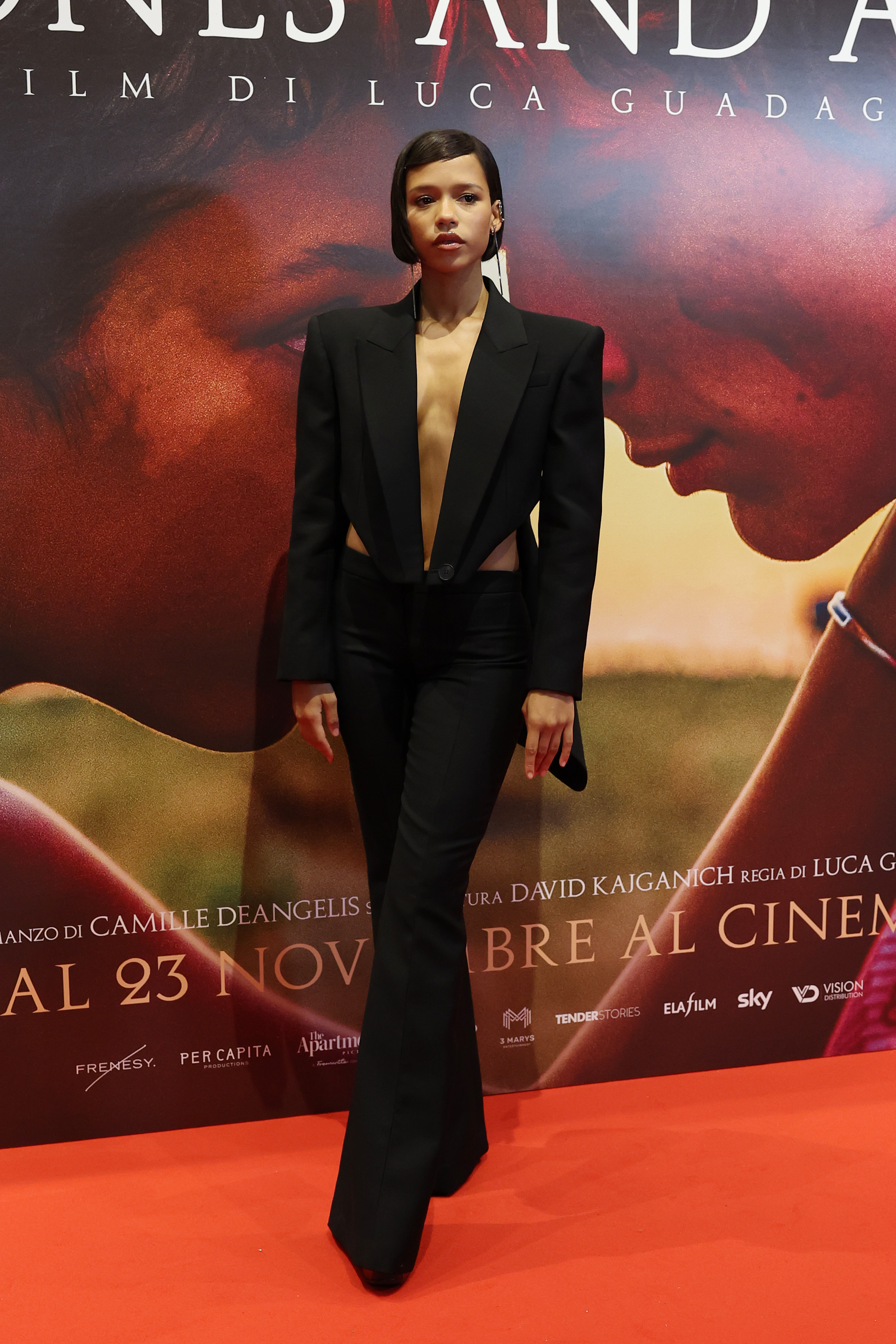 Above: Alexander McQueen
Taylor Russell is only 5'5″ – but she looks like a towering giant due to the cut of the couture.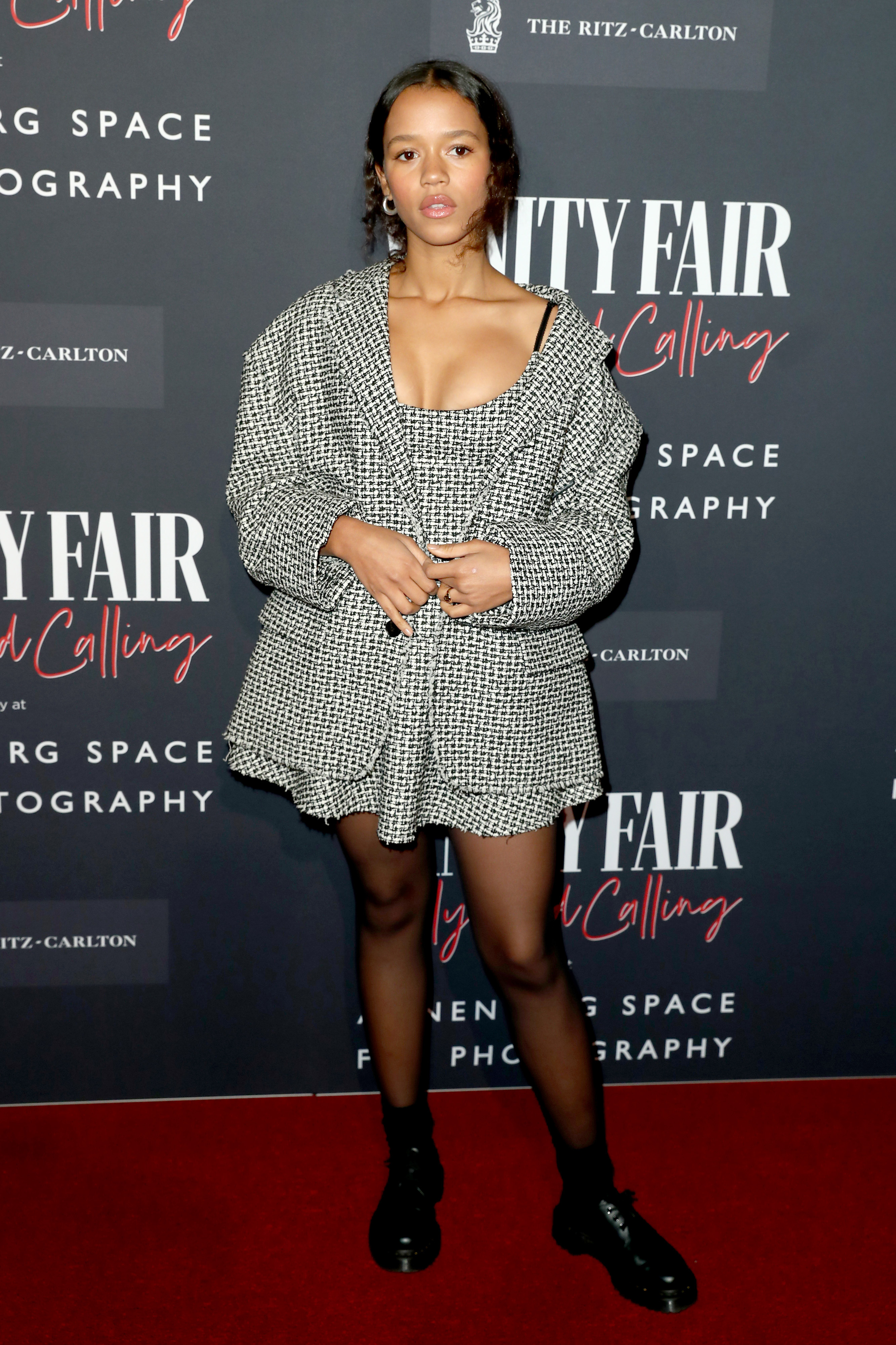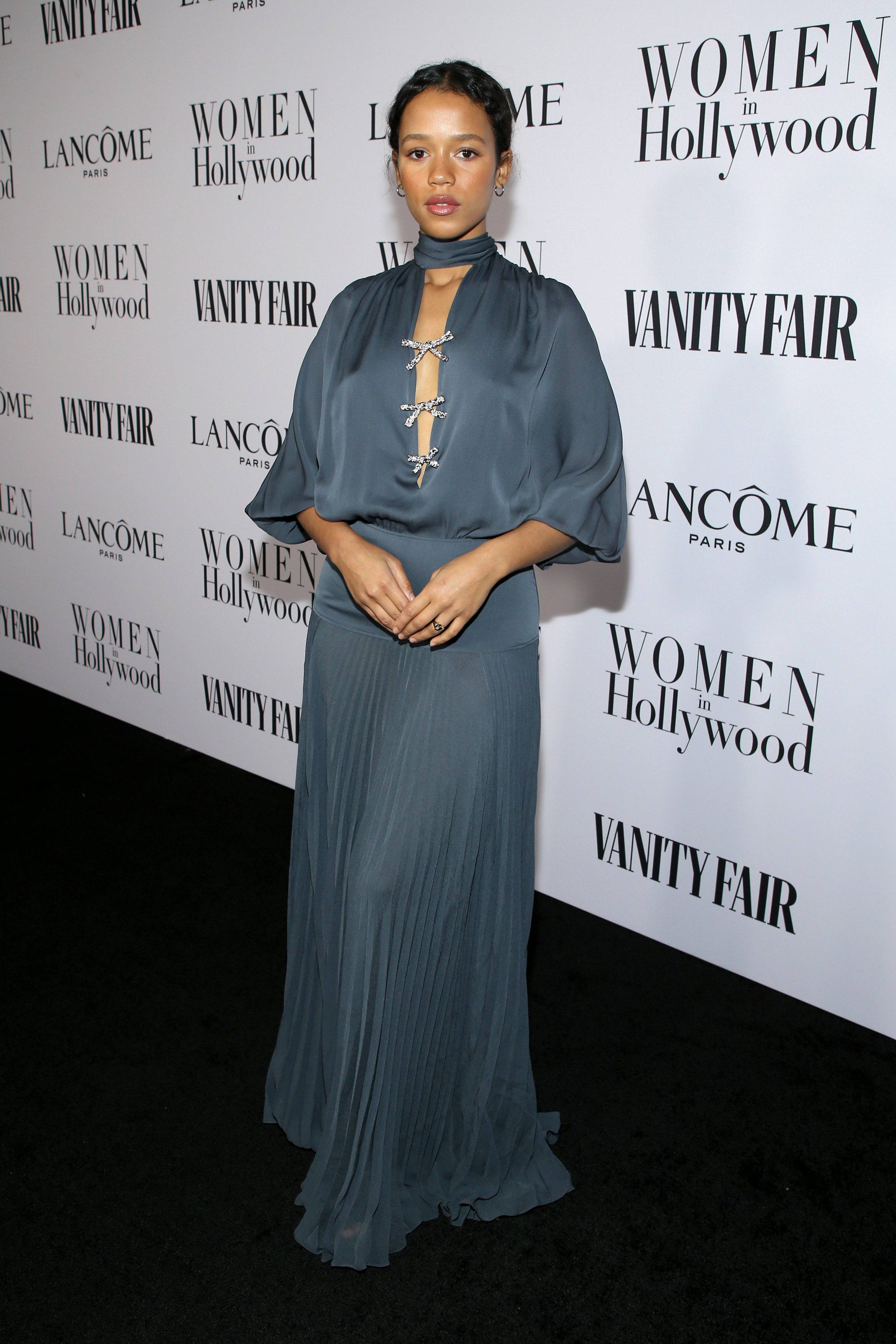 Above: In 2020 her style was still emerging but we see the fingerprints of what's to come. (l) Totally modern. Chunky flats. Fitted bodice. A flash of flesh. Slick hair. (r) Demure elegance with a sprinkle of daring in the open slash with bows, below a high neck.
Below: At the Loewe Menswear Fall-Winter 2023-2024 show as part of Paris Fashion Week on January 21, 2023. Those chain and zipper embellished trousers, the glasses, the shades of caramel cashmere and contrasting – is it – leather, strength.
A star is born. Yes, we knew her talent from Lost in Space, (2018- 2021), and Waves in 2019, and no doubt her performance in Bones and All announced a major talent, but it has been her complete ownership of her red carpet moments that have made her impossible to ignore and demanded that we learn who she is.
Next up is Mother Couch! with Ellen Burstyn and Ewan McGregor. And then look for her in future, arty, character driven films. For Taylor Russell has arrived and everyone will want a piece of her magic.