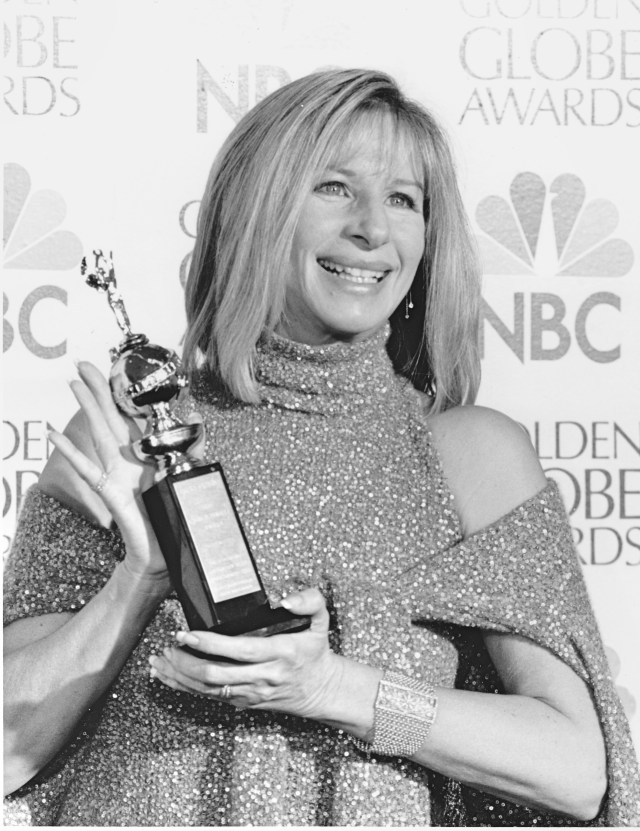 Ready for My deMille: Profiles in Excellence – Barbra Streisand, 2000
April 6, 2020
—
Philip Berk
Beginning in 1952 when the Cecil B. deMille Award was presented to its namesake visionary director, the Hollywood Foreign Press Association has awarded its most prestigious prize 66 times. From Walt Disney to Bette Davis, Elizabeth Taylor to Steven Spielberg and 62 others, the deMille has gone to luminaries – actors, directors, producers – who have left an indelible mark on Hollywood. Sometimes mistaken with a career achievement award, per HFPA statute, the deMille is more precisely bestowed for "outstanding contributions to the world of entertainment". In this series, HFPA cognoscente and former president Philip Berk profiles deMille laureates through the years.
Ever since she first burst on the screen (winning an Oscar and the Golden Globe for Funny Girl) Barbra Streisand has taken more risks than any actress of her generation and explored territories unheard of for an actor.
Because she's succeeded with all of them, she's been criticized, ostracized, even condemned by those who envy her. Fortunately, they have not prevailed. Today, in her late 70s, she remains the pre-eminent woman in the business with a career that spans singing, songwriting, acting and directing, unequaled in all cinema history.
Among her achievements, the top-selling female recording artist of all time, with two Academy Awards, nine Golden Globes, ten Grammys, five Emmys and even the Presidential Medal of Freedom. Despite having a competitive mother who actually obstructed her career, she progressed from night club engagements to a Broadway career, never earning less than rave reviews.
Her unconventional looks seem to preclude her becoming a movie star, but she compensated for that by adding banter that capitalized on her Brooklyn style humor. When playwright Arthur Laurents asked her to audition for his new musical I Can Get it for You Wholesale, she not only got the part but became an overnight sensation. Suddenly she was in demand. Her repeated appearances on late-night television earned her a recording contract and soon she was the best selling vocalist in the country. CBS signed her to a ten-year contract to do TV specials, which defined the term special.
However, it was her lead role on Broadway in Funny Girl that made Hollywood take notice, and following her debut in William Wyler's masterful version of the play, she became a superstar and has remained one for over 50 years. Paramount grabbed her for On A Clear Day You Can See Forever. No less than French heartthrob Yves Montand was her costar and Vincente Minnelli her director, and even though Alan Jay Lerner adapted it from his Broadway musical, the movie flopped but Barbra emerged unscathed.
Fox then mounted a hugely expensive prestige project, Hello Dolly!, for her, intended as a successor to The Sound of Music. Critics harped on the casting. Why didn't the role go to Carol Channing who originated the part on Broadway? But the truth is, Barbra is sensational in the film, and again she was nominated for a Golden Globe. By now she was our World Film Favorite, and the next year she was again nominated for her non-singing role in The Owl and the Pussycat, another of her inimitable roles. Three best actress nominations in three years, a record.
Although obligated to making three pictures for her Funny Girl producer Ray Stark, she was now in full control of her career, choosing her directors, her costars, and her projects. The first she made on her own was What's Up Doc, which did well at the box office, but it took twenty years for critics to acknowledge it as a classic. Up the Sandbox was a feminist project she particularly believed in, but the public wasn't engaged.
No matter what Barbra did there were detractors lined up, but they never deterred her, and she got her revenge when her next film The Way We Were was both a critical and box office smash. But envy is a tough obstacle to contend with, especially for someone who was a star the moment she set foot on a sound stage. As Neil Simon once told us at a HFPA press conference: "Success in Hollywood is when you have the week's number one movie and your best friend's movie has tanked at the box office." The Way We Were's singular success was its title theme song, which won both the Globe and the Oscar as Best Original Song, and of course Barbra's recording of it was the year's best seller.
She followed it with her two commitments to Ray Stark, For Pete's Sake, one of her weakest entries, and the Funny Girl sequel Funny Lady, which even though not a world-beater, earned Barbra her fifth Golden Globe nomination. Her movie career may have been slowing down but as a recording artist, she was unchallenged. More No.1 hits than any female artist of the decade. Only the Beatles and Elvis sold more albums.
Her personal life now took precedence, and teaming up with her live-in companion, former hairdresser Jon Peters, she embarked on a remake of the classic A Star Is Born. Much to the chagrin of her detractors, the film was a huge hit and ended up with no less than five Golden Globes awards, including two for Barbra, one as best actress and another as best song composer of the perennial "Evergreen". Again she was our world film favorite.
After that, she set her sights on something she had always been accused of doing on her pictures, direct. But not just direct. For her maiden effort, she wanted to make a musical based an Isaac Bashevis Singer short story about a student who passes as a boy in order to enroll in a yeshiva. Not exactly something the studios were clamoring to make let alone have her direct. But once again Yentl proved she knew what he was doing. The film found its audience and received numerous Golden Globe and Oscar nominations including ones for directing. She became the first woman to win a Golden Globe for directing.
She took a four-year hiatus when nothing interested her until she settled for Nuts, and a chance to work with director Martin Ritt. The film was a stark drama that only the Hollywood Foreign Press could love. Even though Barbra seemed too old to play the leading role, she was nominated for a best actress Golden Globe as was the film and her costar Richard Dreyfuss. Five years later she chose a best selling novel as her return to both starring in and directing. The Prince of Tides gave Nick Nolte one of his best acting roles and the film did well at the box office. Barbra was once again nominated for a Golden Globe as best director. After another five-year hiatus, she made what essentially was her swan song. The Mirror Has Two Faces, which she both acted in and directed.
Recently, for a lark, Barbra returned to the screen playing Ben Stiller's mother in two sequels to the highly profitable Meet the Parents. Her last movie The Guilt Trip playing Seth Rogen's mother didn't work as well.
It's not likely that she'll return to the screen as an actor, but don't rule out her making a triumphant return as a director. Meanwhile, catch her classic performances in Funny Girl, The Way We Were, What's Up Doc, A Star Is Born, and Yentl.
There never was a woman like Barbra!