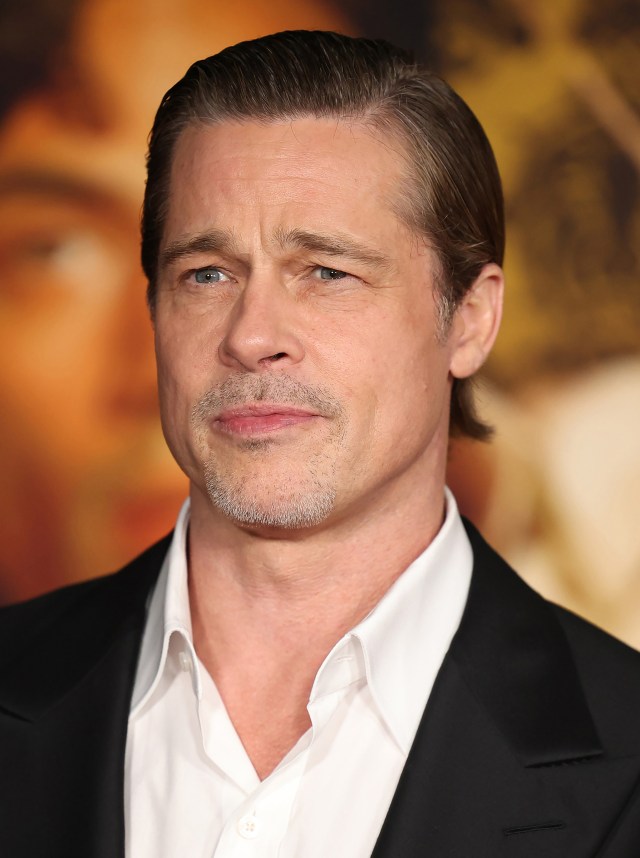 Brad Pitt
William Bradley "Brad" Pitt (born December 18, 1963 in Shawnee, Oklahoma) was first noticed in Thelma & Louise (1992) by Ridley Scott starring Susan Sarandon and Geena Davis. He starred in A River Runs Through It (1992) directed by Robert Redford from the 1972 novella by Norman Maclean, Legends of the Fall (1994) directed by Edward Zwick from the 1979 novella by Jim Harrison, with Tom Cruise in Interview with the Vampire (1994) directed by Neil Jordan from the 1976 novel by Anne Rice. Pitt starred with Morgan Freeman in Seven (1995) and with Edward Norton in Fight Club (1999) both directed by David Fincher, with Bruce Willis in Twelve Monkeys (1995) by Terry Gilliam, with Harrison Ford in The Devil's Own (1997) by Alan Pakula, Seven Years in Tibet (1997) by Jean-Jacques Annaud, Meet Joe Black (1998) by Martin Brest. He acted with George Clooney in Ocean's Eleven (2001), Ocean's Twelve (2004) and Ocean's Thirteen (2007) directed by Steven Soderbergh, with Julia Roberts in The Mexican (2001) by Gore Verbinski, with Robert Redford in Spy Game (2001) by Tony Scott. He starred in Troy (2004) by Wolfgang Petersen, Mr. and Mrs. Smith (2005) by Doug Liman with Angelina Jolie, with Cate Blanchett in Babel (2006) by Alejandro González Iñárritu and The Curious Case of Benjamin Button (2008) by David Fincher, Inglorious Basterds (2009) by Quentin Tarantino, Moneyball (2011) by Bennete Miller, World War Z (2013) by Marc Forster, Fury (2014) by David Ayers. He played small roles in movies he produced: 12 Years a Slave (2012) and The Big Short (2015). He starred in Allied (2016) by Robert Zemeckis with Marion Cotillard, Ad Astra (2019) by James Gray, Once Upon a Time…in Hollywood (2019) by Quentin Tarantino with Leonardo DiCaprio. Pitt acted in The Lost City (2022) with Sandra Bullock and Channing Tatum, starred in Bullet Train (2022), Babylon (2022) written and directed by Damien Chazelle.
Lea el perfil de Brad Pitt en español por Paz Mata.
Read Nominee Profile 2020: Brad Pitt, "Once Upon a Time…in Hollywood" by Brent Simon.
Golden Globe Awards
1995 Nominee

Best Performance by an Actor in a Motion Picture - Drama

1996 Winner

Best Performance by an Actor in a Supporting Role in any Motion Picture

2007 Nominee

Best Performance by an Actor in a Supporting Role in any Motion Picture

2009 Nominee

Best Performance by an Actor in a Motion Picture - Drama

2012 Nominee

Best Performance by an Actor in a Motion Picture - Drama

2015 Nominee

Best Television Limited Series, Anthology Series, or Motion Picture Made for Television

2020 Winner

Best Performance by an Actor in a Supporting Role in any Motion Picture

2023 Nominee

Best Performance by an Actor in a Supporting Role in any Motion Picture