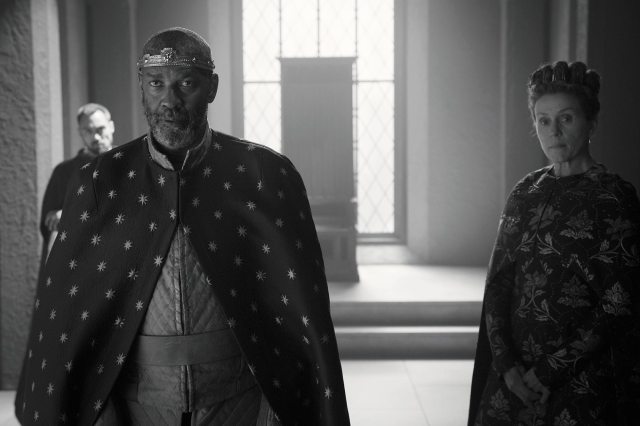 "The Tragedy of Macbeth": How Costumes Make This Story Timeless
February 10, 2022
—
Yulia Lolo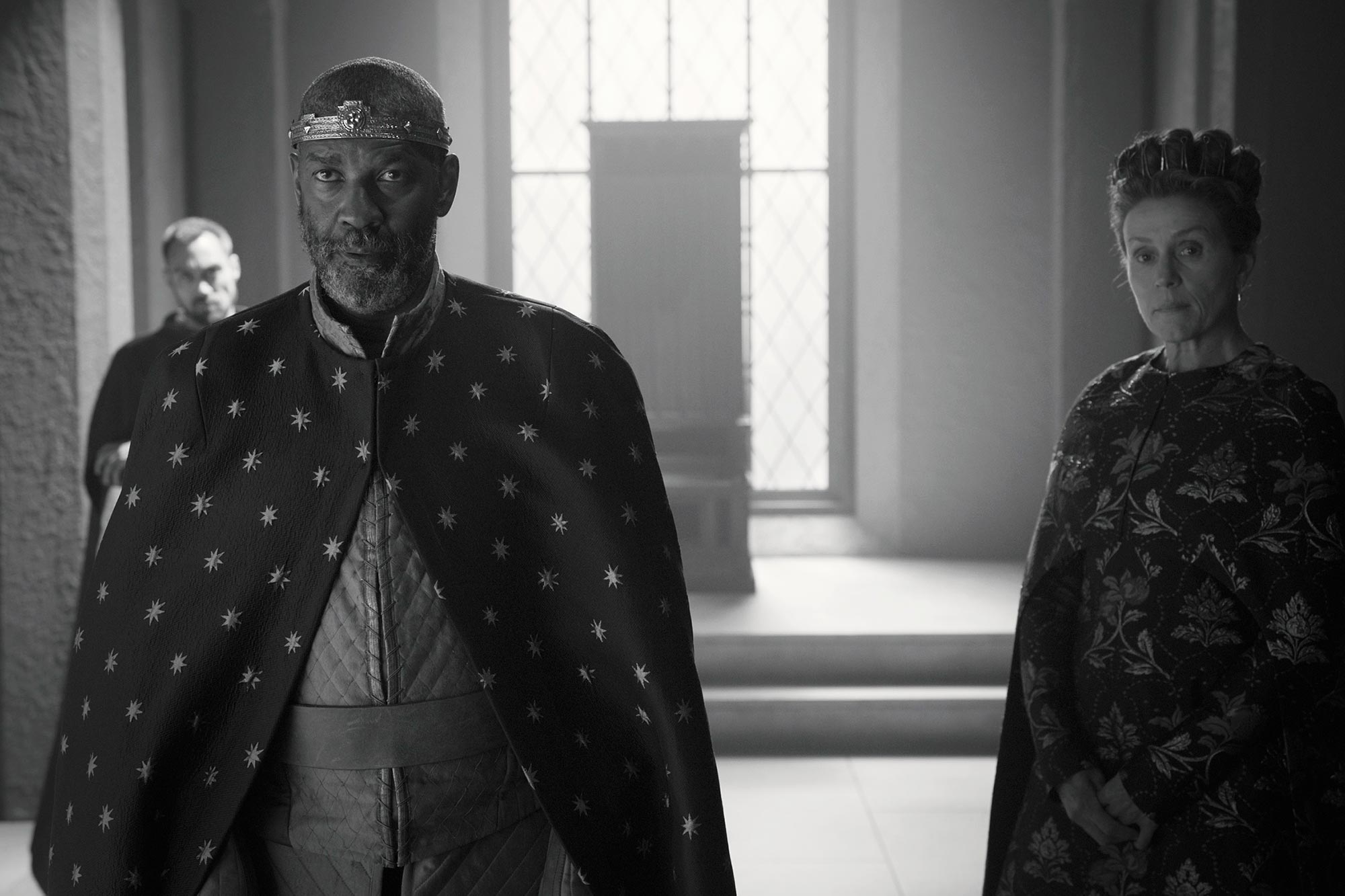 The historical thriller The Tragedy of Macbeth, written and directed by Golden Globe winner Joel Coen, is based on William Shakespeare's play Macbeth. For his first solo movie away from brother and partner Ethan, Joel Coen chose the story of a fictional medieval general in King Duncan's army who is spurred by prophecy and personal ambition to change the course of Scotland's succession.
The Tragedy of Macbeth stars Golden Globe winner, Denzel Washington, as scheming Lord Macbeth and another Golden Globe winner, Frances McDormand as Lady Macbeth.
Coen intentionally builds his adaptation of the Shakespearean political thriller on theatricality but avoids the feel and the look of a filmed play. The Tragedy of Macbeth was shot entirely in sound stages with all the set decorations built according to the huge style book created by the filmmaker in collaboration with the French cinematographer Bruno Delbonnel. The movie, shot in black and white, is built on clear-cut geometry of clean lines. The idea of geometric shapes is abundantly used both in set and costume design, making the entire experience look graphic and architectural.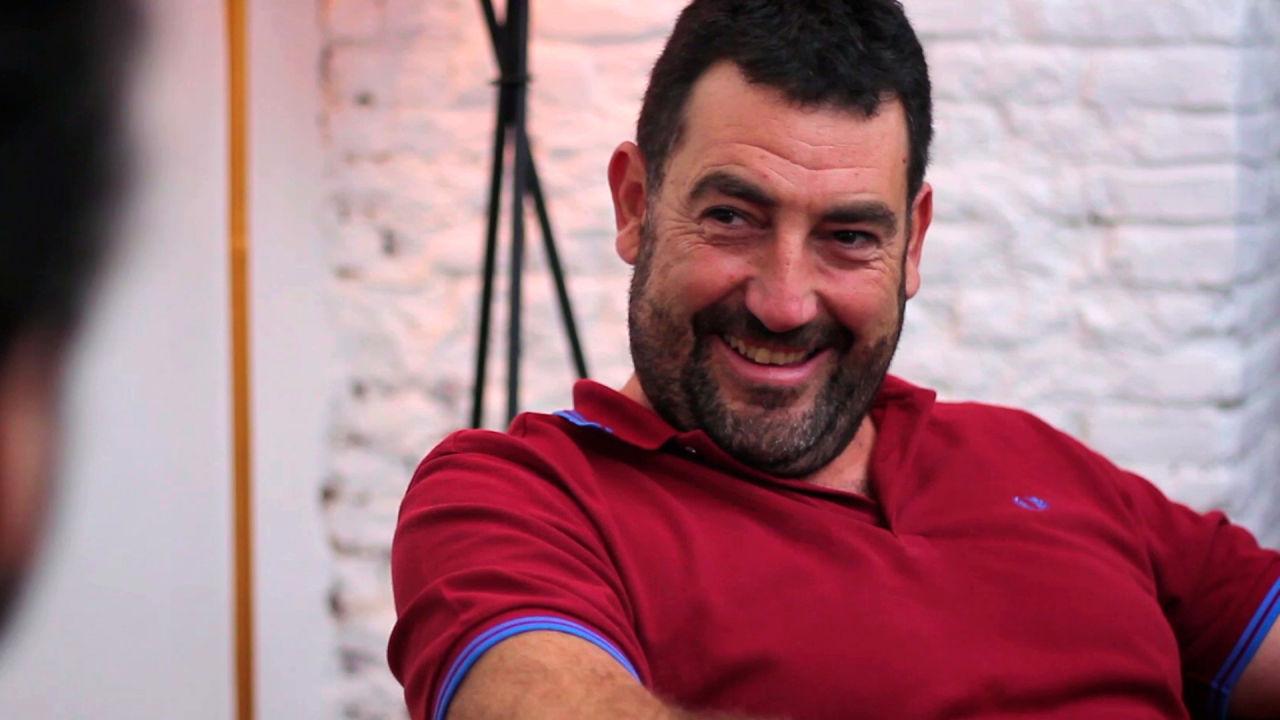 Unfolding in 11th century Scotland, Coen's surreal environment comes across as timeless. The story could have easily happened centuries earlier or, even, nowadays. Magnificent costumes were created by Mary Zophres. She's been the head Costume Designer on every Coen Brothers film for nearly 25 years. Zophres follows the general concept of creating silhouettes and shapes that are able to match the bigger and more ominous architecture lines.
Interestingly, some of the most daring and innovative costumes were inspired by those of Shakespeare's era. Generally, costume is perceived as a combination of concept, character, and color. In the case of Coen's black-and-white Macbeth, color is a missing link though it serves as a perfect indicator of relationship and meaning. Traditionally, Macbeth stage productions use red and black extensively, given how perfectly these two colors emphasize the bloody action in this medieval thriller and, at same time, let the audience feel enveloped in the glaring moral darkness. Even if we look at the 2015 adaptation of Macbeth starring Golden Globe nominee Michael Fassbender and Golden Globe winner Marion Cotillard, color is a key element of that narrative. Instead of color, Coen's Macbeth makes the audience dive into the millions of shades between darkness and light.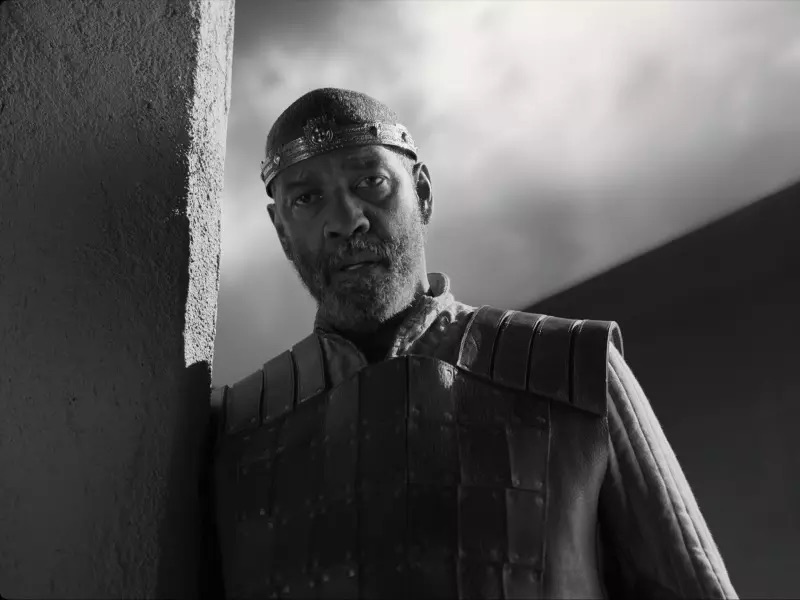 What do we know about 11th-century court fashion? The period is associated with steady prosperity throughout the land. Clothing was cut simply but layered heavily. Plenty of accessories were used, from tassels to feathers and pearls. Cloaks were lined with fur. Royals wore ermine while everybody else wore whatever was available – hare, fox, or even wolf. Men wore tunics that came down to the knee. Women wore simple linen gowns underneath heavy colored wool.
Earlier adaptations of Shakespeare's play – such as the one in 1971 by Golden Globe winner Roman Polanski, or the other in 1948 by Golden Globe nominee Orson Welles – fully explored moments of fashion exuberance both in garments and crowns. Going against the grain, Coen's adaptation is almost monastic. We don't see any flashy symbols of power and the entire texture has an organic feel to it. For instance, King Duncan and his son Malcolm look pretty low-key in their leather tunics and woven mantles.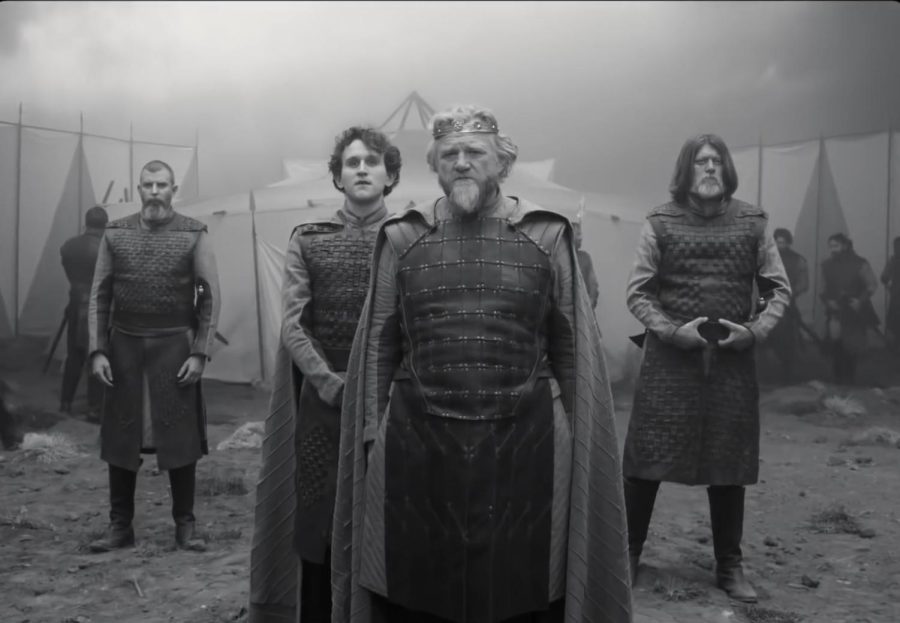 Even Macbeth, after he seizes the throne, looks austere – maybe a bit stand-offish in his stellular cape (made in a fabric from couture house Valentino, whose creative director, Pierpaolo Piccioli, is a friend of Frances McDormand) and very elegant crown.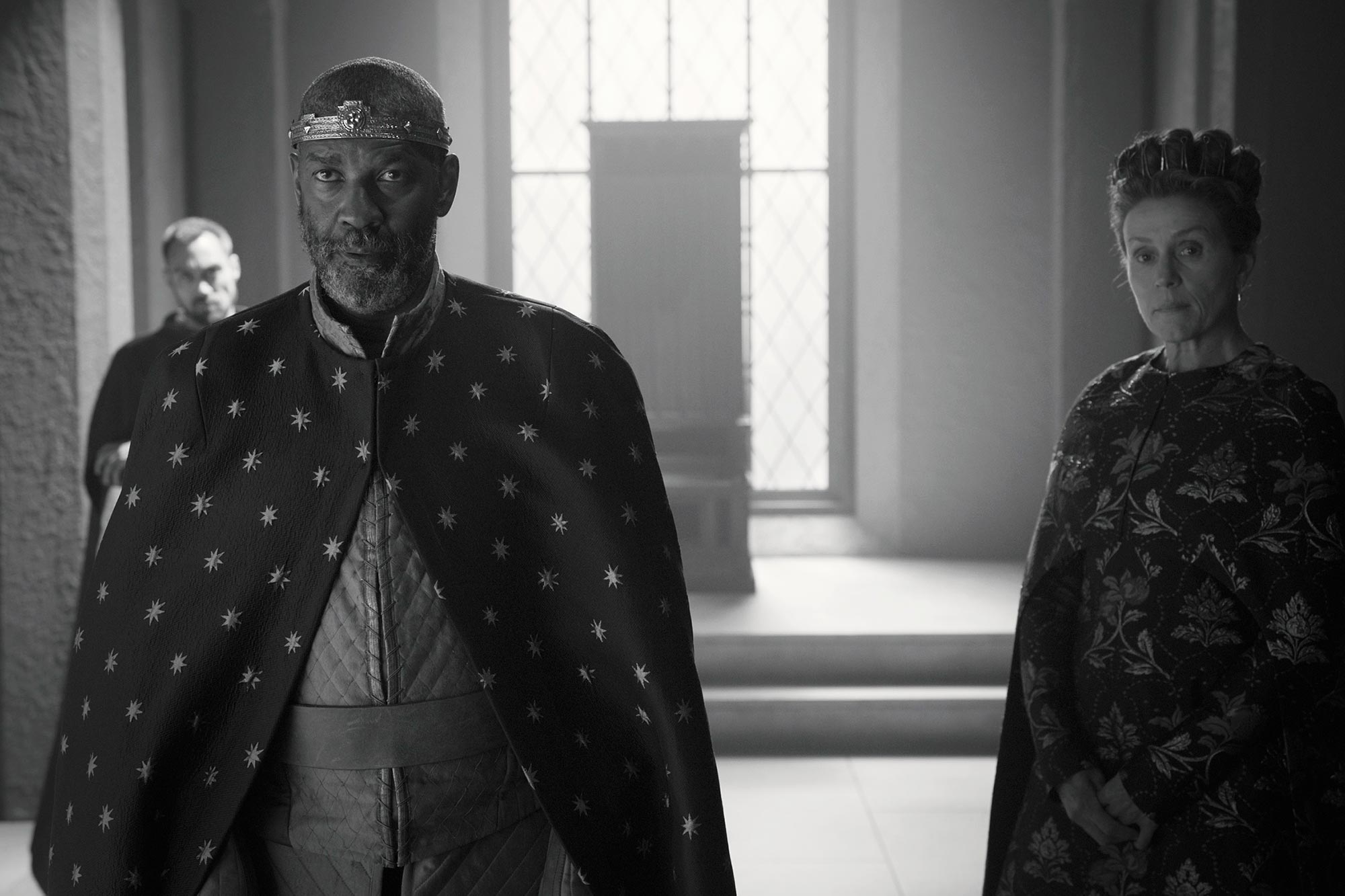 Since it was Coen's intention to eliminate any specific reference to time or location, Zophres felt free to take a fresh look at Medieval armor, as she was not limited by historical accuracy. In her concept, a man living in the Middle Ages wears leather armor and soft leather boots. For the sake of a deeper visual, Zophres uses the idea of latticework as well as a warp and weft technique evoking the way cloth was made one thousand years ago. Each woven armor looks different while the under armor for Macbeth and other soldiers is made of textured linen-cotton quilted in vertical channels.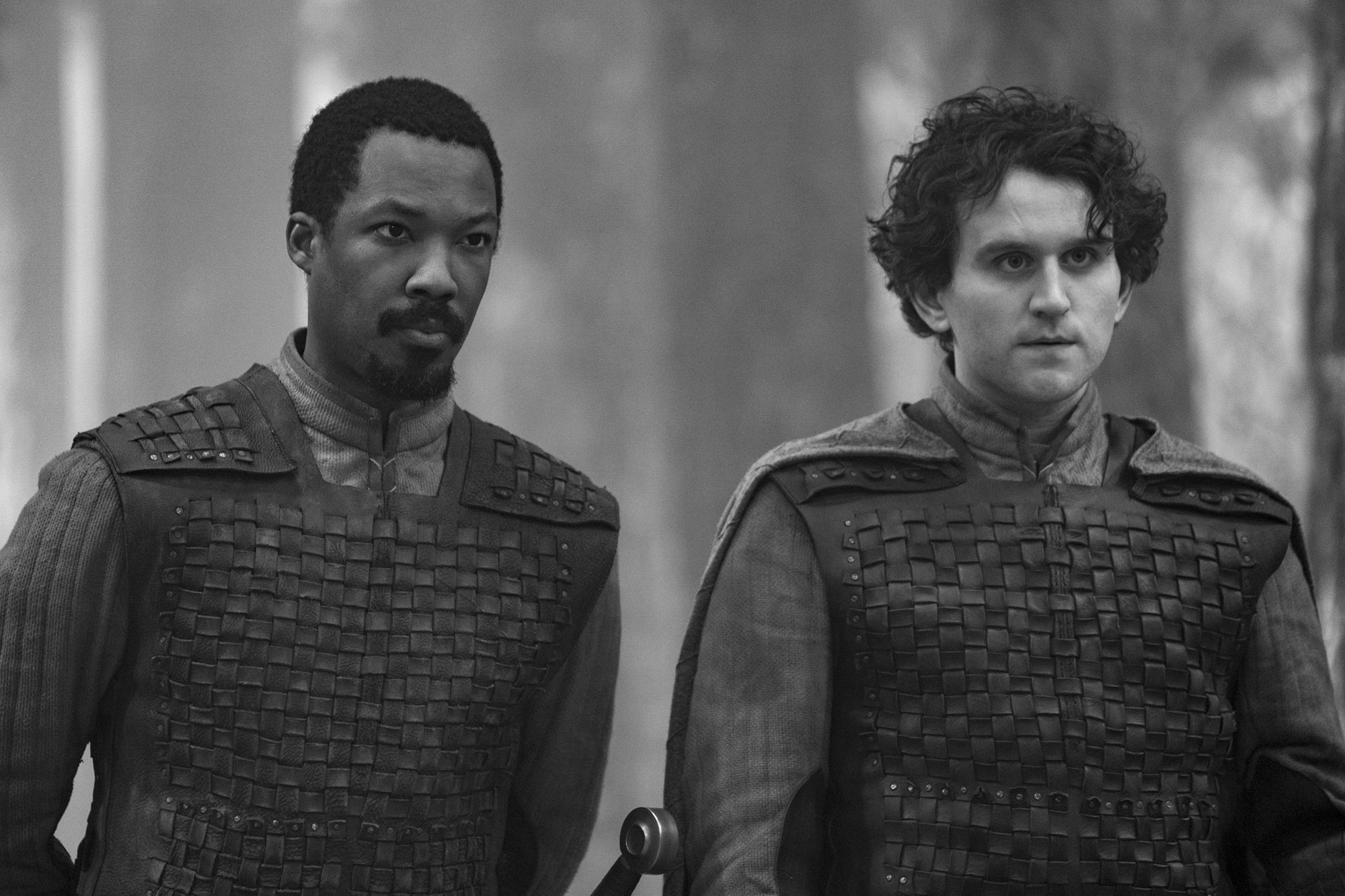 There are moments when all the characters resemble chess figures with matching silhouettes. Lady Macbeth is an absolute queen. Her silhouette is made of a slightly fitted bodice atop a conical A-line skirt.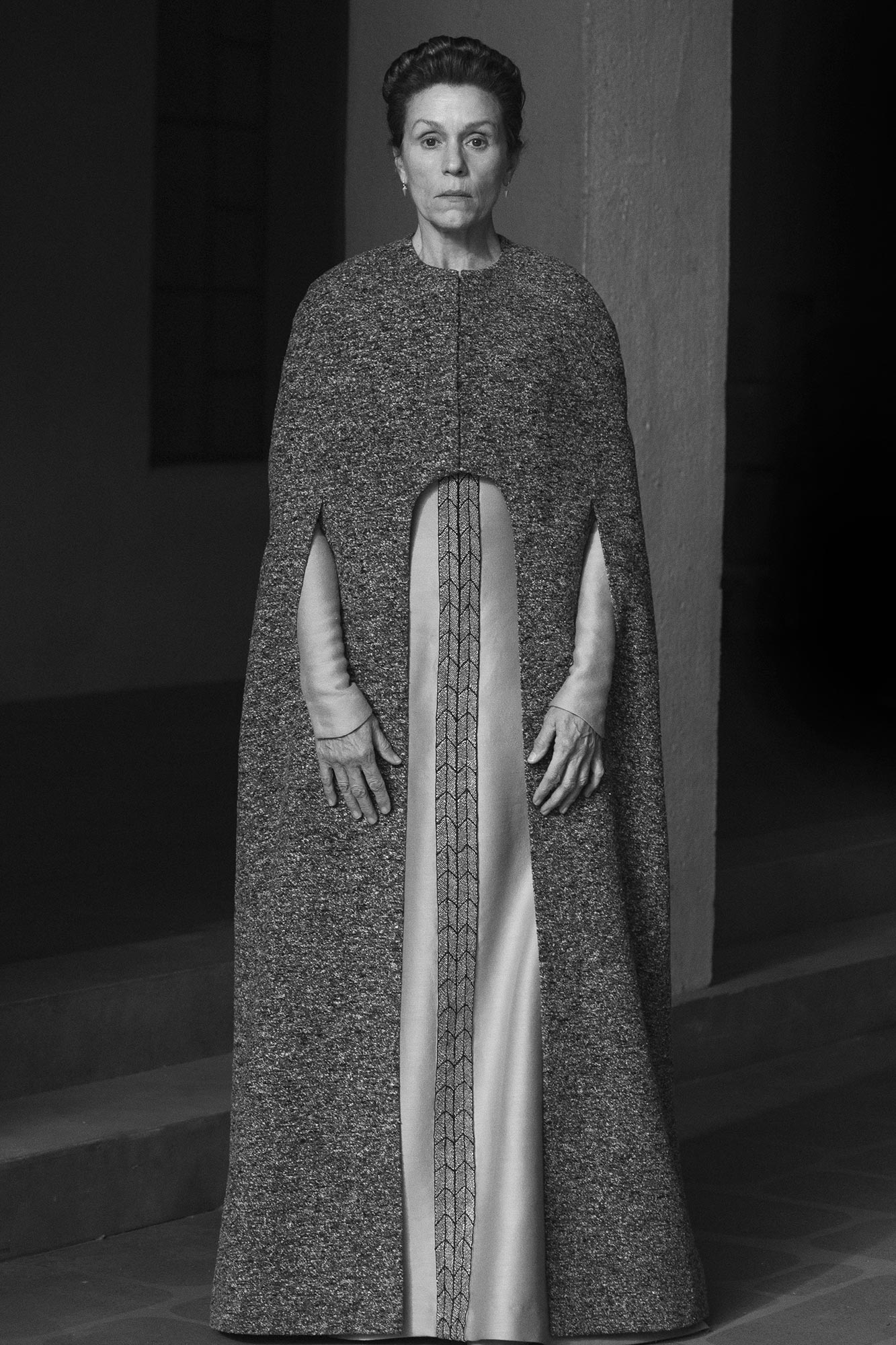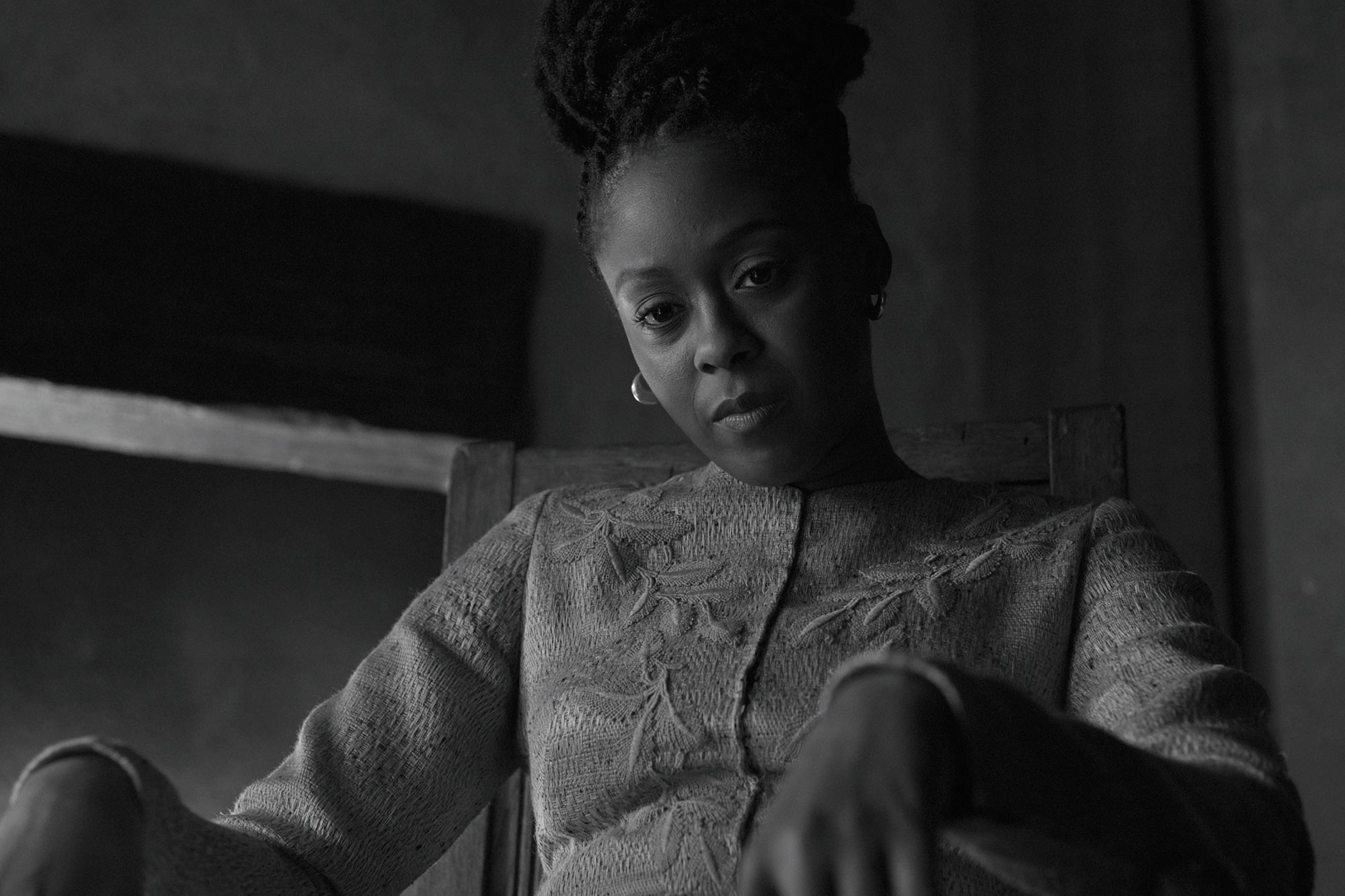 The more power Lady Macbeth and her husband gain, the more exquisite textile is used for her garments and the more elaborate is any embellishment. Still, the shape remains untouched. One of Lady Macbeth's robes is based on a Medieval cape pattern and tailored in textured wool.
Lady Macduff, played by Moses Ingram, is a sartorial antithesis to Lady Macbeth. Her wardrobe retains the silhouette, but fabrics and textiles are radically different in their soul. Macduff exudes the presence of fertility, very different from the leading lady's austere childlessness. While Lady Macbeth's robe has a feather motif, Lady Macduff's gown is embellished with leaves symbolizing life. Lady Macduff's earrings are larger and more vibrant than Lady Macbeth's. The same could be said for the hairstyles chosen for each Lady.